Entertainment
Mary Wiseman Wiki: Age, Possible Married Life, And Family of The Actress From Star Trek: Discovery
Actress Mary Wiseman is the newest addition to the Star Trek: Discovery family; she will portray the role of 'Cadet Sylvia Tilly.' The fans are excited to see her in an action role.
However, people know little about her personal life, and today we will be helping you know this actress a bit more, shedding light on her personal front along with her romantic life.
Actress Mary Wiseman's Wiki-Like-Bio Including Age, Family & Height
Mary Wiseman celebrates her birthday on July 30 every year, but the actress has not shared the year of her birth, so people remain clueless about her age.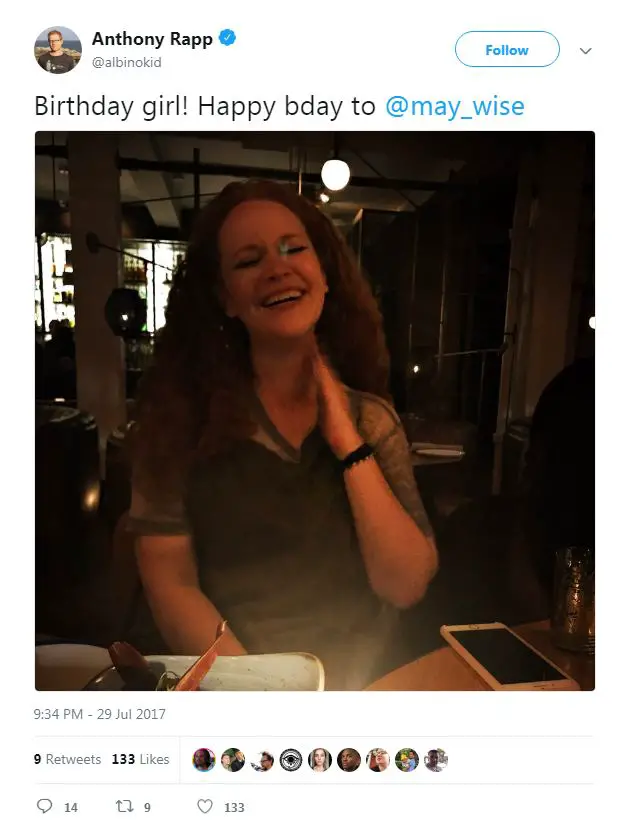 Mary's friend wishes her a happy birthday on Twitter (Photo:- Anthony Rapp's Twitter)
Talking about her family, she grew up having fun with her siblings. Cherishing the priceless memories of her childhood, she wished her siblings on the occasion of Siblings Day on April 10, 2017.
Discover:- Jamey Johnson Age 43 Really Divorced Wife For Sake Of New Album?
Mary - who's of a considerable height - graduated from the prestigious Julliard School in the Drama Divison. She has appeared in television series Craft & Burns (2012) and did guest appearances in Difficult People, and The Characters. Further, she did two episodes of Baskets and had a recurring role in Longmire (2016).
Moreover, she has also performed on stage, and her theater credit includes Sow and Weep, Clybourne Park, I Wanted it to Have a How & I wanted it to Have A Verb, The Skin of Our Teeth, The Octoroon and Therese Raquin.
Mary Plays Sylvia Tilly in Star Trek: Discovery
Furthermore, Mary has landed the role of Sylvia Tilly in the Star Trek: Discovery, which was released in 2017. Mary attended the comic con in San Diego 2017.
While talking about the show, Star Trek: Discovery, she shared that she grew up watching Star Trek: The Next Generation.
"I think that the mindset and the focus is curious. So, we're finding out what we can do. There are adult themes and there's freedom in that, and in knowing that we can do anything and figure out, discover what works."
In the conversation, Mary gave away a few details about her character in the Star Trek: Discovery and even shared the similarity between her and the onscreen character.
The second season of Star Trek: Discovery is scheduled to drop in 2019.
Interesting:- Allegedly Gay, David Muir Not Yet Dating a Girlfriend? or Married to a Beautiful Wife? Rumored Boyfriend Gio Married in 2016
Alike her other Star Trek co-stars, Mary's photo would be at many places including lunch boxes, poster, and others. In an interview, she was asked to share her thoughts on the same, and while answering excitedly, she mentioned about her boyfriend and his parents.
"I think I'm really excited if I got an action figure. That would be really exciting. My boyfriend's parents are super-big Trekkies. So, for me, (it'll be exciting) seeing their faces when they see me on their favorite show."
Mary mentioned her boyfriend without revealing his name, so the identity of her secret boyfriend created a hype among the fans.
Married: Who's Mary's Husband To Be?
Moreover, what did this revelation do is raise a question; is she going to get married to her secret boyfriend and share a husband-wife relationship with him?
To her fan's relief, On 2nd April, Mary's longtime boyfriend shared an Instagram post with a series of photo of her and her then husband-to-be, in what looked like, an engagement announcement. The post was accompanied by a single word caption: "yes!"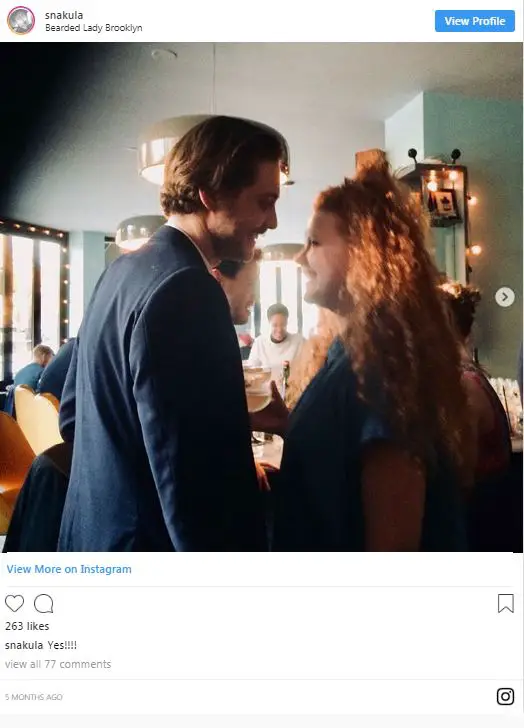 Mary's husband-to-be announces between the two on Instagram (Photo:- Noah's Instagram)
The series of a photo in the post included a snapshot of the engagement ring, which her husband-to-be had used when asking her hand for marriage. Her fiance had proposed her at the Bearded Lady Brooklyn.
Read Also:- Tika Sumpter First Baby Love; Baby Father & Husband To Be An Actor?
Asides from the fact that her husband-to-be is named Noah, not much is know about him. Also, the soon-to-be-married duo has yet to announce the date of their wedding.
Well, the answer to the question lies within Mary until she comes forth to address the matter.