Entertainment
Tika Sumpter First Baby Love; Baby Father & Husband To Be An Actor?
Tika Sumpter, known for her role as Layla Williamson on One Life to Live, is a proud mother. She gave birth to her first baby...back in...Back then she remained silent about her pregnancy and her baby daddy until revealing it in...She announced the pregnancy on...and opened up about baby dady after she got engaged on...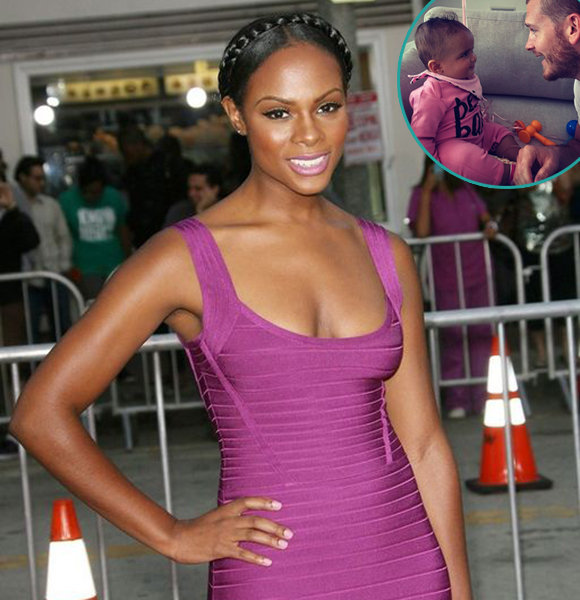 Constant spotlight is what celebrities have to deal with every time and American actress Tika Sumpter has perfectly sliced her personal life and professional life in two halves. 
Despite being on the fame, the One Life to Live star has preferred the low-keyness, which sparked much curiosity when she became pregnant with a baby child. While every eye was prying to know the baby daddy, the Hollis, New York City native herself revealed that she does not share the romance with her child's baby daddy but, in fact, is engaged with him. 
Wondering for all the stories of the Final Space star's dating life? All answers to all your curiosities are fulfilled!  
Welcomes Baby; Silent Regarding Baby Daughter
Tika Sumpter, also a television host who began her career hosting Best Friend's Date, is a proud mother, who is already blessed with a baby girl. She first announced her pregnancy back in August 2016. 
Prior to revealing about the upcoming baby, Tika had remained totally silent of her pregnancy for seven months while avoiding the spotlight. 
Don't Miss: Gelila Bekele And Tyler Perry As Parents; Son's Arrival Brings New Joy
While she was promoting Southside with John Legend, she finally opened up about her bundle of joy. A source close to the actress shone a light on the matter, revealing that she was due to give birth on the fall of that year.
During the time of birth of her first baby, Tika, now at the age of 38, faced pregnancy complications and even had pre-eclampsia. The actress was also told she could either have a seizure of bleed out.
But luckily, all went well and she welcomed her baby girl, Ella-Loren into the world on 8th October 2016. She even took it to Twitter to appreciate all the parents out there after having an eye-opening experience as a first-time mother. She wrote,
"Dear Moms, dads and caretakers. I'm slow clapping for each and every one of you. It ain't no joke."
However, she failed to mention about the presence of her baby father even in her happiest days. It seems that she has given all to keep her love life and baby daddy totally low-profile to the media. 
Low-Key Romance With Fiance - Getting Married?
Nevertheless, the new mama later came forth revealing about the man she shares her baby daughter with. Tika broke the news only after he put the engagement ring on her ring finger.
Turns out she is engaged to her fiance Nick James who is also her baby father. She revealed the relationship after keeping it private for two years since they first met on the sets of Tyler Perry's Haves and Have Nots.
She opened about getting engaged on The Real while she called the occasion "simple and awesome." She revealed to the audience that the proposal came on the Christmas Day and they new-born daughter had some hand in it as well.
See Also: Isaiah Crowell Fantasy Stats, Renewed Contract, Salary | Christmas For Him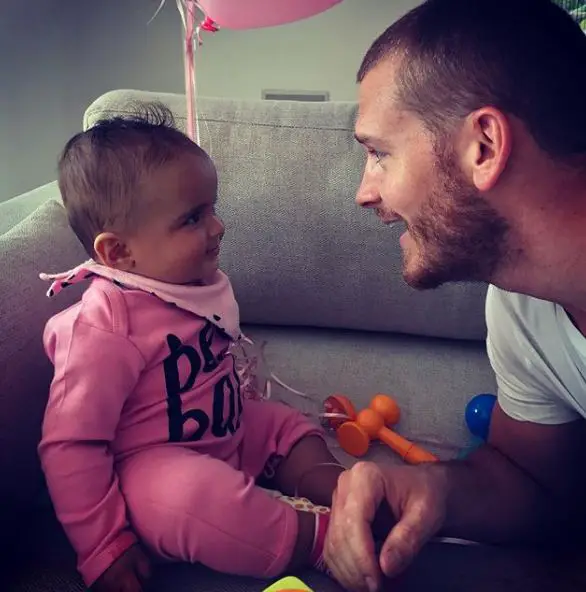 Tika Sumpter's daughter and baby daddy Nick James. (Photo: Tika Sumpter's Instagram)
Tika divulged that prior to popping the question, she went on a little hunt in the house that had an awkward ending. She explained to Brides Magazine,
"He did all of these amazing things. I went on a little hunt in the house. And I was like, 'Oh, he's going to propose. But then the scavenger hunt ended unexpectedly. And it was a Peloton bike he bought me." 
Laughing at the awkwardness she said, "I was like, 'Oh, that's cool!'" but Nick had something better planned for her. Her boyfriend-turned-fiance pulled out a letter from behind their daughter and said "Ella has something to say to you."
Turns out the letter from her soon to be husband was filled with love and at the end of it, he finally popped the question to her. 
More from Liverampup: Dom Irrera & Word "Married" | Unknowingly Dating Someone's Wife & Family
Indeed, the proposal was just simple but it had more meaning to it. However, despite being engaged, the pair has not disclosed any plan for their wedding just yet.