Entertainment
Master P Net Worth In 2020 - How Wealthy Is The HipHop Mogul?
American rapper and music producer rapper Master P, aka, Percy Robert Miller, is a rap icon who is best known for his hit Make 'Em Say Uhh!, which went platinum in 1997. He gained massive fame from his album, Ice Cream Man.
Further, he is also one of the richest rappers in the world. In 1999, Fortune magazine listed Percy as one of America's 40 Richest Under 40.
The HipHop Mogul Master P's Career, Wealth
Percy Miller was raised in the poverty of Calliope Housing Projects- a neighborhood in New Orleans, that gained notoriety for its extremely high violent crime rate.
Despite his circumstances, young Percy was determined to get his family out of the ghetto. Initially, his goal was to play at the NBA; he even got a basketball scholarship to the University of Houston. But unfortunately, his dreams shattered when he succumbed to a severe knee injury during his freshman year.
After that, he transferred to Merritt Junior College in Oakland, where he attended many business classes. Later, another tragedy struck him when his grandfather died in an accident at work. But his grandfather's death left him with a $10K insurance settlement check.
It was with that insurance claim money that Percy started a record store named- No Limit Records & Tapes. Soon he started to work as a producer for local artists like Tupac, Too Short, Rappin 4 Tay, and E-40.
More On Rapper E-40:- E-40 Wife, Real Name, Net Worth, Family
Throughout the 90s, Percy produced albums like Get Away Clean, The Ghettos Tryin to Kill Me!, Ghetto D under his record label company, No Limits, and became a rap mogul as Master P.
After the success of his record label company, Master P spread his wings to a range of business ventures, including clothing line, management company, high-end travel agency, film production company, and even a video game company.
Master P's House Of Glory
In October 2019, Master P entered the world of professional wrestling by purchasing the House Of Glory (HOG) wrestling school.
At a promotion event for HOG, Master P openly challenged WWE owner, Vince McMahon saying,
Vince McMahon, you in trouble, cause I'm about to take over wrestling... I'm eyeing all the top wrestlers. WWE? Come over here to us.
He further proclaimed that HOG would be a whole different league with the merge of hip hop and professional wrestling.
His Net Worth
According to Celebrity Net Worth, Master P's career as a rap mogul, entrepreneur, and film producer has rendered him a net worth of $200 million.
Master P Married Status, Kids
Master P is not married as of February 2020.
However, he was married to Sonya Miller in the past. The two tied the knot in April 1991 and had nine children together.
Master P's Son:- Romeo Miller Faces Some Racial Issues For Having A White Girlfriend; Dating Anyone Right Now?
Among their children are rapper Romeo Miller and Cymphonique Miller.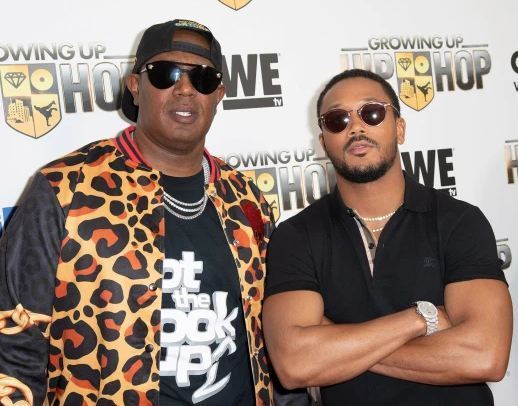 Master P with his son Romeo Miller (Photo: pagesix)
But after having nine kids and spending more two decades together, Master P and Sonya's relationship ended with a divorce in 2014.
Some Other Facts
Master P was born Percy Robert Miller on 29th April 1970 in New Orleans, LA, USA.
He boasts an athletic build and stands at the height of 6 feet 4 inches (1.93 meters).
Master P was a huge supporter of Barak Obama in the 2008 presidential elections.
He is also a philanthropist, who funded Saint Monica Elementary School of New Orleans in 1997, to prevent it from closing.
After the devastating Hurricane Katrina in 2005 in New Orleans, he donated millions of dollars to help the victims.