Entertainment
Actor Matt Shively Confronts Gay Rumors While Dating Gorgeous Girlfriend
Rumors and controversial hoaxes surround the everyday life of celebrities; while most of them choose to ignore them, some decide to front them with their answers. 
American actor, Matt Shively famous for appearing in the Paranormal Activity 4, falls on the latter category as he couldn't withstand haters pointing out about his alleged sexuality and thus had to take steps to shut down the bystanders. Further, he also has a loving girlfriend, and their romance makes the claims of the paparazzi obsolete.
Defies Gay Rumors
Matt, who plays Jimmy O'Neal in the TV series The Real O'Neals based on the life of gay activist Dan Savage, was long suspected to be a gay man. At one point, the rumors grew so intense that Matt had to issue a statement revealing his identity and thus dousing the flames about his sexuality. 
Related:- Meet Harry Treadaway's Girlfriend/ Partner! She's Answering Gay Rumors
He tweeted on 3 May 2016, declaring that he was a straight man and added that he was comfortable with his sexuality. The 27-year-old actor wrote,
For those asking. I'm not gay. I'm just completely comfortable with my sexuality. As everyone should be #TheRealONeals
However, his justification was not credible enough towards some haters who kept on circulating the gay rumors even after Mark's statement regarding his sexuality.  Hence, Mark had to prove his sexuality in an old-fashioned way by having a girlfriend, and he did the same.
Dating Famous Actress, Ex-Girlfriend
The 27-year-old actor has been involved in a committed relationship with actress Ashley Newbrough.
Although the exact date when the couple started dating has not been disclosed, Matt first hinted about his girlfriend after in an Instagram picture with her on 29 October 2017.
However, Ashley spilled the beans and confirmed the romance by sharing a photo of the two on Valentine's Day 2018 and calling Matt as her "Handsome Valentine."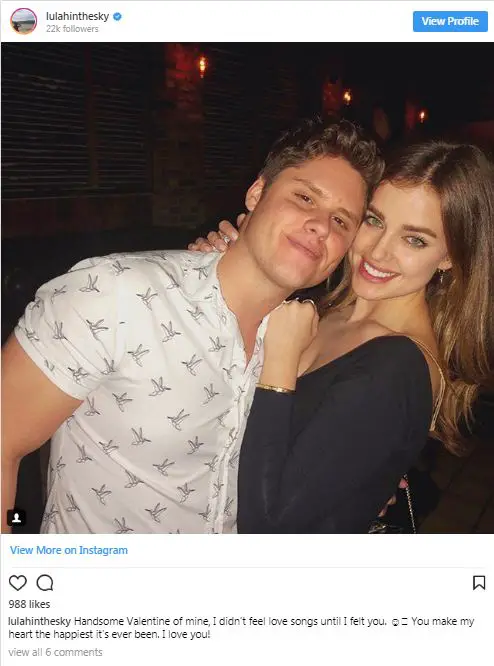 Matt celebrates Valentine's Day 2018 with girlfriend Ashley Newbrough (Photo: Ashley Newbrough's Instagram)
The couple is vocal about their love and even make public appearances together. In May 2018, the pair visited the Renaissance fair and were also photographed sharing a passionate kiss. 
More recently on 4 July 2018, Mark and Ashley paired up to celebrate the American's Independence Day. The couple has not disclosed any plans for the future and is taking the relationship slowly to avoid making any hasty decisions.
You May Like:- Eric Andre Is Dating - Again! Meet Beautiful 'Big-Eyed' Girlfriend
Previously, Matt also had a short-term romance with actress Laura Ashley Samuels in 2012. Matt had joked about his girlfriend in one of his tweets posted on 7 June 2011. Mark mentioned that if his girlfriend could have Justin Bieber, he would be dating actress Kate Upton. The pair separated after dating for a while.
Family Includes StepFather; Calls Onscreen Sister "Daughter"
Born in Hanford, California; Matt grew up with his mother and stepfather. He was the grandchild of David Dwight Shively and Judith Ann Baughn. Matt's maternal grandparents were Monroe Isham Upchurch and Mary E. Cawthorne. 
Matt is close to his mother and loves to spend his time with his family, as evidenced by his social media posts.  He shares funny moments of his family life and the daily perks of having a family on Instagram. He showed the funny side of his mother when he posted a picture of his mom along with Ashley Argota trying to sneak through the rails of a building with the gates closed on 30 July 2013.
Further, he also mentioned in a tweet on 19 March 2018 that he had lost his last baby tooth while watching Jay and Silent Bob Strike Back with his stepdad at the age of 11.
Apart from sharing a close bond with his real-life family, Matt shares a beautiful relationship with his onscreen siblings who performed together on The Real O'Neals. Matt, who plays the brother of Noah Galvin and Bebe Wood, is especially close to his onscreen sister Bebe whom he also jokingly calls as his "daughter." On 19 June 2017, he posted a picture on Instagram alongside his "daughter" Bebe, wishing himself a "Happy Father's Day."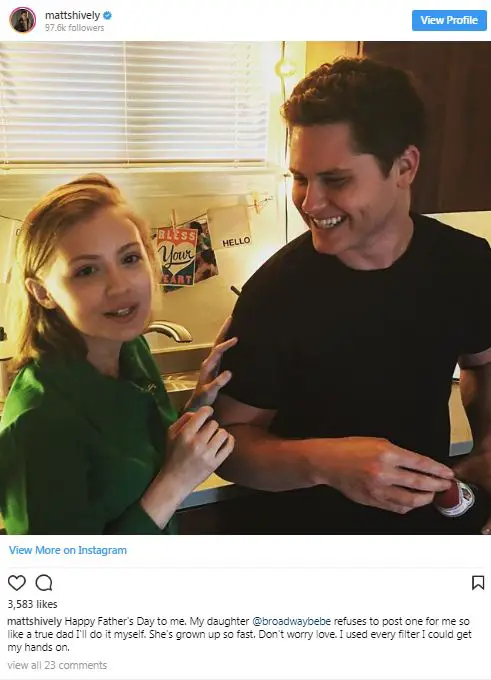 Matt Shively along with his onscreen sister Bebe on 19 June 2017 (Picture: Matt Shively's Instagram)
Matt also has an elder brother and the two share close siblings bond. Although Matt hasn't disclosed the name of his sibling, he lovingly refers to his elder brother as his "little cherub." Recently, Matt featured his brother in one of his Instagram posts which he shared in late July 2018. In the post, he expressed his respect towards the elder sibling and even joked about kidnapping him.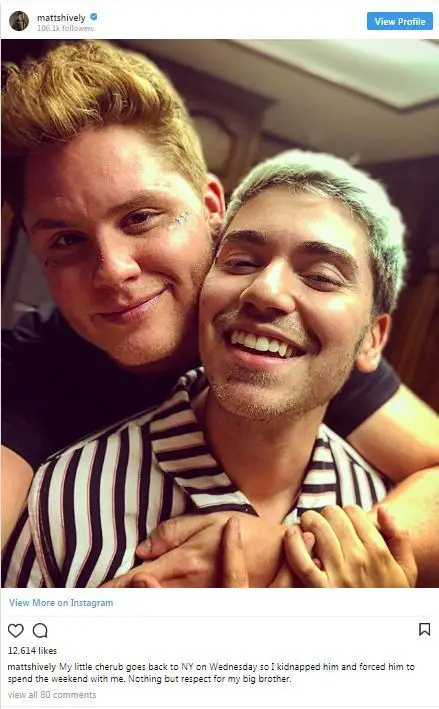 Matt with his elder brother in July 2018 (Photo: Matt Shively's Instagram)
While Matt hasn't talked much about his biological father, fans assumed that his parents split up when Matt was a small child leaving him with no recollection of his father's presence in his life.
Recently in 2018, Matt appeared in the Netflix's comedy movie Father of the Year. Matt plays the character of Larry in the film which is based on the turn of events that occur when two friends argue over whose father wins in a fight. The movie stars David Spade and Nat Faxon in the lead roles while the supporting cast includes Joey Bragg, Bridgit Mendler, Jackie Sandler, Mary Gills, Jared Sandler and more.