Entertainment
Matt Stokoe Married Status, Wife, Girlfriend Details
Well, when celebrities are not vocal about their personal life, the only way to get closer to their privacy is through their social media accounts. Platforms like Instagram, Youtube, and Twitter have turned out to be very handy for fans and followers to get acquainted with the daily lifestyle and updates of their favorite public figures.
Similarly, this time, the social media accounts of the famous actor Matt Stokoe have turned out to reflect his personal life behind the camera. His posts and updates hint the glimpses of a possible girlfriend.
So, let's check out the off-screen life of Matt that surfaces on his social media accounts!
Matt Stokoe's Personal Life, Possible Girlfriend
The 30-year-old English actor is one of those celebrities whose news related to work turns out to make headlines rather than love affairs. The actor's personal life is not so audible out in the town; however, the speculations on his social media hints that he might have a girlfriend named Ellen Rickford.
Also Read :- Page Turner Bio, Personal Life, Net Worth, Facts
Back on 4 December 2012, Matt uploaded a picture with Ellen on his Instagram account and quoted the lady to be his girl in its caption.
Afterward, Matt's Instagram account was time and again updated with the pictures of his girl. Not only on Instagram, Matt even timely tagged his girlfriend on his Twitter post as well.
During the interview with The Guardian back on 1 April 2013, when asked about his favorite show on TV, Matt revealed that he loved Boardwalk Empire. He also said that he had watched it's all season with his girlfriend in just about a week.
"My girlfriend and me watched all three seasons in about a week. It has the most expensive pilot episode in history. They built the boardwalk. It's half a mile long. As soon as I watched it, I was like, "This is incredible! It's got the formula for TV heaven."
Moreover, On June 21st, 2013, Matt tweeted saying it was Ellen's birthday that day. Also, on July 7th, 2013, Matt uploaded a picture on his Instagram account and praised the beauty of his girlfriend with a simple caption.
It seemed like Matt had a pretty good time with Ellen. The duo even attended the independent charity BAFTA in 2014, and Matt shared their adorable picture via his Instagram.
Though the couple was together for about three years, shreds of evidence about their closeness never surfaced out in the media.
The secrecy Matt implemented in his personal life also aroused a conspiracy regarding his sexual orientation. As there had been no news about his relationship status, Matt was allegedly thought to be gay.
Besides the love life, Matt has a beautiful bond with his brothers. He timely updates his Instagram with the pictures of himself and his siblings. Just on the occasion of the 2017's Christmas, he and his brothers created a festive tableau to honor the traveling circus that raised them.
Love Life In 2019
For those who have genuinely waited for an update on Matt's personal life or relationship status, the wait is now over. As of 2019, Matt is happily engaged to actress Sophie Rundle.
The pair first met on the sets of Jamestown and have been going strong since then. Wrapped around each other's embrace, Matt and Sophie shared photos of their dating life on social media but kept a low dating life nonetheless. Even the news about their engagement was revealed after a few weeks of the actual date.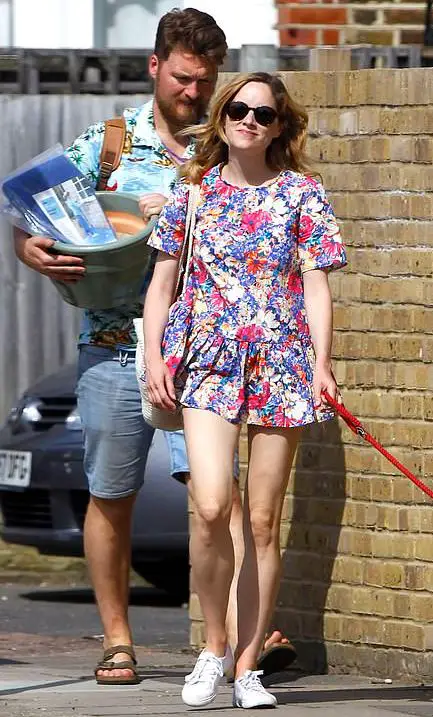 Matt Stokoe with fiancee Sophia Rundle in June 2019 (Photo: dailymail.co.uk)
But, since making Sophie his fiancee, Matt and his future wife haven't been shy about revealing their dating life. The two were even seen kissing and walking around with their dog in an open ground.
Matt was even seen unloading a delivery of logs at their London home, which they both share.
Detailed Info:- Lori Anne Allison Bio: Love Life After Split With Johnny Depp
While the news came late, both stars are awaiting their days to tie the knot. For the time being from snaps on celebrity gossip sites and social media platforms like Instagram, showcase the bond the duo share.