Entertainment
YouTuber MattyBRaps Real Name, Net Worth & Dating Status Now
MattyBRaps is an American rapper...started uploading videos to...has over 12.8 million subscribers and over 6 billion views...real name is...born in Duluth...four siblings...dating Brooke... over 297 million views...has two channels and earns...has his own recording label and studio...appeared alongside Dwayne Johnson...net worth is...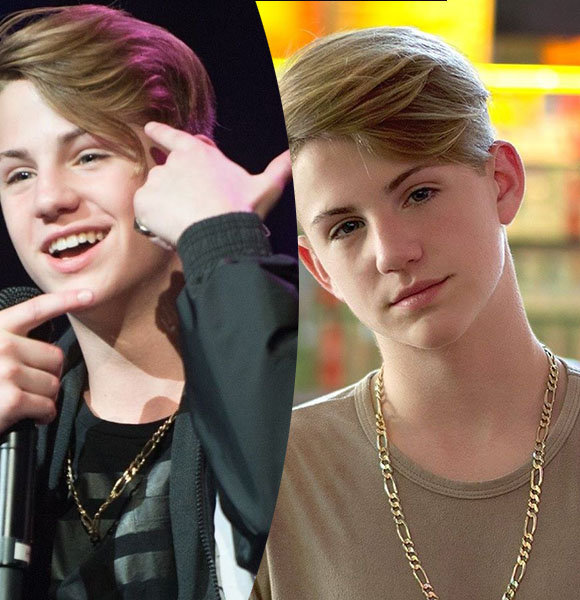 MattyBRaps is an American rapper - who found fame at a young age after he started uploading videos to YouTube. Unlike most other artists, he found success on his first try. In less than a week, his first upload titled 7 Year Old Raps Justin Bieber - Eenie Meenie by MattyBRaps (Cover) had over 500,000 views.
Matty's channel and career have grown alongside him. He has over 12.8 million subscribers and over 6 billion views on his main YouTube channel.
Wiki: Family, Real Name
MattyBRaps' real name is Matthew David Morris. He was born in Duluth, Georgia, on 6 January 2003. His father, Blake Sr. Morris, is an investor, producer, and songwriter. Meanwhile, his mother's name is Tawny Morris. 
Matty also has four siblings; three older brothers and a little sister - who are named Blake Morris Jr., John Michael Morris, Joshua Morris, and Sarah Grace Morris.
Dating Life, Girlfriend List
MattyBRaps has dated several ladies in the past, including JoJo Siwa, Kate Cadogan, CeCe, Gracie Haschak, and Ivey Meeks.
About JoJo Siwa:- JoJo Siwa Background, Parents, House, Age
For now, he is dating Brooke Gallagher, 2019 Fairfield University Female Athlete of the Year. Brooke plays women's lacrosse and even served as the captain for Notre Dame High School in her senior year.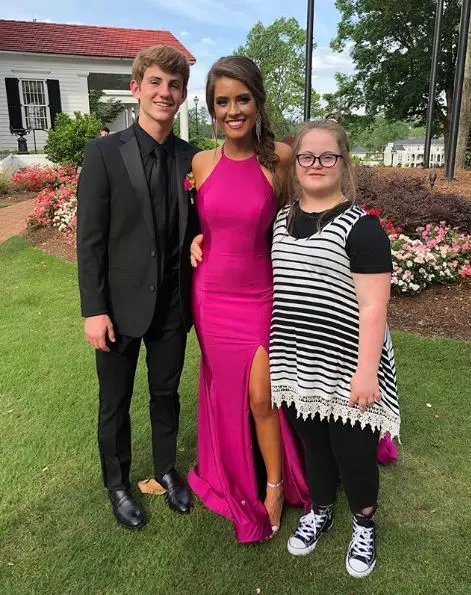 MattyBRaps with girlfriend Brooke Gallagher and his sister Sarah Grace Morris on 5 May 2019 (Photo: MattyBRaps' Instagram)
While the exact date for when the two started dating is not known, their first photo together was put on MattyBRaps' Instagram on 4 April 2019. 
Career Info, Songs
A 7-year-old Matty was dead struck on uploading a song to YouTube after learning about it from his rapper cousin Mars. He pestered Mars until he agreed, and it marked Matty's ascent to stardom. 
Another Rapper Who Gained Fame Easily:- Is Lil Tecca Dead? Check His Net Worth & Girlfriend Details
The video was a hit overnight, and Matty went from a normal 7-year-old kid to an internet personality in no time. His most viewed video is Gym Class Heroes: Stereo Hearts cover, and it has over 297 million views.
Matty continued uploading to his YouTube channel. Over the years, he has released original songs and not just covers. In 2019 alone, he has released over 60 songs created by himself.
Net Worth Details
Matty has two channels and earns a combined revenue ranging from $284,200 to $4,400,000 a year. He also owns a recording label and studio. Further, the YouTuber has been featured on multiple commercials and even appeared alongside Dwayne Johnson on TV.
As of 2019, his net worth is reported to be $3,000,000.
Interesting Facts
Matty's father acts as his manager.

His father and cousin MarsRaps write songs for him.

The teenage star likes to play lacrosse, baseball, and video games in his free time.

He has over 3.6 million followers on Instagram.

Matty has appeared on multiple TV shows, including Today, Dr. Phil, The Queen Latifah Show, and many others.

He has a height of 5 feet 6 inches (1.7 m).