Max Emerson started his acting career via outings in TV shows namely Hit the Floor, Glee, and Coffee House Chronicles. As his career progressed, Max tried his hands at producing and directing. The short films Earwig and DipSpit were a product of his multiple talents. 
Further, Max started his self-titled YouTube channel and gained fame via his sucessful comedy series, Max's Underpants. Today, he is a sucessful YouTuber with over 160K subscribers. 
Is Max Gay?
Max has been pretty open about his gay sexuality. The Florida native realized his sexual preference as an 11-year-old. However, he didn't come out just yet. 
According to the DipSpit star, he wanted to get out of his small town, explore and then let people in on his truth. Thus, he went to college in Miami and even experimented with female companions. 
For You:- Christian Cooke's Girlfriend Will Be Luckiest; If He Isn't Dating Already Or Is Gay
Soon, Max of height 6 feet (1.83 m) realized hiding the truth was taking a toll on him. Thus, he mustered up the courage and came out to his friends and family at the age of 18. The YouTuber was grateful when his loved ones embraced him for sexual identity. Today, he is an advocate for the LGBTQ community and supports charities working for the minority group. 
Partner Details
The YouTuber is an open book regarding every aspect of his life, including his dating status. He started a relationship with Andre Camilo in July 2016. Since then, he has documented his gay romance in social media platforms, namely Instagram and YouTube.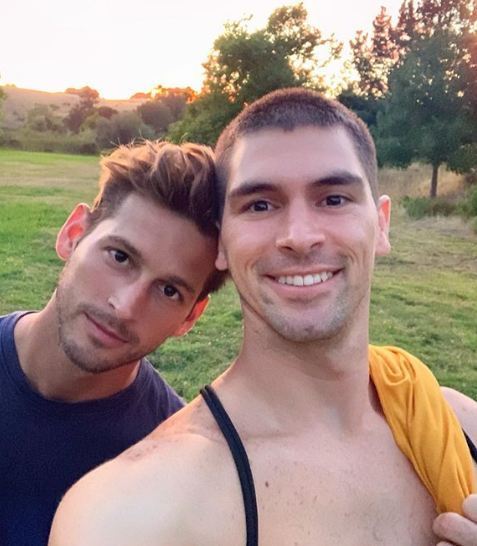 Max Emerson poses for a selfie with boyfriend Andre Camilo in August 2019 (Photo: Andre Camilo's Instagram)
And, Max's boyfriend also returns the favor. Like the Glee actor, his boyfriend is also a social media personality. He majorly focuses on Instagram and boasts over 300K followers on the platform. 
Glee Star's Personal Life:- Harry Shum Jr. Baby, Wife, Married
Andre was in the US military, and the pair even went as a couple to army prom in 2017. Their adorable pictures went viral as the couple became a sensation in international media.
Further, the couple also owns a dog named Sergeantpupper. Max and his boyfriend raise him as their own and consider the three of them as a family. 
Family Details & Net Worth 
Max was born on 7th September 1988 to loving parents in Florida. He also has a brother named Colin Emerson, who is a medical doctor. 
The actor's family has always supported him in his career. They are indeed proud of Max's achievement in the entertainment industry. As a working actor, he earns an average salary of $49,986 per year. 
Further, his self titled YouTube channel fetch him average earnings between $74 - $1.2K per month. And, Max's over a million Instagram followers provide him ample opportunities to earn money via brand deals. 
The 30-year-old also dabbles in modeling, which brings him an average salary of $47,499 per year.
Courtesy of his various endeavors, Max boasts a decent net worth.