Entertainment
Meet CNN Analyst Bob Beckel Ex-Wife Leland Ingham Beckel: Married in 1992 And Have Two Children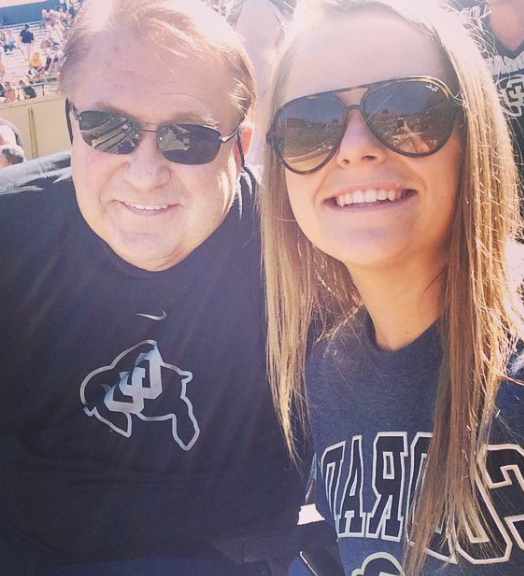 Quick Information
Daughter/s

McKenzie Beckel

Hair

Short

Height/ How Tall? 5 Feet 1 Inch
College

Wagner College

Career

1971-present

Net Worth

$10 Million

Gay

No

Ex-Wife

Leland Ingham (m. 1992; div. 2002)

Wedding Date

1992

Divorce/Split

Yes (Once)

Relationship Status

Single (2019)

Date of Birth Nov 15, 1948
Son/s

Alec Beckel

Brother/s

Graham Beckel

Mother

Ellen Gilliland Beckel

Father

Cambridge Graham Beckel Jr.

Ethnicity/Race

White

Zodiac Sign

Scorpio

Birth Name

Robert Gilliland Beckel

Profession

Political Analyst

Birth Place

New York City

Nationality

American
Among the many responsibilities of a journalist, inspiring people in a major one. Through the television screen, we might think they are almost perfect, but the reality is less glamorous.
All human beings make mistakes or wrong decisions at some time regardless of who they are. Bob Beckel can be an example of how bad decisions and mistakes can shoot down a man down from the sky to the ground.
He is currently a commentator and analyst for the CNN. Before that, he was seen co-hosting 'The Five' in Fox News until he was released in February 2015 after he was absent for months recovering from a back surgery. But Beckel has also been famous with multiple controversies.
Learn all about it and also find out about her personal life. Who is his wife and what about his children?
Married Life With Wife And Children
Bob used to be married to his wife, Leland Ingham in 1992. They had been together since they met on a golf course together two years before they got married in the summer of 1990.
Bob talked about their first meeting in his 2015 memoir, I Should Be Dead: My Life Surviving Politics, TV, and Addiction. She had joined some golfers to a game when she noticed Bob was also there to play with them.
Other Professional Golfer:- Brandel Chamblee Talks Life & Tragedy Before Wedding To Wife Bailey Mosier
At the time Bob was unaware of the fact that Leland was the Georgetown University golf coach and faced defeat against her in the game after suggesting to use the Women's tee, to which she promptly responded with "You dumb sonofabitch," and a first drive that was over 60 yards compared to Bob's.
Leland didn't know he was a famous figure until she dated him. "That's the kind of thing I like," said Bob.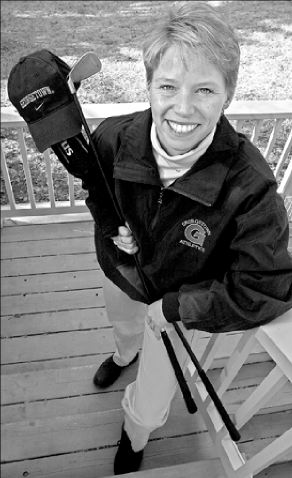 Bob's ex-wife Leland Ingham Beckel (Photo: Gazette.net)
The couple later went through a divorce in 2002. First, his alcoholic addictions came forward, and he was said to be targeted for being a victim of extortion by a woman who he had allegedly requested sexual acts for money. 
Leland eventually moved on and married John Keyser in 2004, a fellow Georgetown graduate who initiated the women's golf program at the university in 2001.
John is the principal of Common Sense Leadership, a leadership coaching firm, aiming at creative work Teams and talents who focus on Collaboration and Loyalty.
John Keyser's lecture on Leadership Assessment facilitated by Common Sense Leadership (Video: YouTube.com)
The couple has two children together; a son and a daughter. Their son, Alex, and daughter, MacKenzie are calculatingly 18 and 16 years of age respectively. Despite their divorce and whatever be the custody agreement, Bob seems to love spending time with them. Here is a picture of him with his son, Alex. 
Don't Miss:- Willie Robertson Age 46, Children & Wife Building Strong Family | Meet Them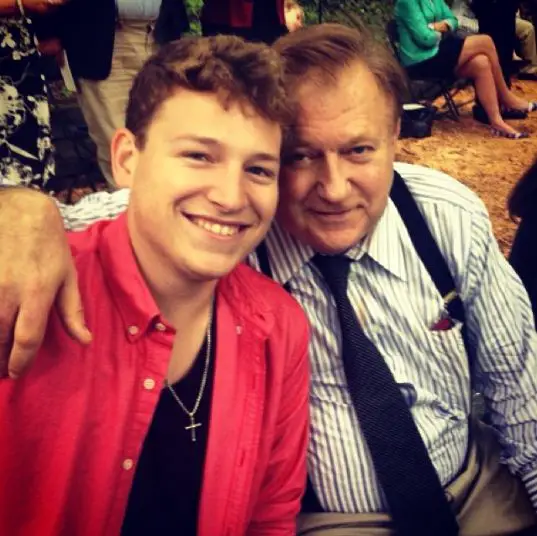 Bob with son Alex enjoy some quality family time on 31 July 2014 (Photo: Bob Beckel's Instagram)
He has also posted a picture of himself with his daughter, MacKenzie. The caption suggests they were spending time together on Parents weekend.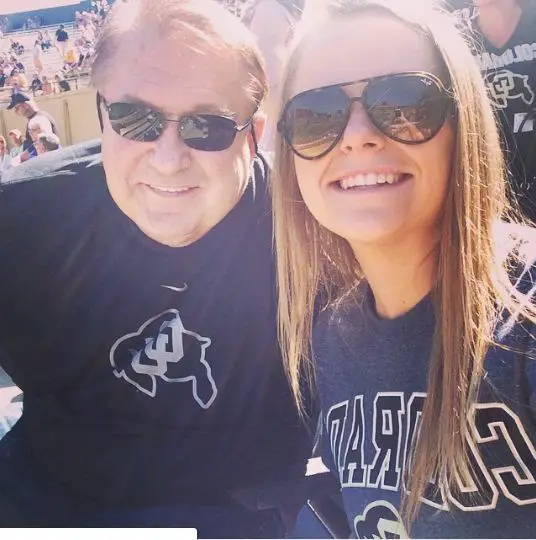 Bob with his daughter on Parents Weekend in September 2014 (Photo; Bob Beckel's Instagram)
Both her children are interested in Golf, especially Alex who took part in PGA Middle Atlantic Section Junior Tour in 2012. Similarly, Bob's daughter Mackenzie also recently graduated from college in May this year. Bob even posted a tweet on 9 June 2018 to boast about his daughter's achievement and mentioned that she had started working in Denver. He wrote,
Here's my daughter Mackenzie on graduation day My smile is one of a proud father and also a father who is done paying outrageous tuition She's working in Denver and there ain't a day that goes by that I don't miss my little girl!
However, Bob hasn't shared much about his son's academic qualifications and his career path.
Leland's career in Golf
Initially, instead of Golf, Leland wanted to earn a career in Tennis. A 2001 Gazette article stated that she wanted to play Tennis initially but broke her wrist at the young age of 14, barring her from that future. A year later, she was introduced to Golf by her grandmother, and she then found her new calling, where her talents and efforts showed amazing results. By 1983 when she was still a young Teenager, she had already won the Mid-Atlantic Golf Association junior girls tournament. Leland talked about her then-new-found love saying,
"I fell in love with it,I basically never played tennis again. It was such a challenge. It was so frustrating, and it was just fascinating to me."
She became a Pro Golfer in 1990 and even took part Future's Tour, one of the most reputed Tours in Women's golf.  In the mid-1990s, she played in the amateur leagues and eventually played in the U.S. Women's Amateur Championship in 1998 and was the runner-up in the 1999 U.S. Mid-Amateur Championship.
She, later on, opted for a career as a coach and became the first-ever coach for the Georgetown's Women's Golf Program and was named as the Big East Coach of the Year in 2003.
But due to ongoing health issues and complications, she had to retire prematurely in 2005.
More From LiveRamp Up:- Dan Abrams Covered His Health Issues For Long! But His Revelation Of Battling Cancer Is Help To Others
Her resignation statement read as follows:
"It is with a heavy heart that I leave Georgetown. My health issues give me no choice. I want to thank Georgetown for the opportunity to create a new program, Georgetown's Women's Golf Program. Working with such talented, spirited intelligent and determined young women has been one of the greatest experiences of my life. Georgetown and the members of the truly dynamic Women's Golf Program will remain in my heart forever."
These health problems worsened over time, and her Husband talked about her current status in an interview with Blue Ocean Global Health stating,
'My wife had become a bit disabled and I retired to become a caregiver and soccer mom for the kids. I learned about a leadership coaching program at Georgetown University, thought I certainly have some time and who wouldn't want to study leadership. I applied, was accepted, and immediately fell in love with what I was learning. Eight months later, when I graduated, I set up Common Sense Leadership.'
In 2012, Leland shared an X-ray of her neck on her Facebook and from the looks of it and the multiple no. of pins in her neck, it doesn't seem too well.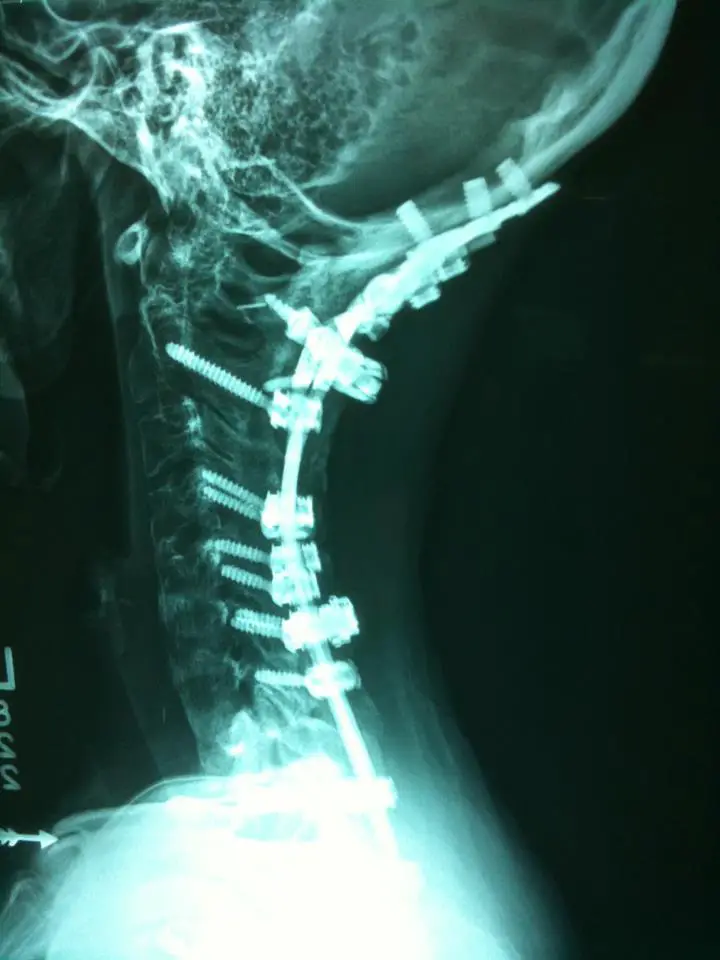 An X-ray of Leland's neck and spinal cord (Photo: Leland Keyser's Facebook)
However, she didn't mention the purpose of sharing the result of her X-Ray and the details of her injury.
Rehab From Bob's Addiction:
Bob Beckel confessed about his addictions and revealed cocaine as the drug of his choice. CNN hired him after only months of being released by Fox News to offer commentary on the 2016 election.
When he was interviewed on the CNN's ' New Day,' he was asked an awkward question of whether he left Fox News to deal with his Painkiller addiction he maturely answered he signed a nondisclosure agreement with Fox where both parties agreed not to badmouth each other.
"Apparently one of their executives didn't get the memo," he said coolly. So why did he leave, according to Beckel?
He added,
"Sitting there every day four against one can get a little bit tiring, just a little bit."
A Story of Survival and tenacity, Bob Beckel talks about his personal struggles (Video: YouTube.com)
Further, he has also published a memoir based on the struggles of his life.
Memoir of Bob Beckel's Life:
From 2005 to 2015, he has been the columnist for USA Today with his friend and political counterpart, Cal Thomas. He has also published a memoir called 'I Should Be Dead: My Life Surviving Politics, TV, and Addiction' co-written with John David Mann. The biography explains his struggle in different aspects of his life.
Writing Memoir:- Learn How To Write A Perfect Memoir; Writing Tips And Examples To Make You An Expert
Here he has expressed his regrets about not being able to sustain his family and professional life. It tells a deeply personal story about searching for life's meaning through political power, drugs, physical abuse as a child, womanizing, and hardball politics and finally a change of heart and direction.
He is currently trying to redeem himself in his private life as he has in his Proessional one. He is seen a lot spending time with his son and daughter.