Entertainment
Brandel Chamblee Talks Life & Tragedy Before Wedding To Wife Bailey Mosier
American professional golfer, Brandel Chamblee lifted his career up as the studio analyst for the Golf Channel after he took retirement from the golf course. He was married to.......His wife gave birth to a pre-mature child who died after nine days. Then he married to......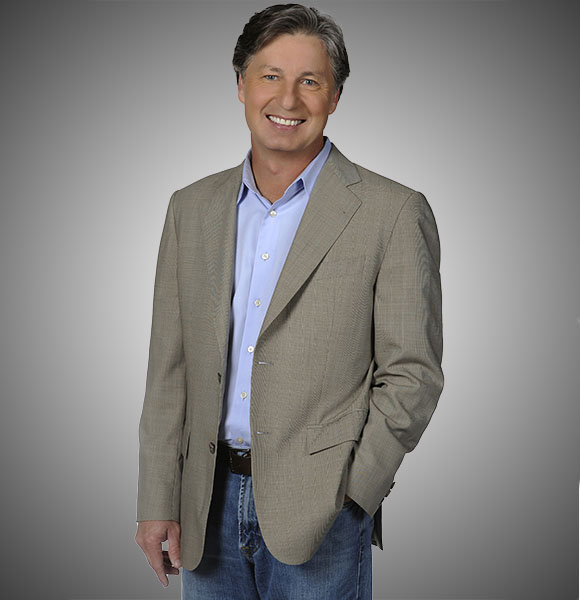 American professional golfer Brandel Chamblee lifted his career up high in the sky as the studio analyst for the Golf Channel after he took retirement from the golf course devoting his 15 years of his life.
However, his relationship with the golf course was too deep that he even got married to his co-worker on the golf course and claimed it was the best moment for him at the golf course.
Even though he is relishing his married life with one of the "Most Beautiful Women in Golf," he shared a tragic moment with his wife, which has left a deep scar in him.
First Wife: Tragic Loss Leads To Divorce
For Brandel, his family life always came forth than his professional life!
And so, when he lost his second child in 2000, he was devasted which not only deteriorate his family life but the result was transparent in his career as well. 
See Also:- Jordan Spieth's High School Girlfriend & Wife To Be, Fascinating Love & Dating Affair
His wife, Karen gave pre-mature birth to the couple's second son Braeden in 2000; two months earlier than the actual date. And so, their premature son died nine days after his birth.
Though the couple was already the parents to the son Brandel Jr, the loss of their second child was unbearable.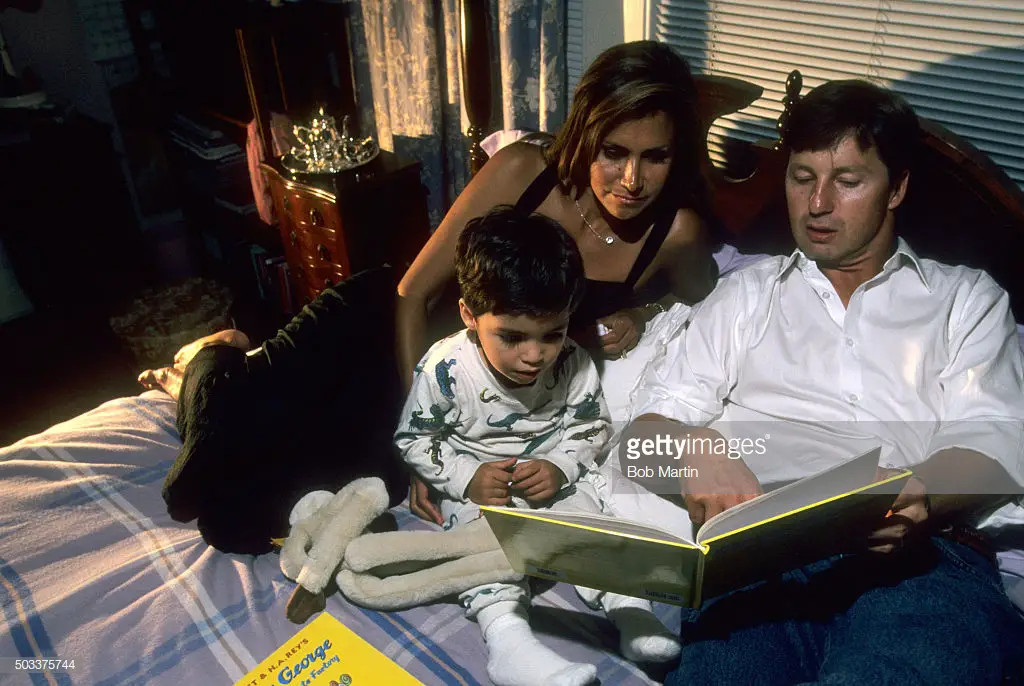 Brandel Chamblee, wife Karen Chamblee reading a bedtime story to son Brandel Chamblee Jr in 1999 (Photo: Gettyimages.com)
The grief of losing the child was too much for the family that the grief was transparent into his career and his married life. Since then, the couple welcomed another son Brennen and a daughter named Bergen.
Don't Miss:- Jon Rahm's Wife To Be? Meet Smoking Hot Girlfriend Of Pro Golfer
Even with the three children, his scar of losing a child could not heal. In an interview with Golf Magazine in December 2010, he recalled his scar:
"People say time heals grief, that you get over it. That's not true. You always have that emptiness. There's a scar on your heart. Every day, I drive past the cemetery where he's buried. So every day, I experience a dark moment."
Since he had already started his reporting work with ABC, he found it was the toughest year for him. He stated to New York Times in January 2012:
"Sometime in 2001, 2002, I lost the joy of being involved in something extraordinary. I didn't have the heart, the drive."
While he was struggling between his work and family, the couple secretly called off their beautiful married life.
Engaged And Married In Same Year; Wife Gifts Him The Best Gift
After ending the married life with his children's mother, he was soon swooning the romance with the Golf Channel Morning Drive co-host Bailey Mosier. Despite the age gap of more than two decades, the 31 aged Bailey happily accepted Brandley's proposal.
Read Also:- Michelle Wie Secretly Announced Boyfriend, No One Noticed; Earnings, Net Worth & More
Brandel took to Instagram in May 2016with the happiest news where the couple was smiling, and Bailey was flaunting the diamond ring. Also, the caption clears that they have been engaged for over a month.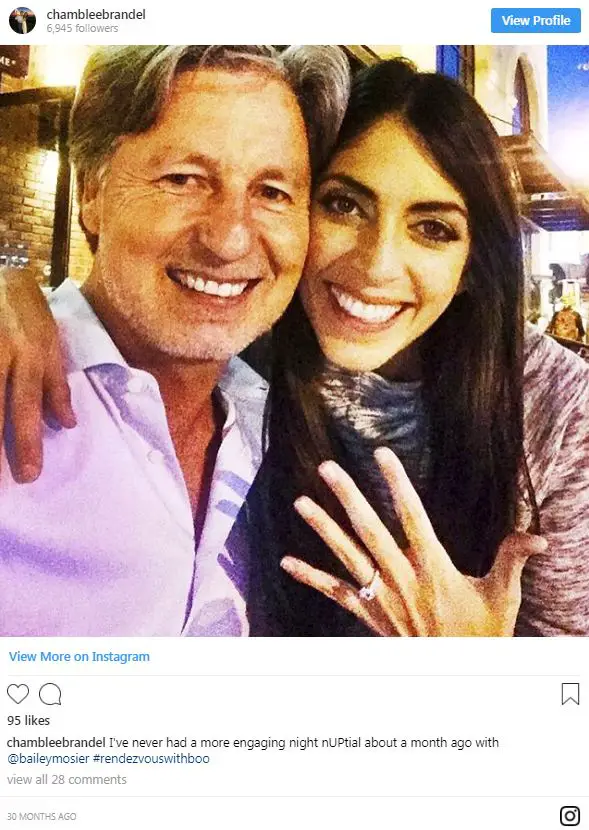 Brandel Chamblee engaged to fiance Bailey Mosier (Photo: Brandel Chamblee's Instagram)
Also in 2016, it was reported that the couple has known for each other for about six years. Within some month after their engagement news swirl the internet, Brandel exchanged the sacred wedding vows for the second time with his young wife at the golf course on 30 December 2016.
He claimed that was the best day he had ever had on the golf course. He retweeted the wedding post shared by Golf.com expressing their gratitude for their well-wishers.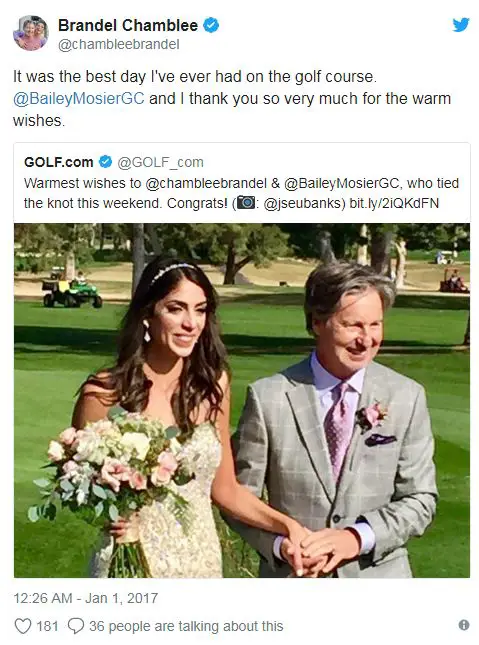 Brandel Chamblee, wife Bailey Mosier on a wedding day (Photo: Brandel Chamblee's Twitter)
The couples are best known for working at the Golf Channel where she started working at Golf Channel on Morning Drive in January 2015  where she began at GolfChannel.com in 2011 as an associate editor.
Similarly, the couple has already embarked their one year of wedding anniversary. And the pair was not one who announced about their anniversary, in fact, their mate Robert Damron was the one who shouted on Twitter wishing them their first anniversary on 30 December 2017.
You May Also Like:- Bernhard Langer Is Accused of Cheating! All About The 59 Years Old-From Career Earnings to Family and Wife
Since the couple is strongly wavering their relationship despite the age gap, they are enthusiastically engaged into each other like the newly love-birds, exchanging the gifts and locking the lips in public.
And Brandel's wife seems to have known him very well as she gifted him the coffee mug and book "Gulag Archipelago," which he wanted to read for ages on his birthday. After the loss of his son, Brandel, who accumulated salary which makes his earning more than $ 4 million, seems to have finally found the true happiness in his life.