Entertainment
Melissa Gorga, Mother of 3 Kids, Dazzling Life With Husband: Still Looking So Beautiful, Plastic Surgery?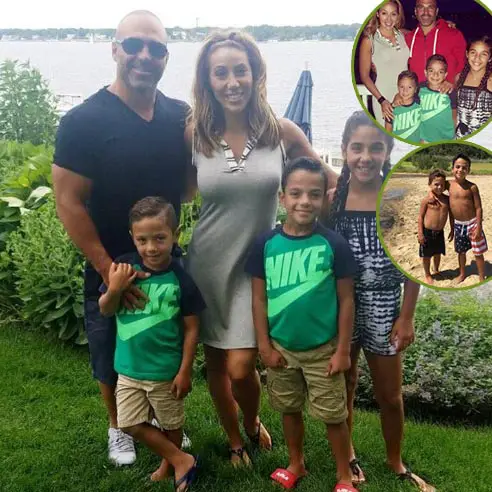 The 'Real Housewives' gives you a different outlook on the inside lives of modern housewives. The beautiful Melissa Gorga, who herself doesn't look anything like a housewife, let alone the mother of 3 kids. But this lady, who is married to a loving husband, has managed to defy her age and look a lot younger.
Learn about her dazzling life with her husband and also the secret behind her beauty. Is it because of plastic surgery?
Plastic Surgery?
Melissa Gorga is too beautiful for her age. But since nobody can escape the physical change that occurs with age, the fans are left to believe that the 40-year-old has gone through plastic surgery or body enhancement. Melissa was quite open about the breast implants that she had before the birth of the eldest of her kids, Antonia, who is ten now. 
But that couldn't be the only thing she had done to look better. Besides, the body can be made to look better in natural ways, as well. It is the face that shows clear signs of aging. Even though Gorga denies all the allegations made about her getting her nose done, a source has informed Radar Online that the RHONJ star has already got her nose jobs done twice.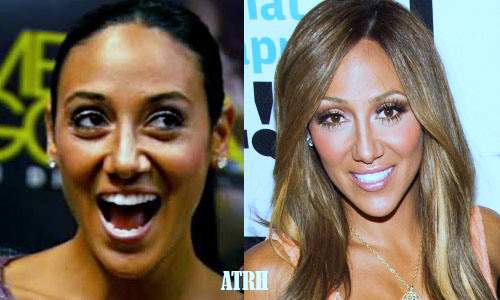 Before and after breast implants pictures of Melissa Gorga (Photo: celeblens.com) 
The source, who is a close friend of the star, further revealed that she got the nose jobs done for free. She reportedly promised the surgeon to publicize his work instead of paying him but afterward kept it a secret.
Her Children
Melissa Gorga has three children. Her eldest child is a daughter born on 12 August 2005. Her other two kids are both sons, Gino born on 12 September 2012, and Joey born on 27 April 2010. Her children have been passed down with her looks.
Show-Stopper:- Jake Ryan Girlfriend, Dating, Family, Now
Melissa Gorga was born on 21 March 1979 and raised in Tom Rivers, New Jersey. Besides being a television personality, she is also a singer, businesswoman, and designer. She joined the cast of 'RHONJ' from its third series.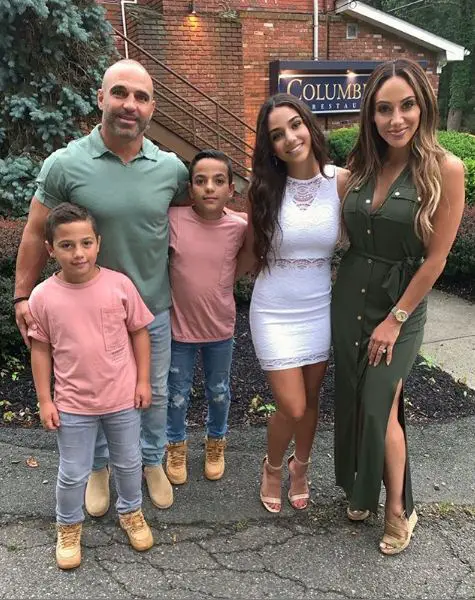 Melissa Gorga and husband, Joe Gorga with their children in June 2019 (Photo: Melissa Gorga's Instagram)
She has an estimated net worth of about 1.5 million dollars. Recently, on 11 July 2016, she said in an interview that "She's a happy drunk, not happy pregnant."
Married Life and Husband?
The viewers of her show might already know about her personal life, but still, the most important aspects of her life are her family.
She has a very loving husband, Giuseppe "Joseph" Gorga. He is a real estate developer and brother of another 'RHONJ' co-star, Teresa Giudice. They seem to have an extraordinary relationship in the show. 
Hit-Maker:- Blake Jenner Wife, Girlfriend, Parents, Siblings
As of now, the happy couple moved into their Franklin's Lake dream house in July 2016 of 2.65 million dollars. The couple had initially been decided to lease their mansion, but an unfortunate turn of events has caused them to evict their renter because of his denial of payment.
However, that was not only the set back for the couple. They had to put their New Jersey mansion on sale in the market in January 2019, so that they could be close to the children's school. Not only that, there were going through a lot of hardship in their relationship coming into 2019.
The couple had a hard time figuring out the roles of husband and wife after marriage as they had divided opinion about the issue. Even so, Melissa ensured the fans their relationship of 14 years was stable and would not crumble so easily. Now the couple can be seen running here and there with their children.
Her three kids are as talented as they get and bring a lot of trophy in sports days and other school programs. The proud parents also attend and cheer their children in their achievements. Talking about children, On 6 November 2019, Melissa shocked everyone in Daily Pop studios when she spoke about her husband, and her being pregnant. Ironically, she did not mean it that way and cleared the confusion as to meaning pregnant being into the show.