Entertainment
Meteorologist Audrey Puente's Married Life- Who Is Her Husband?
The person we are discussing today is Audrey Puente, who serves as a meteorologist and a reporter for WNYW/ Fox 5.  
She is a famous and acclaimed personality in the field of journalism. But this is not all that plays a part in her popularity. Let's find out more about her, and for that, we have to find our way inside her personal life. 
So, let's dive into her personal life, exploring the details about her husband and married life.
Audrey Puente and Her Husband
Audrey married Jay Thompson. But, unlike Audrey, her husband is quite low-key and likes to keep his details from the media.
The couple got married on 18th September 2004. However, after the wedding, New York Weddings published an article including the couple's wedding pictures and some details of the wedding too.
Talking about her wedding, the meteorologist shared some details. She said the ceremony was not "a formal sit-down," and was "a high-energy cocktail party."
Elaborating about her fabulous wedding day, the meteorologist said, "We walked up the aisle to Alicia Keys's "If I Ain't Got You," and down it to Mary J. Blige's "Love No Limit," Jay's favorite. We karaoked our wedding song."
Making the event more special, her father's orchestra reunited only for her big day. She further added, "The White Room, where we were married, was converted into a turquoise-lit club lounge, where the D.J. played club music."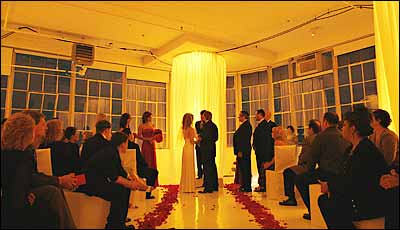 Audrey Puente with husband Jay Thompson at their wedding on September 18, 2004. (Source: nymag.com)
Anyway, in an interview in 2010, Audrey said that she has three children.
They welcomed their first baby girl, Santana, in 2005, and 2007 was the year they had a baby boy and named him Mateo Jay.
Also, later on in August of 2010, she gave birth to another daughter and named her Lola Jaye.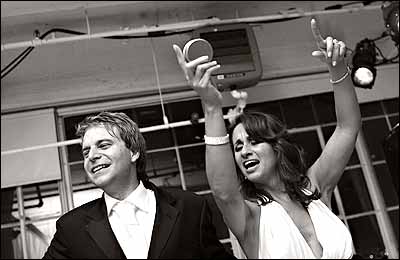 Audrey with her husband Jay Thompson dancing to the rhythm at their New York wedding. (Source: nymag.com)
Get to know - Inside Malika Haqq's Family Life with Her Parents and Siblings
She also mentioned that she had started her own business of producing apparel with decorative crystals.
That is awesome, right? We were amazed how she does that, having a demanding job at the line, looking after three children, and handling her own personal business. It is quite incredible.
In her Twitter info bar, she describes herself as a "Life Juggler... SuperMom by day, WeatherGirl by night, T-Shirt Designer in between, Daughter of a King"
In the end, everything sets perfect for her with a loving husband and three children, and divorce seems a never-happening event in her life.
More on - Deen Kharbouch's Relationship Status Now- Her Bond with Her Son
Audrey Puente's Short Bio
Audrey was born on March 3, 1970, in New York, the United States, and currently ages about 46 years old.
She graduated from Syracuse University and received a Bachelor of Science degree in Speech Communication, followed by a Master of Science degree in Geoscience and an emphasis on meteorology from Mississippi State University.
She began her career in the journalism field with WNYN-TV in New York as a production assistant and later moved to serve as a weekend weather anchor for WXVT-TV in Greenville.
Moving on to her work, she later worked for WBC-TV, where she provided weather forecasts, and currently, she is working as a meteorologist for WNYW-TV in New York.