Entertainment
Michael Carbonaro, Gay Magician Reveals Husband; Married Life Furtive Yet Serene
American magician and trickster Michael Carbonaro is the brainchild of the magic show The Carbonaro Effect which airs on truTV. 
The openly gay magician is married to a Hollywood A-lister and is living a blissful marital life hiding it from the public. The Oakdale native is getting comfortable as a gay celebrity after initial skepticism about opening his sexuality.
Gaily Married With A Gay Partner
Unlike many celebrities, whose life resembles an open book, Michael's married life is more like a coke formula.  
Read Also: Ryan Lochte Suspended & Sad! IV Photo Scandal, 14 Months Competing Restriction
The master of disguise has kept his marital life under the wraps with mentions about his life a premium. The openly gay magician is together with actor Peter Stickles since 2005. Michael turned his romantic relationship official after getting married to his boyfriend, Peter in 2014.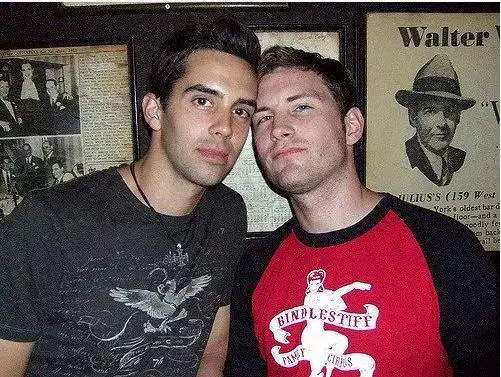 Michael Carbonaro with boyfriend/husband, Peter Stickles (Photo: heightline.com)
The actor does not flaunt his relationship with his husband on social media because he believes his shows and performances have got nothing to be with him being gay or married. 
One rare glimpse the handsome magician gave about his relationship was in November 2017. Speaking to Orlando Sentinal Michael revealed that he was enjoying his marital life to the fullest and also claimed that the spouses were kind to each other. He affirmed:
"Married life is awesome. We're really good for each other. We met in New York. We've been together 12 years."
Whats more, The Not Another Gay Movie actor publicly acknowledged Peter as his dashing husband on Twitter in January 2018.
When Peter was announced as Michael Varrati's guest for the talk show Dead For Filth, one eagle-eyed fan identified Peter as the same guy that had appeared in the first episode of second season of Michael's show The Carbonaro Effect.
Don't Miss: Logan Lerman Is Dating But Not Girlfriend; Gay Rumors At Heels, How True Are They?
And Michale duly satiated the query of the fan saying 'Yes' and even added that Peter was his dashing husband. But in a recent scenario, Michale has been posting pictures with the love of his life on the social media. Seems like he is finally ready to have his love life displayed on his social media.
Recently on 2 August 2018, Michale posted a throwback Instagram image of him along with his hubby. The photo dates back to the days when Michale and Peter spend a romantic getaway to Hawaii in February 2017.
In the picture, both the gentleman had their arms wrapped around each other. Adding to it, he even posted a selfie with Peter in the background as they visited a store. Michale made a humorous comment on Peter through the caption. 
Moreover, according to their recent post, the pair also stopped by Scare LA for their short romantic horror getaway. 
Gay As A Child; Never Hid Never Came Out
Michael knew from his childhood that he was gay. But he never liked the term gay. For him, the word gay signified perverted, terrible, horrible, and weird. The magician always felt 'Oh, I'm not that but I do like guys, so I must be something else.' 
Michael in his childhood had a crush on the character Elliot from the sci-fi movie, E.T. the Extra-Terrestrial. He had a massive poster of Elliot in his room and had inscribed a sign: I Love Elliot and hidden it in a way others couldn't see. 
The magician was good at hiding from an early age but what he did not hide was his sexuality.
Despite magic being about all lies and illusions, he kept the audiences under no illusions about his personal life with rumors about his wife and girlfriend.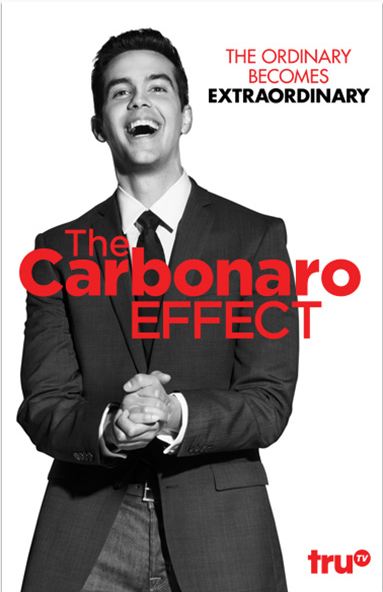 Poster for Michael Carbonaro's show The Carbonaro Effect (Photo: cox-ondemand.com)
However, the magician did admit that he did not always open up about his sexuality in fear of being said something terrible, or offending. The censorship was a struggle to the artist as he constantly believed in revealing who he was, and living in reality. 
Twin Rumors
In April 2016, Michael faced claims that his show was staged with professional actors and multiple cameras used for fooling the viewers. Questions about Michael having a twin to help with his magic tricks started surfacing in Q&A sites, Quora, and Reddit. 
While Michael is the youngest son born to his parents after the birth of his two older brothers, he shares no strikingly similar looks with them. 
However, Michael shut down all those uncertainties by releasing unedited footage of one of his tricks assuring the viewers that all he did was authentic, with ordinary people, not actors. 
You May Also Like: Eoin Macken Engaged To Get Married, Meet Wife To Be Amid Gay Talks!
And after the minor glitch, his show The Carbonaro Effect is still going strong leaving the viewers with a gaping mouth because of the seemingly unbelievable tricks he pulls. 
Well, adding to it, Michael recently wrapped up his tours at the beginning of early July 2018. The shows began for 2018 on 20 January where a there ha not been any updates on his upcoming tours.