Entertainment
Michael Che Secretly Married! Wife Or Just Having A Hard Time Dating And Making Girlfriend?
American comedian, writer, and actor, Michael Che has been doing good when it comes to his professional career. He also was briefly a correspondent for The Daily Show with TV icon Jon Stewart and has previously worked as a writer for "Saturday Night Live" who he also coanchored alongside Colin Jost. But is he married without much publicizing or has he found it tough for finding a partner in his life? Let us find out!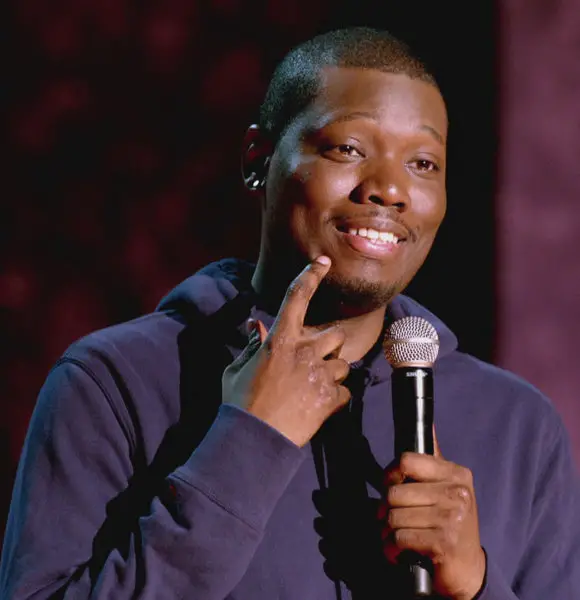 American comedian, writer, and actor, Michael Che is and has always been a prominent name when it comes making comedy gestures. Che, who also briefly served as a correspondent for The Daily Show with TV icon Jon Stewart, has previously worked as a writer for "Saturday Night Live." Moreover, he has also co-anchored alongside Colin Jost.
Needless to say, but his professional life is crystal clear, but when it comes to his personal life, it's the exact opposite. So, the question always lingers with a lot of speculations regarding his dating and married life. So today, let's get a clear picture on the matter!
Is Married Or Has Found No One For Dating Purpose?
Che has always been someone who does not hold back when it comes to speaking his mind out. Well, such personality gave answers to his forever speculated personal life. The answer to whether he is married or not. It turns out no, he is not married - yet.
In a "25 things you don't know" session with Che and his co-anchor Colin Jost, Che revealed that he is not married along with other bizarre revelations about himself like the fact that he uses ladies' deodorant and toothpaste.
Now that this chicken is across the road, his dating affair comes second in the line. To everyone's dismay, the 34 years old did give a try to dating but failed miserably and that too very publically.
When Che thought of having a girlfriend for good, he took his chances with a dating app that later turned out to be inappropriate. Early 2017, Leah McSweeney, the 'Married to the Mob' clothing line founder blasted the roof above Che when she revealed that Che behaved inappropriately with her on the unspecified dating app.
Through her Improper Ettiquites podcast, Leah called out Che as arrogant and rude. McSweeney said,
"I met a comedian, I've dealt with a few comedians. They are the worst, I don't even know why I entertain this but I have to say … Michael Che is so arrogant and so rude and disrespectful that I cannot even believe that someone … you're like a D-list celebrity to me, whatever, that's why I don't even care that I'm saying his name. I'm not like blowing up Jay Z's spot," 
She continued, 
"Why are you on a dating app if you hate women? Literally, you've never met me and you're texting me like I'm a stupid b***h … texting me and being mad rude. He kept just texting me, going, 'I'm fat. Does that turn you on?' And I'm like, 'You're fat? I think I've seen you and you're not fat, OK.'"
However, the story became so one-sided that Micael did not have a say in it. But, it turns out that there's a whole lot of misunderstanding going on between them. Che released a series of screenshots from his conversation with Leah, in which the couple had a fairly unusual but casual text interaction until, well, Che cold-heartedly ended the whole thing.
According to Che's side of the story, the duo started talking in September 2016. The conversation looked something like this,
Hey remember me - McSweeney

Hells Kitchen - Che

Lots of food options at least - McSweeney.

I'm fat - Che.

I'm laughing out loud. R u? - McSweeney.

Yea - Che.

What did u eat today? What's up?

"U hate me cus I'm white. Our conversations r everything to me btw. We have a lot of friends in common and if anyone of them saw this I would b so ashamed. - McSweeney
However, when patience ran out, Leah asked,
"Do u ever want to meet up? Or r we just gonna text each other randomly until eternity? Well I did think it was odd u kept saying ur fat,"
However, the already weirded out Che replied in a manner that ended what the fling that was left in that conversation.
"I [don't] wanna meet up. You text really strange declarations looking for a reaction, and I don't wanna know what's the real life equivalent of that."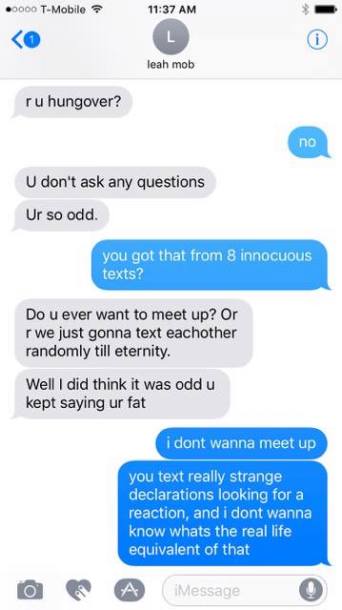 Caption: Che and Leah exchanging texts.
Photo Credit: pagesix.com
Despite Leah accusing Che of being arrogant, he had his own back,
"For the record, I am proud of my curves."
In the end, the text conversation came to an end. 
But now that we all know about his issues, we can safely say that Che has found it difficult to find a girlfriend in his life as he has not been vocal about his love relationships. Or maybe, he wants to keep things far from the public. We might have to wait for him to reveal any key information about his love life. 
Che And Controversies Have A Deep Relationship! 
Michael Che has grabbed attention and spotlight over him with all the controversial comments he has made in his life. He called Boston "The Most Racist city" and is no mood to apologize for his harsh words. But he said he has no hard feelings with the people of Boston. Back in February this year, he said,
"Listen Boston, my grandma is racist too, but I still love her. & I still love you," Che wrote on the photo-sharing app alongside a screenshot of a tweet from The Boston Globe. 
He also took over his Instagram post that has since been removed.
Most recently, Michael mustered himself a bundle of rage-filled comments from President Trump supporters, when he called Trump a "Cheap Cracker."
While giving updates on the devastating Hurricane Marie on SNL, Che said,
"This isn't that complicated, man, it's hurricane relief. These people need help. You just did this very same thing for white people, twice. Do the same thing," he said. "Go tell Melania to put on her flood heels. Get some bottled water, some food, pack up some extra Atlanta Falcons Super Bowl T-shirts, and write them a check with our money, you cheap cracker."
While the word "Cracker" refers to an offending slang referred to white people, Che got himself hate for badmouthing the President of the United States of America.

People called out for his suspension, but regardless, he is a comedian and is on a comedy show, and although what he did was wrong in a lot of people's eye, Che did not receive any form of action!