Entertainment
What Is Michael Cole, 'WWE Voice" Salary & Net Worth? He's Among Richest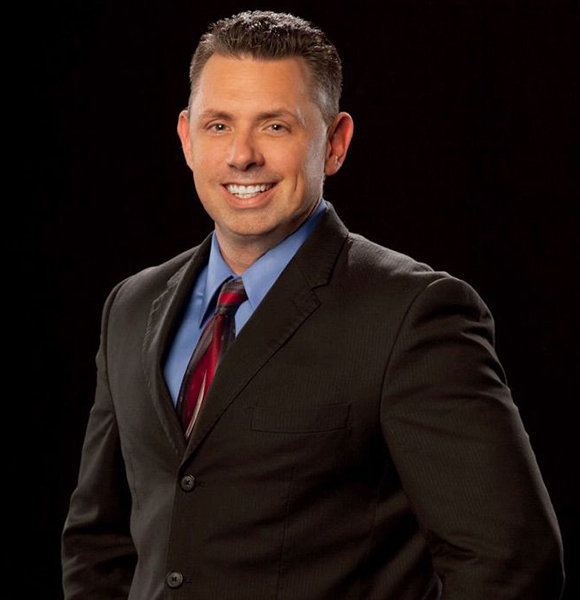 Amongst the numerous career-defining ability an individual possesses, Michael Cole found his in the form of his own voice. An American professional wrestling commentator, Michael Cole has been able to carry on the legacy of famous in-ring commentary with a voice so easy on the ears.
Considered by many as the voice of WWE, Michael Sean Coulthard, famously known as Michael Cole, has carried WWE along its path for over two decades. Serving as a play-by-play commentator on WWE, he has been a part of some hilarious stunts and some career-defining moments during his time at the company.
However, the commentator can't have any complains as he is equally well compensated for the effort he puts in. Michael enjoys all the fame and net worth from her WWE career, which he enjoys with his family of wife and two sons.
With an extremely supportive family, the commentator has been able to maintain an unparalleled work ethic!
WWE Loyalty Brings Massive Salary Returns; Net Worth In Millions
A well-to-do journalist prior his commentary days, Michael Cole joined World Wrestling Entertainment in 1997. Joining in as a backstage interviewer, Cole has stuck by the company for well over two decades to stand today as "The Voice Of WWE."
You May Also Like: Elizabeth Huberdeau Bio: From Kids To Divorce, Who Is John Cena's Ex-Wife?
The commentator has undergone some tremendous highs and lows during his two-decade-long association with the company. Known for its hilarious stunts and some senseless character portrayals, WWE has had Cole perform roles he never thought of before joining the company.
A ringside commentator originally, Cole has been part of several storylines from competing in the ring to being raped by one of the wrestlers. However, all these popularity stunts that Cole has undergone throughout his career has brought him an equally attractive salary return.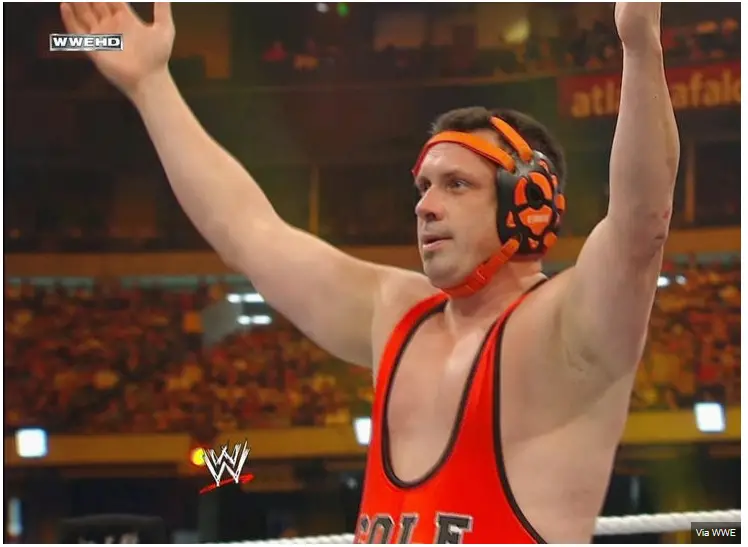 Michael Cole in a hilarious outfit during his wrestling match at the WWE. (Photo: wwe.com)
While a normal WWE commentator bags an average salary of around $104K per annum, it is safe to assume that Michael Cole with his expertise, earns much more. These high salary figures have contributed to his massive net worth of $4 million.
See Also: WWE Host Peter Rosenberg, Beautiful Wife & Massive Net Worth Suits Best
Cole, currently the most experienced commentator in the WWE roster, also acts as a mentor to the up and coming announcers of the company. In September 2018, after Renee Young became the first female announcer in the history of WWE, Cole tweeted out a very humble welcome message to the lady,
"Work hard and you will be rewarded. Simple but true. Tonight will be a top 5 highlight in my 22 year career. Congrats @ReneeYoungWWE."
Standing on the peak of his career today, Cole enjoys his fame and fortune as a reward for the loyalty he has shown to the WWE for 22 years.
Wife And Adopted Sons In Family; Immense Work Ethics As "Voice Of WWE"
Michael Cole, at age 49, stands today as a happy man with his family by his side supporting him in his career avenues. However, with his love for personal space, the WWE commentator hasn't revealed many details about his personal life.
Michael is happily married to his wife Yolanda Cole and resides in McAllen, Texas in the United States. The couple has also adopted two sons namely Calvin and Mark with his elder son Calvin working for the WWE in the television production department.
Standing in as one of the most famous TV personality, it can be a rigorous task to balance his family and work life. But, Michael with his immense work ethics and an extremely supportive family have balanced both sides of the coin in an exceptional manner.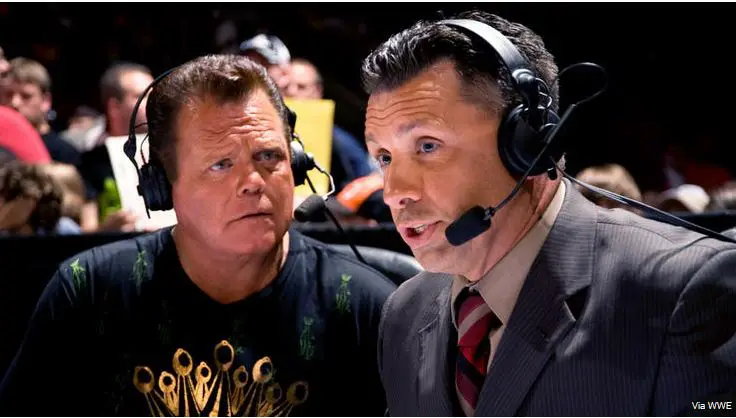 Michael Cole (right) on his commentary duties in WWE alongside Jerry Lawler. (Photo: wwe.com)
On September 20117, Michael Cole missed the WWE's show for only the second time in his 22 year long association with the company due to his son's wedding. Scott Fishman, a pro wrestling contributor, credited Cole for his unparalleled work ethics in a tweet that read,
"Talk about streaks. @MichaelCole missing #Raw due to son's wedding. Missed like two in 20 years. That shows incredible work ethic. #WWE."
With a two-decade-long career, there have been several rumors lately regarding Cole's retirement. However, Mike Johnson, in an installment of PWInsider Elite Audio in June 2018, cleared the air regarding the rumor mentioning he is not retiring any time soon, rather has moved up the hierarchy in WWE.
Don't Miss:WWE Newbie Kacy Catanzaro Shows Off Boyfriend, It's Not Bret Steffensen
"He has moved up or I should say to more of a advisory role. He is the boss. Michael Cole is in charge of all the announcers. When Nigel McGuinness was signed or Vic Joseph was signed or Corey Graves was signed — their boss is Michael Cole. Obviously, Vince, Triple H and Kevin Dunn but Michael Cole is the guy they have to answer to."
A television career that has seen some tremendous ups and downs, Michael Cole is rightly recognized as "The Voice Of WWE." with his unparalleled work ethics and love for his profession, Cole continues to do what he does best!