Celebs
Inside Brittany Packnett Cunningham's Unforgettable Wedding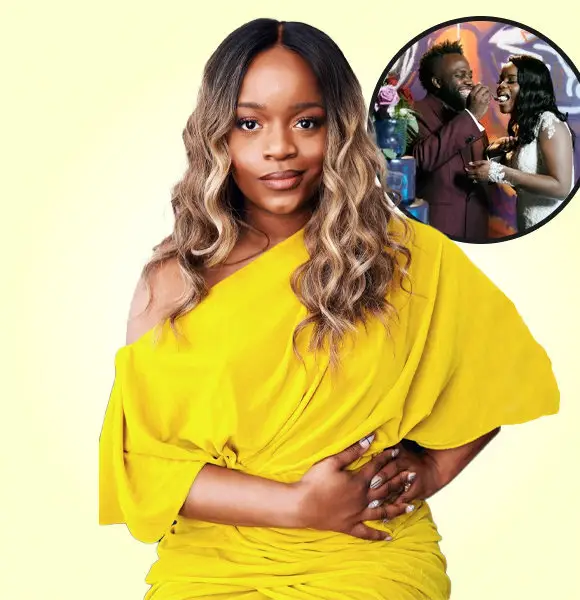 American activist Brittany Packnett Cunningham has been the voice of many voiceless. She has been actively advocating for black rights.
Her activism has been one of the important factors in her beautiful married life with her husband. 
Her wedding, respecting the leaders of the black community, has been a hot topic of discussion worldwide. 
Let's look more into her marital life. 
Brittany Packnett Cunningham & Her Husband's Remarkable Wedding
Brittany Packnett Cunningham, age 37, is married to Reginald Cunningham, who is a portrait and concert photographer and a professor at George Washington University. 
The co-founder of Campaign Zero first met her husband during the Ferguson uprising in 2014 at a protest in their hometown, St. Louis.
The duo started as friends who organized and participated in demonstrations for their freedom.
They got closer to dating after having been friends for more than two years.
Interesting: Timbaland's Married Life & Kids- Still Together with His Wife?
Given how much they sacrificed to obtain their rights, Brittany and her husband, Reginald, can be referred to as a power couple.
As they continued to grow in their relationship, Reginald popped the question to Brittany on the stage at the Broadway play 'Hamilton' to marry him. 
After saying yes to the proposal, they immediately started preparing for their big day. 
As both husband and wife duo are well-known for being black activists, they wanted their wedding to be all about the black community.
Brittany and Reginald chose Studio BE in New Orleans to be their wedding venue.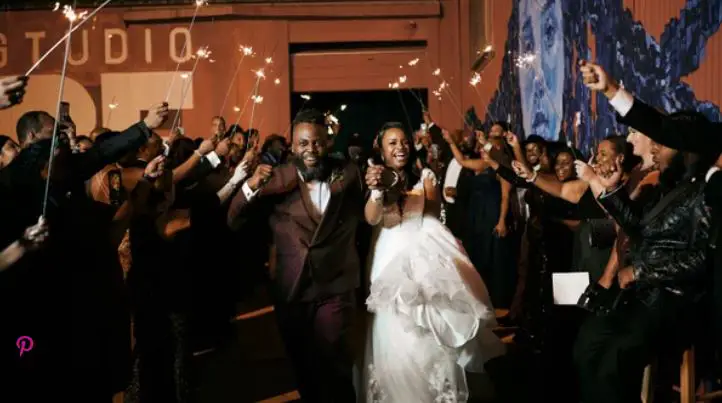 Brittany Packnett Cunningham marries her husband, Reginald, in Studio BE. (Photo: Essence)
Every last detail of Brittany and Reginald's wedding was carefully arranged to emphasize the black community.
The couple had everything planned, including getting Brittany's wedding gown from a Black-owned store in Washington to exchanging vows while standing between large portraits of Coretta Scott King and Martin Luther King.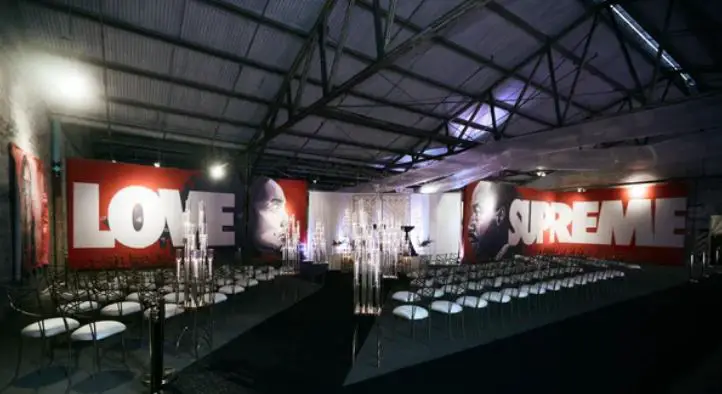 Brittany exchanged her vows between the portraits of Coretta Scott King and Martin Luther King. (Photo: Essence)
The pair had their own vows, which concluded with Reginald quoting the famous Ruby Dee quote, 'Today is ours, let's live it. And love is strong, let's give it.'
The couple even danced outside the railway station after their wedding ceremony. When questioned about the reason, Brittany said,
We second lined out of the ceremony and into the streets, dancing by the very railroad station where Homer Plessy was arrested for attempting to integrate a segregated rail car. This was the basis for the Plessy v. Ferguson' separate but equal' doctrine that governed the land for decades. We danced in our triumph in streets that were once home to our traumas.
Their whole wedding was planned out by Fresh Johnson of Eller Jae Events, who made the pair's visual come to life. 
Brittany and Reginald ended their big night with coffee and beignets. 
The pandemic gave the pair plenty of time together after their marriage at the end of 2019.
During the lockdown, Brittany said she appreciated spending time with her humorous spouse.
However, the couple's world unexpectedly turned lovely during the world's darkest moments.
At midnight of November 12, 2020, Brittany's birthday, she found out about her pregnancy. But, God had other plans for them.
Six days after learning she was pregnant, Brittany unexpectedly miscarried. 
In her UNDISTRACTED podcast, she described how she was getting ready for an interview when she began bleeding.
Making her work a priority, she completed her duty and later confirmed the loss of her baby. 
This experience left her broken and even affected her mental health. But being the strong woman that Brittany is, she slowly began putting her life back together with the support of her wonderful husband.
As Brittany and Reginald wanted to have a baby together, they again started trying for another baby.
However, this time it was quite difficult for them. But Brittany never gave up her hopes and remembered her mother's saying, 'God's timing is perfect.' 
Know About: Inside Ginuwine's Huge Family- How Many Children Does He Have?
After waiting for some time, the duo soon discovered they were pregnant again in July 2021. 
However, their pregnancy didn't progress as they had anticipated. In the 24th week, Brittany had to give birth to the baby.
Brittany spent ten days in the hospital, but her baby had to stay in the NICU for more than 100 days.
Although they welcomed their baby boy earlier than planned, they were happy that their son fought courageously and survived.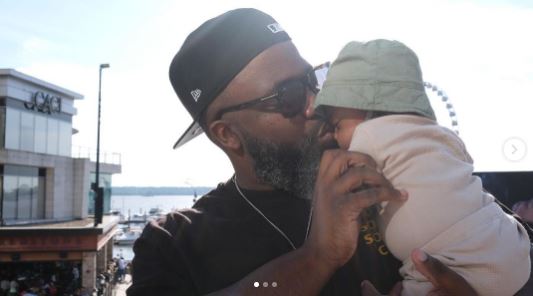 Brittany's husband, Reginald, celebrates his first Father's Day. (Photo: Instagram)
Their son's identity hasn't been made public since the parents desire to keep it private. However, they do provide their baby pictures and refer to him as Baby M.
After all the hardship, Brittany Packnett Cunningham currently enjoys a peaceful life with her spouse and child.