Entertainment
Michael Symon: New York Restaurants Lover; Married to Liz, Spends Downtime With Wife
Every girl will love to have a husband who will cook delicious food for her. Today, we are talking about an award winning chef whose wife feels immensely lucky because he often gives her a day off and feeds yummy items.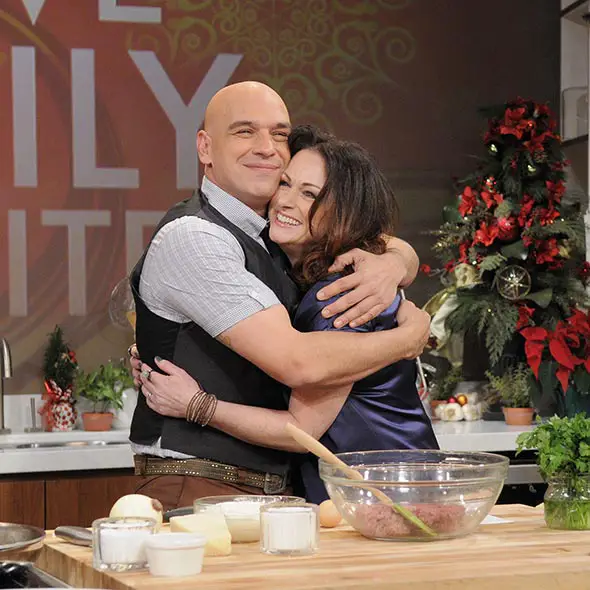 An award-winning chef Michael Symon has prepared the most delicious food after gaining the fame in Food Network show, Food Feuds.
While preparing such delicious food on his first job, he encountered the love of his life. Their meeting remained only in friendship for some year as the couple took some time to date.
Well, Michael and his wife, who is married for two decades, tied the knot only after establishing their own restaurant. As of now, the couple is a proud grandparent to the adorable grand-daughter. 
Wife Of 20 Years; Married To First Meeting Details
The celebrity chef, Michael Symon and her wife Liz Symon got married on 1 November 1998 at the Pilgrim Church, in Cleveland.
Michael first met his wife of 20-years in 1990 at his first job which was at the 40-seat restaurant called Players when he was just 20 years old. Liz used to work in the front office and he was immensely impressed by her and the two soon became close friends.
But during that time, she was married and had a son named Kris Sanderson. In 1994, Michael shifted another restaurant and asked Liz to fill the vacant post of manager. By that time, she was divorced and had a six-year-old son.
See Also:- Bridget Lancaster Bio: From Age To Family Details & Net Worth, All Revealed
While working together, the couple used to go out together and enjoyed each other company. They started dating and months later they started living together.
Two years after, Michael asked her to be his wife. 
Liz claims that this is her second wedding but this is the first time she has been able to breathe freely.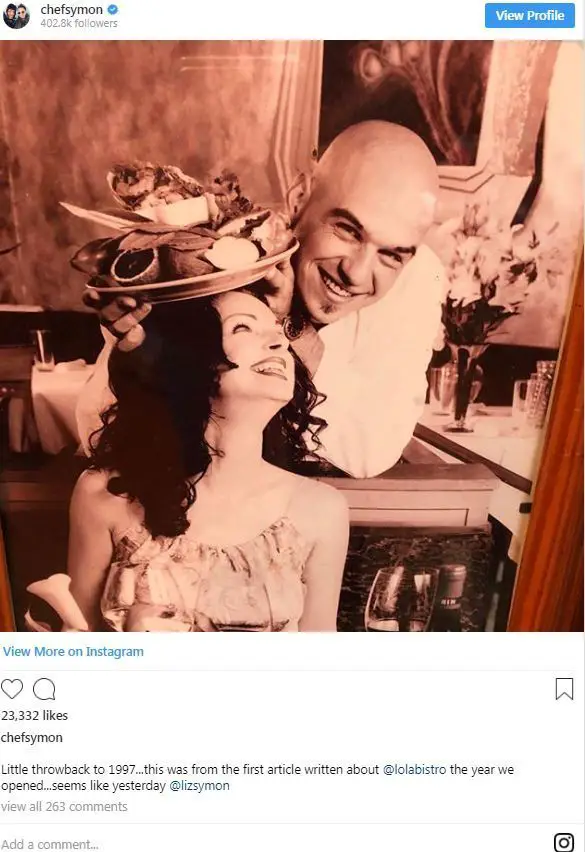 The first picture of Michael with wife Liz after they commenced their business in 1997 (Photo: Michael Symon's Instagram)
Michael parented his wife's then six years old son together and raised as his own. He stated:
"When he was younger, my wife, Liz, and I wanted to make sure we had dinner with him every night."
As of now, their son, aged 32, leads the life of a musician and recently welcomed a beautiful daughter with his fiancee.
Proud Granddad
Michael Symon raised his wife's son, Kris Sanderson as his own. And now, he couldn't resist falling in love with his son's daughter, Emerson Lina Sanderson, who was born on 9 December 2018.
Michael is showering his love and faith on her. On the day, she was born, he claims that he is the partial grandparent but she is perfect in every way. It seems her birth has surely changed his life.
Don't Miss:- Mario Batali Won't Be Charged For Sexual Assault, Find Out Why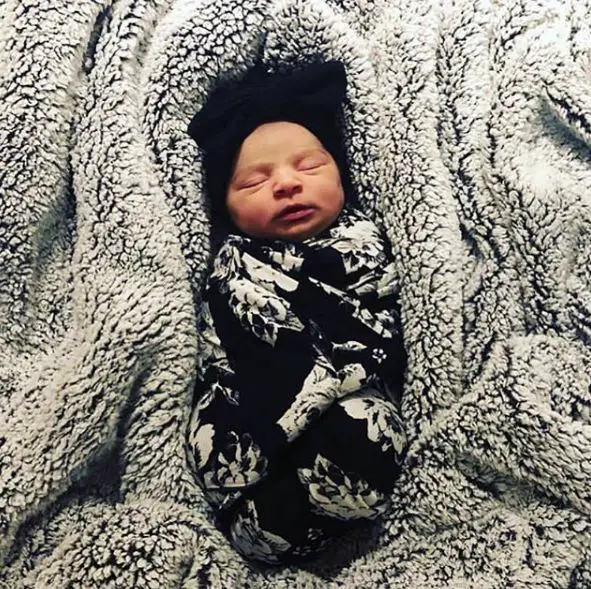 Michael Symon's grand-daughter Emerson Lina Sanderson (Photo: Michael Symon's Instagram)
Similarly, he wished that his only grandchild would turn her way into his path. Sharing another adorable picture on Instagram on 9 January 2018, the proud grandfather expressed his instinct that she would be the next-next iron chef.
Story Behind His Successful Chef Life
Born on September 19, 1969, to the Greek/ Sicilian mother, Michael Symon is the alumni of Culinary Institute of America.
He is the winner of the "James Beard Foundation Award." He currently works on Food Network for shows like Iron Chef America, Food Feuds and The Best Thing I Ever Ate.
Since childhood, he was always into the cooking with his mother and was always inspired by the recipes his mother. 
He often cooks the pasta for his family using his mother's recipe now.
'I had a Greek/Sicilian mother.  We sat down for dinner, we laughed, cried and got yelled at, and that was all the same emotion' (laughs).  Food has always been my fun zone, my happy place.  It always has to be that for me or I don't want to do it."
His TV Chef Profession and passion for cooking have made him travel to different cities and experience new tastes and styles of eating.
He has contributed many writings for periodicals like Bon Appetit, Gourmet, Saveur, O The Oprah Magazine and Esquire.
He also owns the restaurant in Cleveland, Ohio area namely, Lola Bistro, Lolita and The B Spot. With his famous restaurants and his appearance on the TV, Michael enjoys a heavy net worth of $ 4 million.