Entertainment
Michael Usher Is Married & Separated, Divorced Yet? Family Status Now
Once married, Micheal Usher led to a relationship downfall and ended in a divorce with his wife...... Despite the divorce, he is still a family man and loves spending time with his children...... After having some romance infused in his life with girlfriend ... for a short period, the Australian reporter transits to a new phase in his dating life......
Michael Usher has been a critic all his life when it comes to reporting about several attention-grabbing news. However, when the topic diverts to his love life, the 60 minutes news reporter has been criticized by his followers.
Once married, the Australian reporter had some romance infused in his life for a short period after his divorce. But after his little fling, the Murder Uncovered actor has not been much open about his relationship status. 
So, who is Michael dating lately? Or, has he been living his life as a Lone Ranger? Let's find out!
Once Married; Family Guy Living Solo After Divorce?
When it comes to knowing Micheal Usher's love life, people usually rely on rumors. Keeping his entire personal life low-key, the Channel Seven reporter keeps silence in public about his affairs.
Related Article: Noelle Watters Age 42 Wiki: Nasty Divorce With Jesse, Net Worth & Facts
A couple of years ago, the Australian newsperson had happily tied the knot with his former wife, Annalie Usher. 
Though the wedded pair kept their married life locked away from the public, it's known that the duo shares three beautiful kids together.
Michael, during his time as a married man, posted tweets in his social media flaunting his strong and courageous wife while even referring to her as his hero!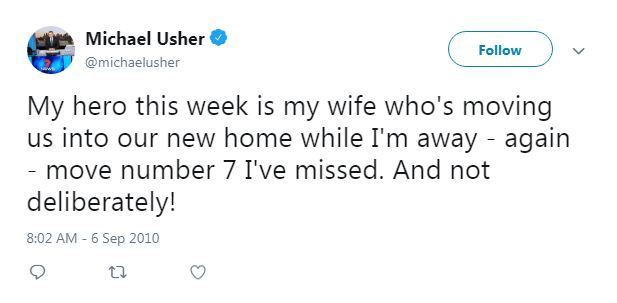 Michael shares a sweet tweet about his former wife in 2010 (Photo: Michael Usher's Twitter)
After certain merry moments shared by the Usher family, the marriage of the pair came to a halt and subsequently ended with a divorce. 
But despite the divorce, Michael doesn't hesitate to share the love with his kids and joyfully lets the world know his proud kids.
Seeking A New Partner, Dates After Split With Wife
Earning his net worth from the average salary of AU$79,360 wasn't enough for Micheal to lead a content life. He still knew that a big part of him was missing that could be filled only by love.
So, shortly after his divorce, the former 60 minutes reporter started swirling rumors about his low-key romance with Sunrise's co-host, Samantha Armytage.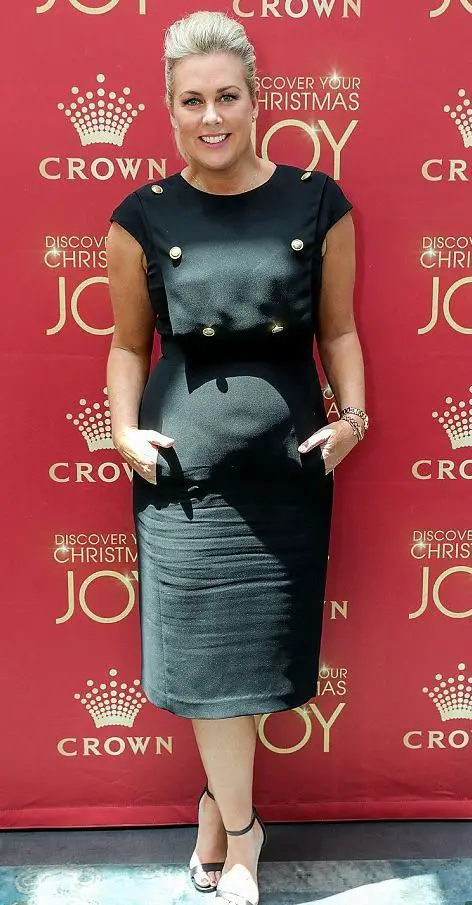 Samantha Armytage of Sunrise Channel attends a Christmas event (Photo: Dailymail.co.uk)
Armytage, who had finally found closure after splitting with ex-lover Peter De Angelis, initially hesitated to pour her actual feeling towards Michael.
Inside Story Of Samantha: Beautiful Samantha Armytage: Engaged With a Boyfriend? Searching For a Perfect Husband? Married?
She reported to Daily Telegraph on June 2015 saying,
'We had organised to catch-up for dinner at a restaurant but I thought if we went out and were photographed, people might think we were dating! Michael Usher and I are mates"
But later when the Channel Seven reporter shifted to Channel Nine, the connection between the two deepened more and their relation came off official at last.
The couple, who were the subject of a dating rumor, however, had a short-lived romance. 
Claimed as the "Match made in TV celebrity heaven," the two finally put a stop to their connection after facing a jagged on-and-off relationship.
Don't Miss Out: Did Justine Schofield Get Married To Boyfriend/Partner? Status Now
While sorting things out for the second time in a row, the duo knew that the heated connection between them had finally frizzled out!
Failing twice in a row to build a perfect love life, the 49-year-old news anchor, who stands at the height of 6 feet, is left with another split that has opened a spot for the right one in his life yet again!