Entertainment
Beautiful Samantha Armytage: Engaged With a Boyfriend? Searching For a Perfect Husband? Married?
What one must learn from Australian television personality Samantha Armytage is to have patience; whether it's to achieve success or a successful love life. "Sunrise" co-host, Samantha has a roller-coaster love life.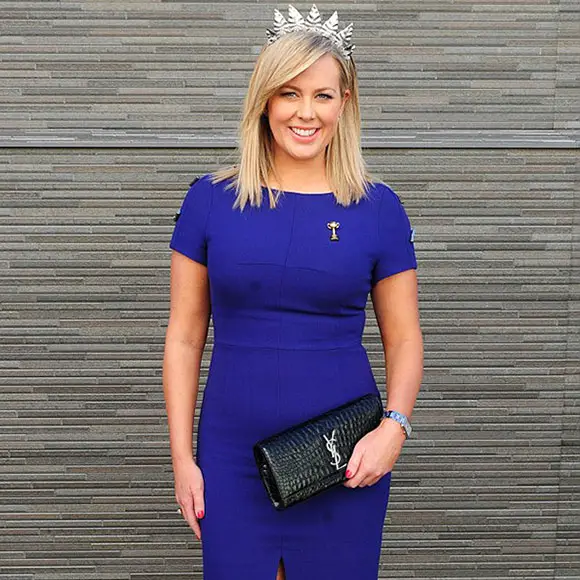 What one must learn from Australian television personality Samantha Armytage is to have patience; whether it's to achieve success or a successful love life. "Sunrise" co-host, Samantha has a roller-coaster love life.
Today we will find out whether she is engaged or not. Is she searching for a perfect husband? Let's get to know more about her.
Unlucky in love! Boyfriend, Dating, and Affairs?
Forty-year-old beauty Samantha is very unstable regarding what she says about love and affairs.
Don't Miss:- Sal Vulcano's Sister Jenna Vulcano Age 31 Ended Married Life With Husband, Why?
There are numerous people whom Samantha dated. In her book "Shine" (published on November 25, 2014), she said that she had dated every kind of man but her love life wasn't successful, but yet she doesn't regret.
On August 2014, in an interview with perthnow.com, on 2014, Samantha said:
"I'm quite fussy, and I don't mind that. As I've said before, I'm not going to date anymore d ... heads so it has to be someone who's in the right headspace. I don't really want to waste any more time. I know it sounds lazy, but I'd rather stay at home reading a book than go out on another appalling date. I've had my fair share."
Likewise, in an interview with dailylife.com in November 2014, she said:
"I want to have children, but the guy has to be someone who can hold his own. He needs to be kind. I have dated some very unkind men recently, and I have stayed with these men because I thought I needed to be married. I don't think like that anymore."
For Amy, finding connections with people she meets is very rare.
Interesting:- Zoila Chavez's Bio: Age, Net Worth, and Other Facts On The Retired Maid Who Served A Family For 18 Years
Is she Engaged now with any of her Boyfriend?
Well, Samantha had many proposals for marriage, but she could not accept any of them. She reveals in her book about how she avoided an engagement to a man at the age of 30.
Samantha also explained that she found an enormous diamond ring when she rummaged the pockets of her ex-boyfriend. She also said that man was someone that she shouldn't have dated.
However, Samantha's ex-boyfriend Peter De Angelis was rumored to be the mystery man whose proposal was rejected by Samantha Armytage. But Peter himself told the Daily Mail Australia that he wasn't the man who was referred by Samantha in her book.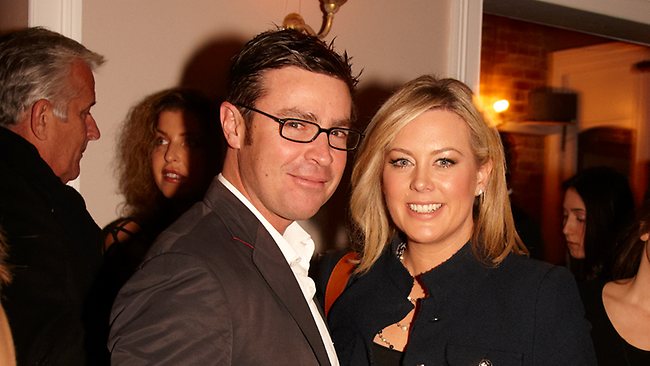 Samantha Armytage with her ex-boyfriend Peter De Angelis in 2012 at the Guerrilla Bar opening (Source: news.com)
Following her breakup with Peter, she was romantically linked with Modern Family actor Eric Stonestreet. Before Peter, she had dated long-term builder boyfriend Sean in 2011.
More From Live Ramp Up:- Abby Huntsman Post Pregnant Bliss; Married Life To Banker Husband
Well, Samantha is probably not engaged.
Is she searching for a perfect Husband? Married?
Samantha, who had multiple unsuccessful relationships, now seems to be searching for a husband.
Beauty in her early forties, Samantha, who once said that she would prefer reading a book rather wasting her time in dating, is now ready to start a family. In an interview with Woman's Day magazine in May 2016, she revealed that she is searching for her Mr. Right discreetly as possible with whom she can start a family. Samantha said:
"I would like to think that in the next couple of years I could be pregnant. ""It would be really lovely to meet someone and to think that might happen."
She also shared that she went out on dates, and it was basically dark corners of restaurants and a lot of baseball caps and tried to maintain privacy on it. Samantha also explained-
"I don't think I need to have a baby to satisfy any feminine urge to feel complete in that way, but I would like to meet someone."
Well, it doesn't seem that Samantha is engaged but she is undoubtedly searching for a perfect husband. We would also love to see her getting married, don't we?
You May Also Like:- Abby Phillip Bio: From Mystery Age To Intimate Wedding With Husband
Dating Again? Who Is Samantha Armytage New Boyfriend?
The Sunrise co-host hinted that a romance between her and a mysterious boyfriend may be brewing.
Without going into details of her new love, Samantha claimed good things are happening in her life. When asked if she was seeing anyone in 2018 Who magazine interview, the 41-year-old TV personality replied:
'If I was, you would be the first to know. There are good things happening...I don't talk about anyone before I'm 100 percent sure, because you have got to keep some things private."
Back in August 2017, she had echoed a similar sentiment on air when she suggested that she might be dating. Earlier that year, she was romantically linked with fellow Channel Seven personality Michael Usher.
A source close to Samantha's one-time love interest claimed that Michael had opted to focus on his career instead.
Similarly, she was caught up in a controversy in 2017 after her Sunrise co-host Edwina tried to play matchmaker for her on the show. It didn't sit well with Samantha, which led her to snap on Edwina. In an angry tone, she countered:
"All right, thank, Eddie. God, you've already become a smug married, trying to be a matchmaker."
The New South Wales native then suggested her co-host should worry about her wedding.
Discover:- Dating Again? Ricki Lake's Searching Love After Failure Of Her Married Life!
The Sunrise co-hosts seemed to have put the bad blood behind them as they looked happy sharing snaps on Instagram on the day of Edwina's wedding.
Samantha Armytage's Weight Loss Transformation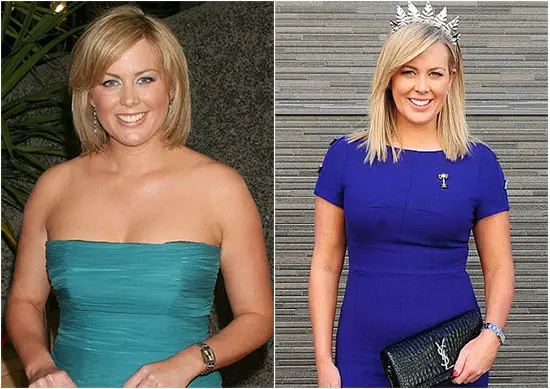 Samantha Armytage before and after weight loss (Photo:- dailymail.co.uk)
Beautiful Samantha has a very fluctuating figure. To get the shape, Samantha has lost 12kgs and also has worn corsets to appear slimmer on set.  She believes that her weight goes up and down dramatically.
In 2014, she stunned us by losing 12kgs. To get a shaped body, she performed yoga, workouts, cardio, resistance training, and a daily walk. Her working always began around 3:40 am and ended around 5 pm.
The beautiful blond Samantha has also hosted body transformation and weight loss reality show "Bringing Sexy Back."
Read Also:- Beautiful Sophie Dymoke: Blissful Married Life With Her Husband And Baby, Her Bio?
Samantha Armytage's Short Bio
Samantha was born on 4 September 1976 and grew up in the Snowy Mountains of New South Wales. She attended school in Sydney and then joined Charles Sturt University. In the year 1999, she began her television career at WIN Television. 
In 2002, she joined Sky News Australia, where she was a chief political reporter. Forty-year-old beauty Samantha is currently hosting "Sunrise" alongside David Koch. She has also hosted "Seven 4.30 News" and  "Weekend Sunrise."