An outspoken critic of NFL, Miko Grimes isn't a stranger to controversies. Her antics on the public sphere may be a cause for concern to many, but at home, she seems as reasonable as the next woman.
To get a better scope of Miko as a person, delve into her biography!
Bio - Age, Birthday, Family, & College
Born in 1975, Miko, age 43, celebrates her every year on 21st June every year.
A native of St. Louis, Missouri, the socialite - who holds the American nationality - along with her family migrated to Southern California when she was 5. The move came courtesy of her mother's decision to pursue her dreams of opening a restaurant in LA.
While in high school, her bio suggests that she got voted the Most Athletic and eventually went on to play Divison-2 level college basketball.
Interesting Bio:- Afton Williamson Bio, Age, Married, Family
A graduate of California State University, Miko - who stands no taller than five feet and five inches in height - holds a BS Degree in Kinesiology and Nutritional Science. She had initially enrolled to study Journalism.
Net Worth
After acquiring her college education, she embarked on her six-year-long journey as a pro basketball player -- playing in four different countries in between.
She later returned to the US following her mother's passing to diabetes, only to leave behind her lucrative basketball career for journalism. An invigorated Miko even joined CGB (Complete Game Broadcasting) in Atlanta to further her credentials.
After CGB, she worked as a sideline reporter for Morehouse College as well as Atlanta University while co-hosting a sports-talk radio program on 790 The Zone. It was during this period, Miko met her future husband (more on that later).
Today, she's a celebrated chef and a socialite with a sky-rocketing net worth - a sum which would've grown exponentially, had she not given up her lucrative career for more family time with her husband, Brent Grimes, who garners a reported net worth of $8 million.
Thought Husband Was Gay
Miko and her husband, Brent met each other while the latter was still with Atlanta Falcons.
Couple Who Met While At Work:- Graham Phillips Spotted With Ariana Grande, Dating Again?
Contrary to how compatible they look today, the married duo didn't hit it off at the start.
The retired journo even questioned her then-boyfriend Brent's sexuality after he failed to make advances following a month of dating. She once explained:-
"We were going out for a month, and he wouldn't kiss me, wouldn't grab my ass, wouldn't do anything guys do. I thought: It's Atlanta; lots of guys here have beards. And I'm a tomboy. Maybe he thought I'd be cool with that."
So thrown off was Miko with her NFL star beau that she didn't even return his calls. Eventually, the pair reconciled and never looked back.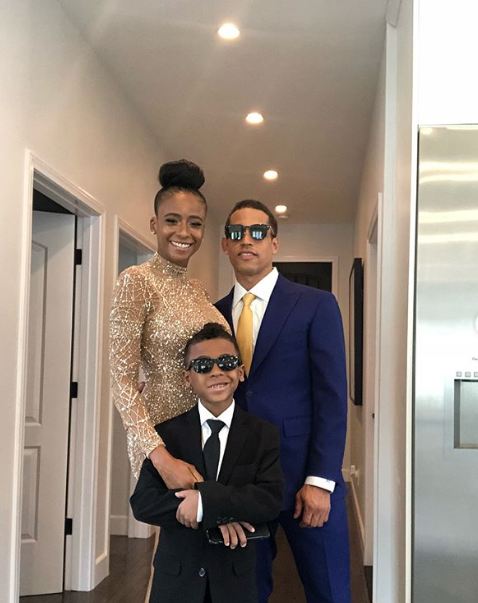 Miko Grimes with her husband, Brent Grimes and their son, Aiden posing for a family portrait circa 2018 (Photo:- Miko Grimes' Instagram)
And in 2010, she and her boyfriend-turned-husband Brent tied a knot in an intimate wedding ceremony. About a year later, the duo welcomed their first and only child - a son named Aiden.
Controversies - Arrested & Beefs
There's no denying that Miko is her beau's biggest supporter. In the past, she went up and beyond to protect his honor and career, which in turn, fueled countless controversy.
Celeb Who Can't Catch A Break:- Azealia Banks Boyfriend, Dating, Gay, Net Worth
Back in 2015, the St. Louis, Missouri native recieved criticism for bashing Ryan Tannehill, Brent's then-teammate at Miami Dolphins. A year later, she faced similar outrage following her "jew buddies" remark against Stephen Ross.
However, nothing topped her life as a controversial figure than her infamous 2015 arrest at a Dolphins game. Per the authority, the police arrested Miko after she tore through a barricade of bicycles. And upon their attempt at restraining her, the police claim that she headbutted one of them, before kicking another.
Charges against the mother of one later got dropped. The then-Assistant State Attorney, Antonio Lozada reasoned that the law enforcement officers' use of excessive force.