Entertainment
Mina Starsiak Bio: Age, Family and Married Life Of The 'Good Bones' Star
Mina Starsiak has successfully grabbed a lot of attention with the hit show on HGTV, "Good Bones," which is about the renovation and home design. Following the success of the show, she garnered massive fan following and simultaneously attracted a curiosity regarding her personal life.
Well, she is already married and shares the marital bond with the father of her newborn child.
So, today, for all her ardent fans, we've brought you all the details about the star. Stay until the end to know more about Mina Starsiak!
Bio Reveals Family And Career Details; What About Age?
Like many women who love to keep people guessing about their age, Mina Starsiak has kept her age confined as well. However, it is known that Mina hails from a family of seven siblings, whose age ranges from 12 to 32, and she happens to be the second oldest child.
Mina's mother, Karen, and her father split when she was young. 
See Also: Paige Butcher Engaged To Boyfriend? Ring That Started Rumors | Details
Talking about Mina's academics; after her high school, Mina Starsiak went on to graduate from the University of Indiana with a degree in general studies; minors in sociology and business in 2007.
In the initial phase of Mina's career she worked at a rental estate office as a waitress, but after graduation, she didn't know her career path. However, she knew that she didn't want to do a 9 to 5 job. Mina divulged,
"My goal after graduating was that I wanted to keep wearing yoga pants and hoodies — I don't want a desk job, I don't want to wear a suit, I don't want a nine-to-five."
In 2007, Mina bought her first house, and the house needed a major renovation, and from her family, her mother Karen E Laine came to the rescue. Mina and her mother self-taught them about the renovation and Mina realized her passion in no time. 
Don't Miss: Danny Cipriani Just Won't Turn Girlfriend Into Wife | A Gay Man?
Following her passion, Mina became a licensed real estate agent, and Mina, along with her mother, started a business called "Two Chicks and a Hammer."
Later, when a casting agent discovered the mother-daughter duo via their Facebook page, she thought it was a joke. She recalled the moment in an interview as,
"She kept calling my cellphone, and I thought it was someone messing with me first and trying to get our business information. But then I heard it was [a casting agent] . . . and we started a conversation about whether it was something we'd be interested in. We were like, 'Sound's like a party. Let's do it!'"
Mina and her mother Karen filmed and sent the flip-cam clip to HGTV, and after the selection, a pilot got aired in May 2016. The show Good Bones became a hit show on HGTV and the second season of 12 episode telecasted from January 2017.
That was all about her thriving career, but besides that, she has an equally successful married life as well!
Blissful Married life, Addition Of New Member Into Family
Mina got married to her boyfriend turned husband, Stephen Hawk in June 2016. Mina claimed herself to be a laid-back bride and shared that she wasn't too nervous about the ceremony. The reception was held at the city's 1899 building.
On her big day, the bride Mina wore a mermaid-style Romona Keveaz dress along with a swept-back updo and veil.
Mina was nervous about the couple's first dance and attended more than ten weeks of ballroom classes to perfect it. Although their last minute rehearsal suffered a slight wardrobe malfunction while perfecting a spin in the dance routine, the real performance was far better.
The marriage came a year after Stephen popped the question to his long-time girlfriend. Stephen got down on one knee while they both were on a scavenger hunt. The proposal came on the 50-yard-line of the Indianapolis Colts' training field.
The pair had been dating for a while until they decided to take their relationship to the next step. They actually connected through a mutual friend on Facebook and Mina liked him the second she saw him. As for Steve, the first time that they met he ignored her all night. However, Mina was not giving up and gave Steve another chance.
Well, they sure did have their ups and downs in their relationship but the couple did not give up.
Talking about their children, Mina is a foster mother to their daughter, Julie. Although it's unclear how Julie made her way in the life of Mina and Stephen, Julie rules their heart.
Mina's love for her cute little daughter is apparent from her Instagram post back from April 2017.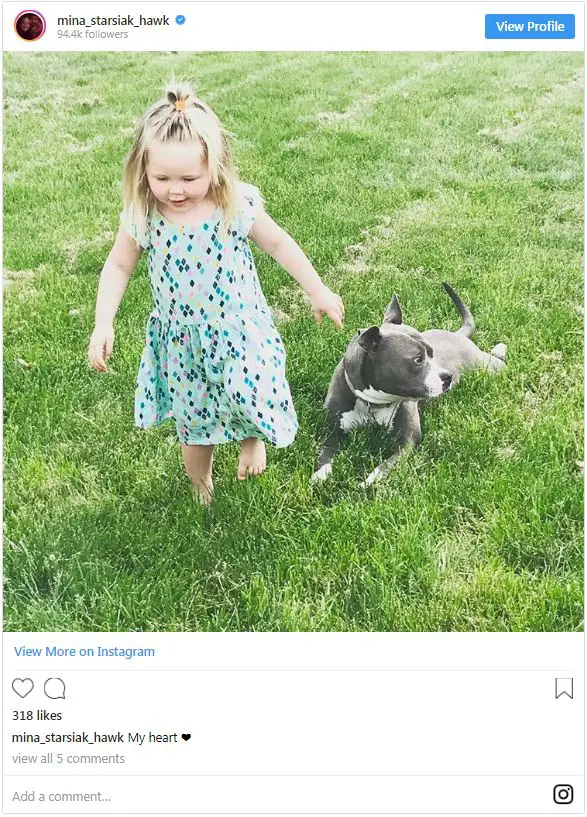 Mina Starsiak with her adopted daughter, Julie. (Photo: Mina Starsiak's Instagram) 
Furthermore, Mina's husband and Julie's foster father, Stephen shared how his life has changed after being a parent through a Facebook post in January 2017.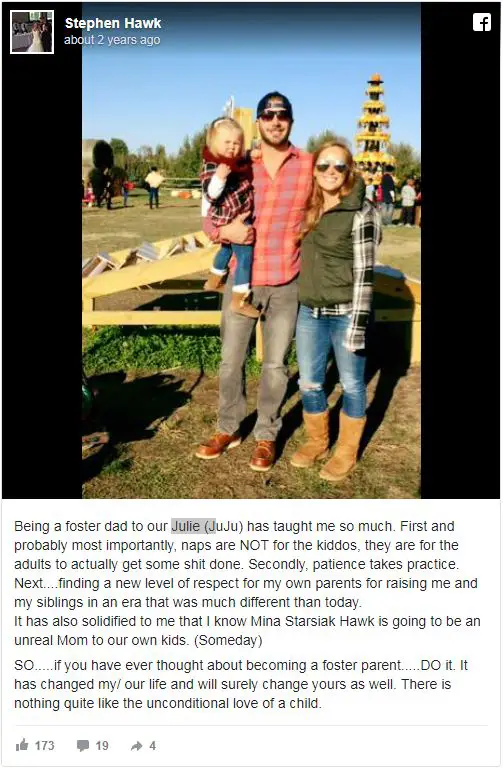 Mina Starsiak's husband shares how his life changed after being a father. (Photo: Stephen Hawk's Facebook)
On the other hand, Mina and Stephen have now welcomed their first baby. The couple is blessed with a son who was born this August in Indianapolis, Indiana. The duo named their baby Jack Richard Hawk weighed over 6 pounds and was 19 inches in length during the time of the birth.
You may also like: Why Hasn't Fox News' Bill Hemmer, Age 52, Not Married Yet? Does He Have a Girlfriend or Engaged?
Well, Mina sure is blessed to have a caring husband and a family of her own.
Keep visiting for the budding updates on Mina Starsiak!