Entertainment
Rumored Gay/Lesbian Missy Elliott Hints On All Notion, 'Work It' Rapper Has Girlfriend?
American rapper, Missy Elliott is a highly celebrated female artist with five Grammy Awards. Famous for her song Work It, Missy is the only female singer to have six of her albums platinum certified.
Recognized for her larger than life persona, she has always been supportive of gay and lesbian artists in the hip-hop industry. Her affinity towards the LGBTQ community has also seen her romantically linked to various female celebrities from time to time. But were any of those rumors true?
Learn more about the personal life of Missy Elliott and the experiences she has impacted.
An Idol For Gay/Lesbian Artists
Missy has always been vocal about gay people, but she accepts the fact that the LBTQ people have been struggling to make an impact on in the rap business.
She mentioned in an early 2000s interview that the hip-hop industry would never accept gay people. Although recent years have not been any easier for the LGBTQ community, she has been able to make a mark among various gay artists.
Idol To LGBTQ Society:- MSNBC's Ali Velshi Shares Wife & Romance Background! Low-Key Family Revealed
Rapper HM, who struggled to publicly out himself as a gay during his childhood found Missy along with other artists as his source of inspiration. He confessed in an interview that it was Missy from were got all his "fun" and admired her for her rational thinking rather than the conventional one.
Furthermore, famous author and lecturer, Dr. Nikki Lane also mentioned Missy as an icon for the gay and lesbian artists in her article Black Women Queering the Mic: Missy Elliott Disturbing the Boundaries of Racialized Sexuality and Gender published in the Journal of Homosexuality.
Moreover, the bold and daring attitude she displayed in her music videos has left many lesbians idolizing her. However, her support for the inclusion of gay and lesbians in the music scene has come with a price; she got hit with gay and lesbian labels.
Although Missy has never confirmed her lesbian identity, many believe that she is gay. And there have been many rumors linking the rapper to several gay celebrities.
Married Or Dating Girlfriend?
In 2005, Missy was supposedly dating America's Next Top Model third cycle winner Eva Pigford. Wendy Williams initially started the speculations, after Missy and Eva performed a raunchy dance routine together at the New York's Beacon Theater.
However, the rumors were later dismissed by the rapper's manager Mona Scott, who mentioned that the two artists were good friends.
The gossip about Missy's alleged relationship with Eva may be her first; however, it wasn't her last.
Missy, who mentioned in 2010 about not being married, has been subject to various lesbian speculations since then.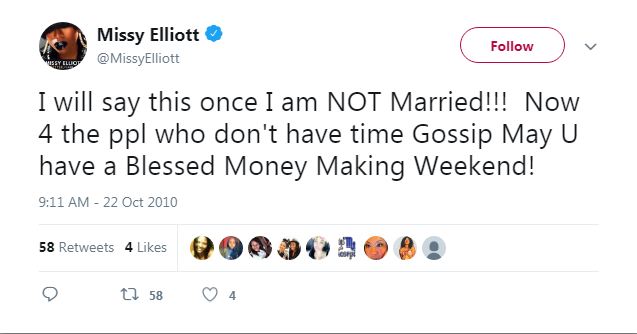 Missy Elliott tweets about being unmarried on 22 October 2010 (Photo: Missy Elliott's Twitter)
In 2011, MediaTakeOut.com claimed that Missy had dumped singer Keri Hilson after dating for a short time. The report suggested that the pair had met while Keri was starting her singing career whereas the 47-year-old rapper was already an established star. Reportedly, the couple romanced for a short period after which she dumped her to date another woman. 
In response, Keri criticized the website for spreading false news and mentioned that she had no professional or personal relationship with the famous rapper. She tweeted on 17th March 2011,
Lies!! How do those ppl sleep at night? I love & respect Missy & her work, but we've never worked & I've probably seen her 5 times in my life!
Moreover, in 2014, the renowned rap artist 50 Cent accused the Missy of flirting and hitting on his girlfriend, Olivia. However, Olivia claimed that she didn't have any sexual relationship with Missy and her boyfriend was just jealous of her working with the Virginia-born artist.
More On Olivia:- Olivia Longott Boyfriend, Age, Parents
Missy was previously also linked to Real Housewives of Atlanta star Eva Marcile. Eva, who is now engaged to Michael Sterling, denied any romantic relationship with her and revealed that Missy was only a good friend.
Although there are have plenty of rumors about Missy's relationships, none of them got confirmed. With denial in her lesbian romances and no known existence of a boyfriend, fans are assuming that she could be open to all notions.
Gets Her Doctorate; Teases New Project
Missy's status as Rap legend got solidified when she got awarded with the honorary Doctor of Music degrees from Berklee College of Music on 11th May 2019.
Fellow musicians Alex Lacamoire and Justin Timberlake were also the recipients of the very honor at the same event.
A highly enthused Missy took to Twitter to celebrate her latest mantel. In the video, she dances as she points to her diploma. Responding to the news, rap fans along with her counterparts immediately flocked to her feed with congratulatory messages.
Attended Berklee:- Ben McKee Married, Wife, Parents, Net Worth
Back in mid-April 2019, the Lose Control hitmaker opened up about her next big project in almost 14 years. Per her Instagram post, she had been working on it since 2018.
A week after announcing her "next project," Missy hit the headlines for donating $25 thousand to the students at Woodrow Wilson High School, her alma mater. The charity work was a commemorative offering before her performance at Something In The Water Music Festival.