Mitch Marner got drafted in the NHL in... penned a 3-year-long contract worth... stats reflect his importance in the... net worth - therefore - should hover around... born in May 1997 to parents... became enthralled with girlfriend...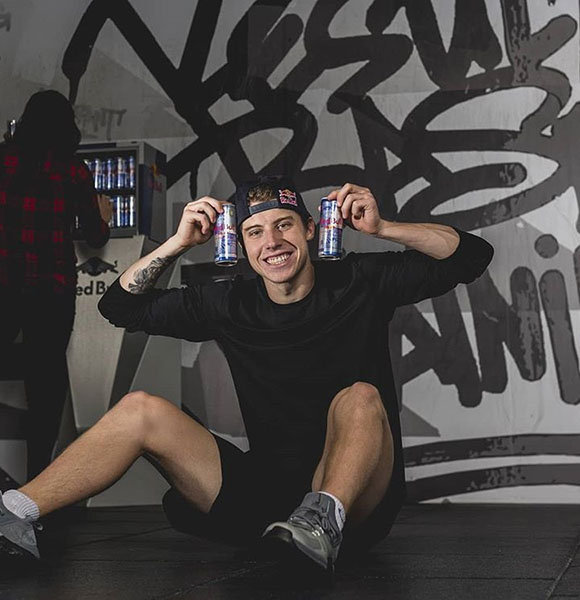 Following two impressive seasons with the Ontario's Hockey League outfit London Knights, hockey sensation Mitch Marner got drafted in the NHL in 2015.
A fourth overall pick by the Toronto Maple Leafs, the Markham, Canada-native is a fan favorite and also the team's most crucial contributor. His NHL stats stand as a proof.
Using his innate goal scoring abilities and tremendous hockey IQ, Mitched helped further cement Maple Leafs' dominance in the league. 
Contract, Salary & Net Worth
Upon signing with the Toronto Maple Leaf, Mitch penned a 3-year-long contract worth $5.3 million. Per the deal, he bagged a staggering $277.5 thousand in signing bonuses.
Also, the contract ensured a $1.78 million salary per year for the forward. Of the $1.78 million, $832.5 thousand was categorized as the base salary.
After taxes and expenses, Mitch's net worth - therefore - should hover around a healthy seven-figure mark.  
Discover Another NHL Talent:- Ben Bishop Gets a Contract Extension Amid Rumors Of Trade!
Before the 2019/20 NHL season could even take off, there were talks centered around Mitch's status as a free agent. Kyle Dubas, the Maple Leaf's general manager, was confident of retaining his services for years to come.
As of 30th June 2019, Mitch and the Maple Leafs were yet to strike a deal.
Stats & Height
For what it was worth, Mitch's first three years at the Toronto-based NHL was nothing short of excellent. His stats reflect his importance in the team.

Mitch Marner's NHL stats with Toronto Maple Leafs between 2016 and 2019 (Photo:- espn.com)
In his rookie season, the forward played a total of 77 games. He ended the year with 19 goals and 42 assists.
During the 2017/18 season, Mitch bagged 69 points - 22 goals and 47 assists - in 82 matches. The following campaign, his stats saw improvement as he registered 26 goals and 68 assists.
Fellow NHL Player:- NHL Star Andreas Martinsen Essential Details: Parents, Ethnicity, Stats, Facts
Weighing 170 pounds, the former London Knights' player stands six feet (1.78 m) in height.
Age, Parents & High School
Mitch was born in May 1997 to parents: Paul and Bonnie Marner. A native of Markham, Ontario, he spent a majority of his adulthood in Thornhill, Ontario.
With regards to siblings, the 22-year-old NHL star has an older brother named Christopher. The Marner brothers share an age difference of four years.
As a high school student, Mitch attended Hill Academy. Located in Vaughan, Ontario, Hill Academy is a private school which focused in Athletics. After Hill, he joined Blyth Academy.
Girlfriend Or Dating
Other than hockey, Mitch's next favorite indulgence is Stephanie LaChance, his girlfriend.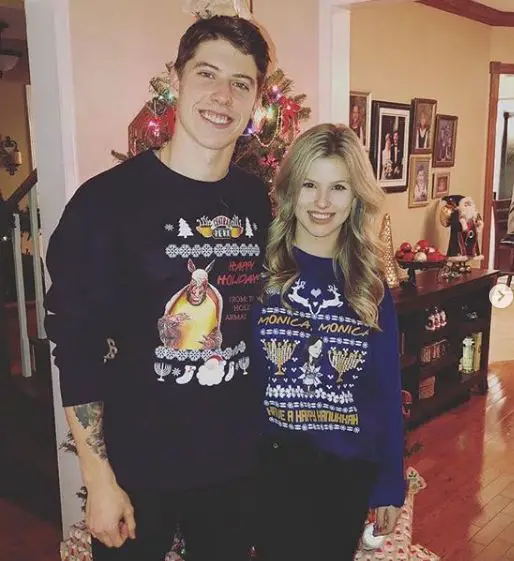 Mitch Marner and girlfriend Stephanie LaChance celebrate Christmas 2018 (Photo:- Mitch Marner's Instagram)
The NHL player and his girlfriend commenced dating in June 2015. Despite being a year younger, he became enthralled with Stephanie.
A year after igniting the romance, the lovebirds' relationship took a giant leap as they vacationed in Jamaica.
Love With Former NHL Star:- Hilary Duff's Ex-Husband Mike Comrie Involved In Sexual Assault Investigation
When Mitch and his lady luck Stephanie first met, the latter was still working as a server at Kelsey's restaurant. Between 2016 and 2018, she had worked as a bartender at On Demand Staffing.