Many people do not believe in destiny, while others wait for a miracle to happen in their lives. Destiny, to the ones who believe in it, plays a vital role in their love life.
Similar is the story of actors Mo McRae and his wife, Lex Scott Davis. Here is a little overview of how the duo found out they were meant to be together,
Wife: Love At First Sight
It is no secret that Mo McRae is married to his The First Purge co-star, Lex Scott Davis. The two met at the cast meet and greet for the hit film in 2017. Sitting across from each other, the pair instantly formed a connection when their eyes met the first time.
You Might Be Interested In:- Is "Cobbler" Actress Melonie Diaz Married With Husband Or Secretly Dating?
The two started as friends with the same interests as each other. Connecting over their similarities, the connection between the too soon turned into a romance-filled relationship.
It did not take too long for the duo to understand that they were meant for each other. So, in August 2018, after getting permission from Lex's parents, Mo proposed her in Palos Verdes, California. Lex was as eager as Mo and accepted his proposal.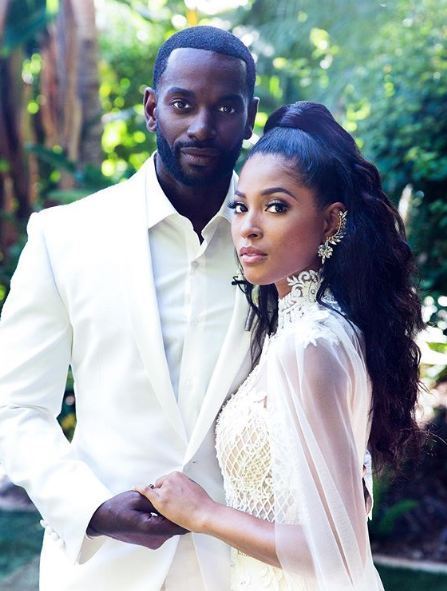 Mo McRae with his wife Lex Scott Davis at their wedding in 2019 (Photo: Lex Scott Davis' Instagram)
The two were engaged until July 2019 when they finally tied the knot. The happy couple had a lavish wedding in L.A. The husband and wife asked the guests not to take pictures or videos of their wedding so that they could keep the sacredness of the auspicious moment.
Family, Height, Daughter
Mo McRae was born on 4 July 1982 in Los Angeles, California, and stands at the height of 6 feet and 1½ inches (1.8m). The Gridiron Gang alum's childhood is very hidden as the star likes to lead a lowkey life.
But, what fans know about Mo is that he is a father to his wonderful daughter named Miami McRae - who ages 11 as of 2019. However, the identity of his baby mama remains unknown.
Career: Basketball to Acting
People who follow their passion are the ones that are successful in the field they choose. Similar is the story of actor Mo McRae. To follow his ardor of acting, he quit his basketball team when he landed a lead role in the high school play.
He then started appearing in commercials for Nike, Reebok, and Visa.
Since after, Mo McRae starred in famous TV shows such as Sons of Anarchy, Murder in the First, Pitch, The Shield, and Empire.
Another Star From Sons Of Anarchy:- Theo Rossi Eternally Together With Wife! Flaunts Married Life
He has also appeared in different movies such as Thirteen, Woman Thou Art Loosed, Dirty, Detention, Wild, Den of Thieves, and Adopt a Highway.