Entertainment
Monica Culpepper: With A Husband Who Infinitely Loves Family - She Gleams
Monica Culpepper: With A Husband Who Infinitely Loves Family - She Gleams Having people who have your back whenever you need them is what its like to have a family. And Monica Culpepper, the runner-up in 'Survivor: Blood vs. Water,' is blessed to have one. 
Having people who have your back whenever you need them is what its like to have a family. And Monica Culpepper, the runner-up in 'Survivor: Blood vs. Water,' is blessed to have one. 
Monica, who is married and enjoys her family life, regards her husband as her inspiration in life. But, what up-lift did she had in her life after being married? And what's the secret to the happy family that she cherishes?
Read along to find out the answer!
Monica Culpepper's Married life with Her Husband
Monica Culpepper, the wife of former NFL defensive lineman Brad Culpepper, met her man when she was in college. She was enrolled at the University of Florida, where Brad was an All-American football star. Monica abandoned her plans for medical school when Brad got drifted to play in Minnesota Vikings in 1992.
See Also: Charity Wakefield Married An Actor! Meet Boyfriend-Turned-Husband
The couple sealed their relationship through a wedding in 1992 and are currently parents to three of their children. Brad is always seen encouraging his family to achieve their own height of success; he is mostly seen rocking his Syracuse hat as a support to his son Rex, who is a quarterback there.
He even shares the risk of playing football with his son while still supporting Rex in moving forward.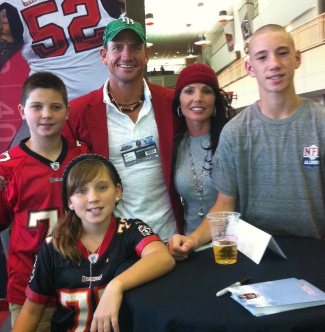 Monica Culpepper with her husband Brad Culpepper and their children. (Photo: famewatch.com)
Meanwhile, Monica who pet peeves two-faced people got her shot to do something in life when producers on CBS's hit "Survivor" looked at her profile for the show. Originally, the producers were inquiring about Brad but quickly shifted to Monica when they saw her pictures. However, it was Brad who encouraged her to be the part of the show by providing her the push she needed.
Despite the support, Monica couldn't last long on the "Survivor: One World" season but that didn't stop her from giving 'Survivor' another try. Monica, along with her husband Brad, re-entered to give everything they had in the game of surviving on "Survivor: Blood vs Water" aired on 2013.
Don't Miss: Cody Alan, Age 32 & Boyfriend Engaged To Get Married | Gay Transition
Monica, when asked about her return in the 'Survivor: Blood vs Water' on her CBS's hit Survivor's profile, stated:
"I wanted the chance to redeem myself from my early exit on One World and there is no better way to do that than with the love of my life and lifelong tribe mate, Brad. He's my guy and having my "shield" out there is an adventure in itself."
As for Brad, he divulged how he would never step back for his wife. He uttered,
"Monica means more to me than anyone in this world. While this is a once in a lifetime opportunity, I will always place her before me as I would never want to jeopardize her Survivor flame."
Moreover, he even affirmed his reason for being on Survivor, which was to redeem his wife for being blindsided by Colton on "Survivor: One World," as he now stood to have her back on the "Survivor: Blood vs Water." Isn't this the kind of support that every girl looks for in her husband?
Son Overcomes Cancer
Talking about her family, Monica had to witness her son going through health issues. Rex was diagnosed with testicular cancer. 
Even though he is free of cancer now, his journey to the recovery was not easy. The process lasted six hours a day from Monday to Friday during two-week recovery. Then the other arm for a week and again recovery. The process was repeated three times or more.
During that time, Monica and her family did not give up on Rex. Monica didn't miss even a single day during Rex's treatment. Rex also had support from his dad and siblings.
Speaking with Surviving Tribal on August 2018 Rex revealed of his days during treatment and support from his family. He said,
"My mom didn't miss a single one of my treatments. My dad, brother and sister made me so grateful to have a family that really cared about me."
After the nightmares of cancer left him, Rex made his way back to playing football which was his ultimate motivation during chemo treatment.
Monica Culpepper's Short Wiki:
Monica Culpepper, who is first known for appearing in "Survivor: One world" in 2012, actually dreamt herself among the patients as she had a plan of attending the medical school which she forsook for her man Brad. 
Monica, age 47, has graduated with honors from University of Minnesota Physical Therapy School and is currently working as a physical therapist. Her hobbies further include Kickboxing, hiking, skeet shooting, riding four wheelers, snowboarding, wakeboarding, running, reading and volunteering in the community.
You May Also Like: Who Are Lana Condor Real Parents? Wiki Reveals - Dating, Boyfriend & Personal Details​​​​​​​
Well, Monica, who got $100,000 as a second-place prize in "Survivor: Blood vs Water," enjoys her husband Brad's net worth of $3 million. 
Keep visiting for further updates on Monica Culpepper!