Entertainment
Is Monica Malpass Married? Life With Children Post Her 2001's Divorce
Award-winning American Journalist Monica Malpass has interviewed many renowned politicians. From Barrack Obama to George Bush, and Hillary Clinton to John Mcain, she has grilled every one of the most powerful persons during her career. Her journalism career has significantly contributed to her $ 5 million net worth.
Despite seeking answers from the big wigs of the nation, it is her dating life that remains unanswered. Her personal life remains hidden from the public eyes, and the notoriously secretive journalist has revealed very few secrets about her life.
Is Monic Malpass Married?
The personal life details about the face of WPVI's Action News has been a bit blur and has remained hidden from the public eyes.
Previously, The North Carolina native had married realtor Jake Cutler in 1995. Five years after their nuptials, the couple welcomed a son, Jacob Hamilton Cutler. However, the couple filed for divorce a year after their son's birth, the reasons being undisclosed.
After her separation with the realtor, Monica got engaged with auto parts entrepreneur Dan Gross on 22 June 2006 after dating about four months.
Unfortunately, her relationship with the entrepreneur turned shortlived because of the differences they shared about having a baby. Monica wanted to have a baby while Dan, who already had two kids from a previous marriage, did not want to have a baby.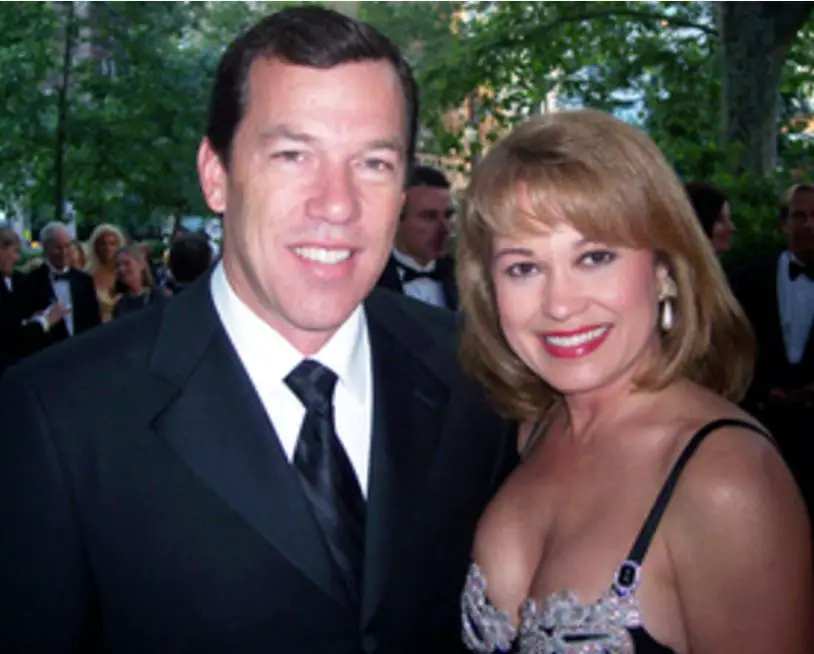 Monica Malpass with one-time fiance Dan Gross (Photo: Philly.com)
The couple parted in acrimonious circumstances with Dan even filing a lawsuit to get back his engagement ring off the news reporter.
As of 2018, the news anchor is reportedly single. Her troubled past with male partners could have impacted in her decision not to get married and stay as a single mom raising her kids.
Happy Mother With Kids; Life after Divorce
Monica, who commands a salary of $750,000 for her work with WPVI, is a loving mother to her kids and regularly provides updates about her happy motherhood to her followers in social media.
The hos of WPVI's Inside Story is always providing updates on her day outs with her boys and never misses a chance to celebrate with them, whether it be their birthday or festivities.
Despite her hectic schedule, she makes sure that her children receive love and care.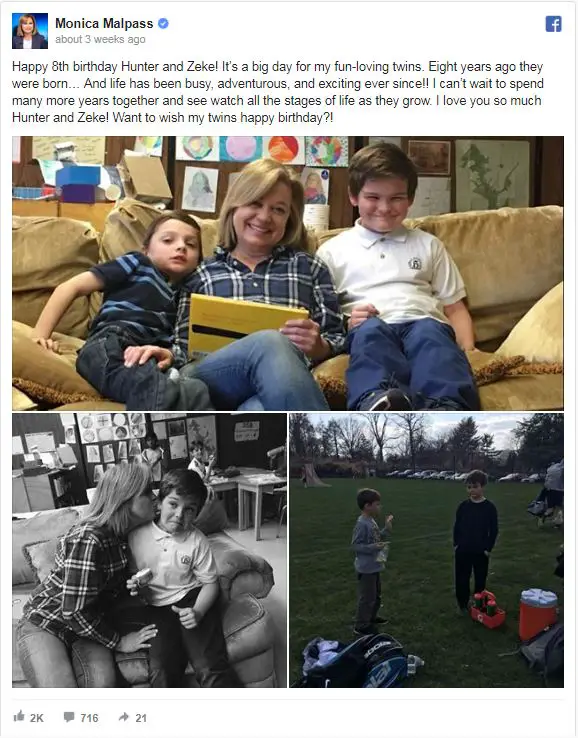 Monica Malpass celebrates her twin son's birthday on 13 April 2018 (Photo: Monica Malpass' Facebook)
Already a mother to a kid from former husband David, Monica stunned the world on 11 January 2010 when she announced in her show Action News that she was expecting twins. She further announced that she was due to give birth through in-vitro fertilization in June.
The sweet-voiced anchor's love for children was already known due to her acrimonious departure from a relationship with her fiancé. She duly gave birth to twin boys, Hunter Jace Malpass and Zeke Jones Malpass, on 12 April 2010.
The happy mom is embracing her motherhood and family life along with balancing her professional career. As for her partner, she must still be searching for her Mr. Perfect. She may have been afraid to commit to a relationship because of her past traumatic relationships.
Apart from being a mom, she is a proud daughter who commended her mother, Winona Roberta Malpass, for giving up smoking after 55 years. She even advised her viewers via Twitter to take her mother as an example that everything was possible with strong willpower.