Entertainment
Former President's daughter, Jenna Bush secret Wedding: Married Boyfriend of 3 years: MBA Graduate Husband
Ever wondered who is the daughter of the 43rd U.S President Gorge W. Bush and do you even know that she is a married woman now? Jenna Bush Hager who is an American teacher, author, and journalist and of course the daughter of the 43rd U.S President is a happily married woman.
Able to craft her own identity as an American News personality apart from being the daughter of George W. Bush, Jenna has had success in both her professional and personal life.
Married to the man of her dreams, Jenna along with her husband and children has been able to set some exemplary couple goals.
Boyfriend Turned Husband: Got Married With Low-key Wedding
Jenna Bush Hager is married to MBA graduate, Henry Hager since May 10, 2008. 
Their private wedding was a topic of discussion for the people and the photos of the ceremony were publicly uploaded.
You May Also Like: Separate Ways! Billy Bush To Divorce Sydney Davis After 20 Years Together
Henry C. Hager is the son of John H. Hager who is the former chairman of Republican Party, Virginia. He currently works as a product specialist focused on energy and infrastructure. Henry was an aide to former Bush political adviser. Jenna and Henry met in the presidential campaign of 2004.
They became familiar with each other during the campaign program. Their relation wasn't revealed at that time.
They appeared together at a white house dinner for the Prince of Wales and Duchess Of Cornwall, their first public appearance in November 2005. They got engaged in 2007 and finally got married in 2008.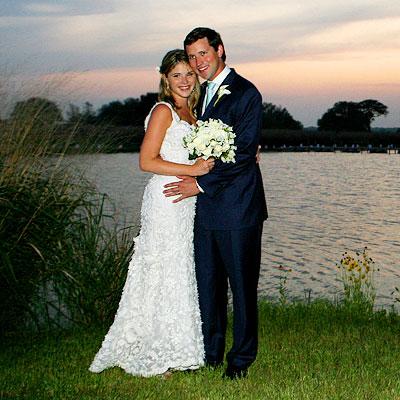 Jenna Bush Hager alongside her husband Henry Hager. (Photo: http://cdn-img.instyle.com/)
Being the daughter of the U.S President Jenna Bush wanted her marriage not to be at the White House surrounded by antiques.
Jenna fell in love with Henry and she wanted her wedding to be like a wedding of a normal couple and not be a political one. They got married at former president Bush's ranch in Crawford, Texas, Far from the television and media. Who doesn't want to get married in the White House? Who doesn't want to be famous?
Well, Jenna Bush didn't. She wished to marry her boyfriend out of the crowd. Maybe the reason was simplicity. She wished to choose simplicity over popularity.
Don't Miss: Cokie Roberts & Husband Stay Strong | Cancer Was Just A Hurdle - Bio Reveals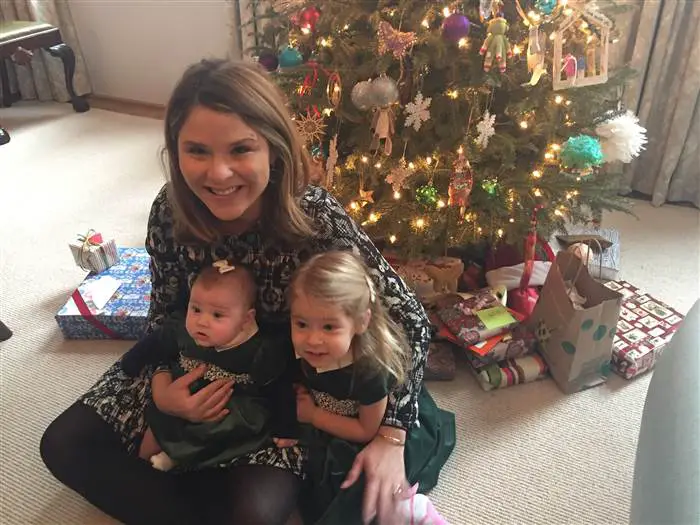 Jenna with her two daughters at Christmas. (Photo:  http://media3.s-nbcnews.com/ ) 
After their 3 years long relationship turned into marriage, Jenna became a mother for the first time in April 2013. They have two daughters, though not much has been publicized by Jenna about her daughters.
After spending her entire childhood in limelight being George's daughter, it is understandable how Jenna would like to keep her two daughters away from the spotlight. 
Jenna alongside her husband recently celebrated their 10-year-anniversary together in May 2018. The duo, who seem to be endlessly in love with one another is found to be sharing their adorable photos in their respective social media accounts and look all set for happily ever after.
Jenna Bush Hager's Bio
Daughter of former president George W. Bush, Jenna has been able to come out of her father's shadow to make a separate identity for herself. After first coming into the public eye after her involvement in the 2004 U.S. presidential campaign, Jenna has since taken a career U-turn.
Jenna, post her departure from Washington in 2006, had worked as a teacher and a successful author. The former White House resident has published two books which have achieved tremendous success in the form of  Ana's Story: A Journey of Hope and Read All About It!.
However, Jenna found her true passion as a television reporter after joining NBC as a correspondent and contributor in The Today Show in 2009. She has since had quite a successful career as a television personality.
See Also: Megyn Kelly Age 47 Leaving NBC News, Is It Official? Exit Details​​​​​​​
Proud about Jenna's career accomplishments, former first lady Michelle Obama recently mentioned during her press tour for her memoir Becoming, Obama about how proud and thankful she is to Jenna and her sister on helping out her daughters.
"I will say that they had support from a lot of the other former first kids ― Jenna and Barbara and Chelsea. I love those girls. I will love them forever for what kind of support they provided to my daughters. They always had their back."
Hence, Jenna, a former first kid, now looks all set for her own career greatness and has moved out of the tag of being the former president's daughter.