Entertainment
Myleene Klass Recreates Lost Love With Boyfriend After Husband's Devastating Bombshell
British professional singer Myleene Klass is one of the famous names of the pop band Hear' Say, who made a name for herself in modeling and acting too. While she was enjoying her success with multiple careers, she also faced a significant shock during her honeymoon period.
After getting blessed with a family of a husband and children, her marriage saw a dead end after six months of tying the knot. Even though she was blessed with her bundles of joys: her kids, she lacked romance in her life.
During the times, she even believed that she would never find love again. However, as time passed, Myleene has been blessed with a man who holds her close to his heart and will soon have hands full with father duties.
Husband Walks Out Of Marriage; Divides Her Net Worth
The Dolls House star followed nearly a decade of relationship before tying the nuptial knot with Graham Quinn. Swept by love, Myleene thought she would spend the rest of her life with Quinn and got married to him in 2011.
Discover New:- Most Expensive Makeup Brands & Products In The World
Myleene and Graham exchanged wedding vows in a wedding ceremony among their guests, family, and close friends.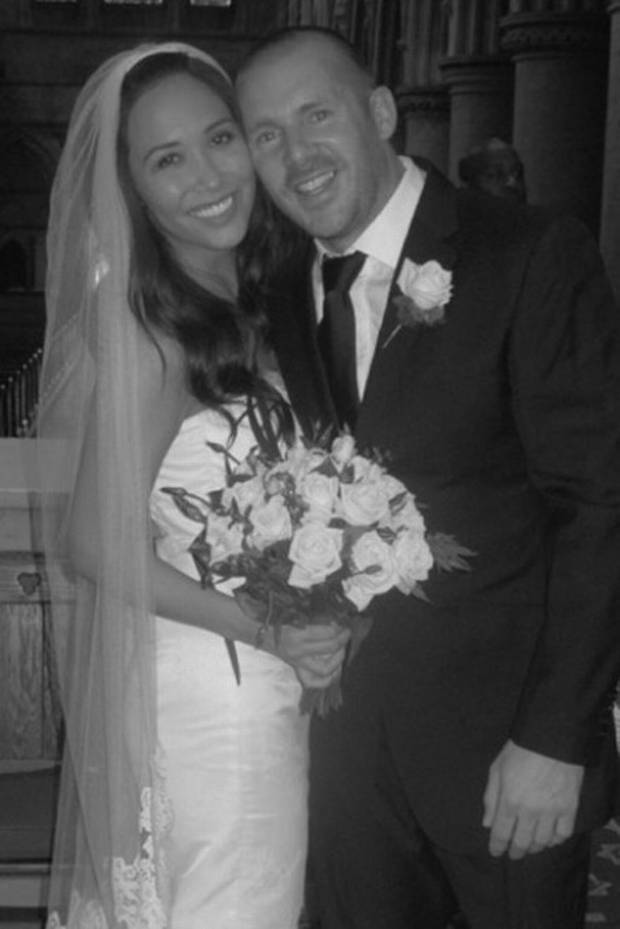 Myleene Klass with her ex-husband Graham Quinn on their wedding day in 2011 (Photo: independent.co.uk)
The married couple was previously turned into proud parents after they were blessed with children and had a family of their own. Myleene and Graham shared two daughters: Ava, now 12 years of age, and Hero, now age eight.
They had a happy family of four until Graham decided to walk out on their marriage, six months after tying the nuptial knot. The news of the divorce came as a big blow for Myleene on her 34th birthday as she was still on the honeymoon phase of her marriage.
Graham parted ways with Myleene in early 2012, ending their 10-year relationship came to an end; their divorce got finalized in 2013. She spent her honeymoon periods taking rounds of divorce courts.
The divorce ended with Graham having a chunk of her net worth, which is around $11 million, in his name. In turn, Myleene had her daughter beside her, and she would not be the man who broke her heart have around her daughters.
Adding to it, the fashion entrepreneur Myleene even expressed that she regretted making her former husband joint director of a company she set up to handle her fortune.
Moving On From Past; New Found Dating
The separation left Myleene heartbroken, and she even thought she would never trust any other person and fall in love and smile again, but life had something else planned out for her.
Found Love Again:- Will Arnett Dating Again, Who Is Girlfriend After Divorce? Kids, Age, Height
Well, after years of the end of her marital bond, Myleene has struck up a romance with her new beau. She has been romantically involved with public relations guru Simon Motson.
Myleene met Simon in a north London bar back in the autumn of 2015 and sparked an immediate connection. But the duo did not rush into romance and instead took the time to know each other better and built a base for their relationship.
The pair gradually started dating and are still going strong with their romance. Myleene, who previously thought she would never smile again, has been flashing those curves on her face for a long time now.
She has been spotted spending blissful moments with her now-boyfriend and two daughters who seem to get along with her lover pretty well. Previously, Myleene even divulged that she is "happier" than ever.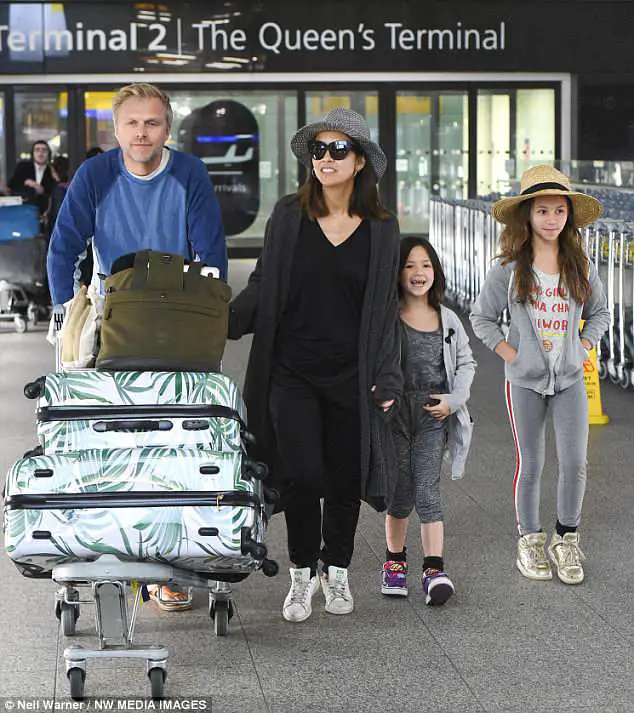 Myleene Klass with boyfriend Simon Motson and daughters Ava and Hero at London airport in April 2018. (Photo: dailymail.co.uk)
Well, Myleene seems to have found love again even after the heartbreak and now has been surrounded by her loved ones, including her daughters.
Pregnant With Boyfriend's Baby; Inspirational Parents
The number of loved ones in Myleene's life went up by one more. She and her fashion PR boyfriend of almost four years, Simon, were expecting their first ever child together in 2019.
Taking to Instagram, Myleene broke the exuberant news on 14th February 2019 by sharing an image of herself in lingerie while cradling the baby bump.
Her announcement got met with congratulatory wishes. Vicky Pattison, the pair's friend, was one of the first celebrities to congratulate.
Another Celeb Expecting:- Eliza Dushku Is Pregnant; Expecting First Baby With Husband Peter
After much-awaited wait from the day, finally, came on 1 August 2019. A mother to daughters, Ava and Hero, already Myleene went into labor thinking it could go smoothly as it had gone previously. What she did not know is that her body was now not as young as it was back when she gave birth to her oldest Ava.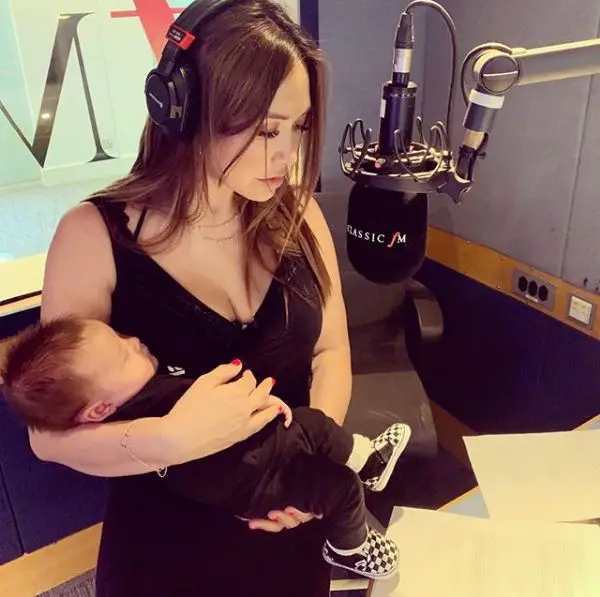 Myleene Klass with her son, Apollo during work in October 2019 (Photo: Myleene Klass's Instagram)
For the first three hours, her water broke, and everything was running smoothly until she started having a hard time. Later in an interview, she called being unconscious for nearly five hours, and the birth of the baby was very complicated in the end.
Further, she added giving birth to a child in the forties was very challenging. Similarly, now she does not take her sight off her baby son Apollo. While returning to work wit the Smooth Radio in September 2019, Myleene brought Apollo to work. The picture of the two hit the internet and was loved by all her fans.
Later, if she ever faces challenges of raising five kids, the TV star can draw inspiration from her parents. Both her nurse mother - a Filipina migrant to the UK - and her doctor's father worked for the NHS. Their heartwarming story got chronicled in 2016 documentary Matron, Medicine And Me: 70 Years Of The NHS.