Entertainment
Todd Thompson Net Worth Post Giada de Laurentiis Split, Dating Now In Paradise
Todd Thompson, the social media star, rose to fame being the husband of famous Italian-born American chef Giada de Laurentiis. The couple's relationship gained much popularity for them as they had one of the expensive divorces.
Even after their split, Todd had his name tagged along with Giada. Also, their followers are still willing for the insights into the relationship that they shared. However, Todd's wiki revealed that he moved on and gave love another chance after ending 11 years of marital bond with his ex-wife.
Massive Rise In Net Worth After Divorce
Todd Thompson, who is also a clothing designer, used to be a married man until his relationship with his wife turned sour and decided to part ways. Todd shared 11 years of romance with Giada de Laurentiis.
Their romance dates back to when Todd was just 20, and Giada was only at the age of 19. During that time, Giada was an anthropology student at UCLA, and she hadn't prospered financially, but Todd was always there beside her during her struggling years.
While the pair were considered real couple goals, they decided to take their relationship to the next level by getting married. On 25 May 2003, the pair tied the nuptial knot in a wedding ceremony.
See Also:- In His World Of tastes, Chef Alton Brown Confronts A Sour Married Life With Wife But Managed To Stay Busy With Tours
After their marriage, the couple took some time to start a family. In 2008, after five years of marriage, the pair was blessed with a baby daughter whom they named Jade Marie De Laurentiis-Thompson. The couple were glad to have a new addition to their family of two.
However, their relationship started going downhill nearly after two decades. Issues were going on their marriage, and in January 2011, Todd's then-wife Giada opened up with Redbook revealing their marriage troubles.
She even posted a statement on her website regarding the end of her marriage. She mentioned that her separation from Todd took place in July.
Later in December 2014, Todd Thompson filed for divorce from Giada, citing irreconcilable differences. Their divorce procedure went a year-long, and finally, in September 2015, Giada agreed to pay Todd over $2 million.
The divorce was recorded as one of the most expensive divorces as it massively increased Todd's net worth while it undoubtedly harmed his ex-partner net worth of $30 million.
Co-Parenting After Divorce
However, despite their differences and separation, the couple did not back out from their parental responsibility. They both made sure of their presence for their daughter. The family of three dined out together for the celebration of their daughter's 10th birthday in March 2018.
Moreover, Todd and his ex-wife have become an exemplary figure for those icons who struggle to maintain their family life after separation. A child goes through hard times following his/her parents' divorced when proper attention isn't given in the upbringing.
On top of that, it can affect, on a longterm basis, the child's psyche negatively when growing in an unstable family. Thankfully, the estranged couple seems to have considered this, and like every parent, they too want their kid to grow in a healthy environment.
Despite their differences, the two remained close to each others' home and celebrated their daughter Jade's graduation in 2019 alongside each other. Talking about the experience of co-parenting his ex-wife Giada shared,
"We live a stone's throw away from each other, like five minutes, which has really helped keep Jade stable and just keep her environment as similar as possible at both places. Getting along with my ex-husband really helps as well. We're supportive of each other and, in turn, supportive of Jade."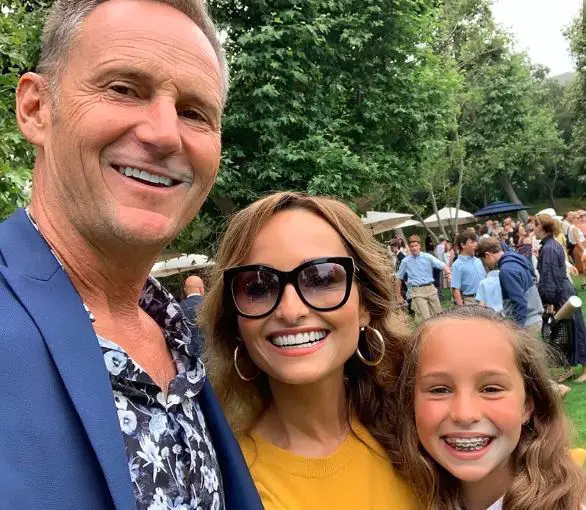 Todd Thompson and ex-wife Giada de Laurentiis together at their daughter Jade Marie De Laurentiis-Thompson's graduation in 2019 (Photo: people.com)
So, with all these, it is evident that the former couple is doing their best to raise their daughter. Likewise, their well-wishers are hoping it remains this way for days to come.
Todd Thompson Gives Love Another Chance
After the end of more than a decade of the marital bond, Todd gave love another chance. Currently, he is dating Heather Lacombe, a model and a fashion enthusiast.
The pair began their romance a year back when they went on a lunch date to a museum, which soon turned to a dinner date and then to a cocktail date as none of them wanted to leave each other's company.
Know More:- NBC's Matt Lauer Family life: Affairs, Wife, and Divorce
They were deeply in love and were sending silly texts to each other. As time passed, their passion grew. And as of now, the couple recently celebrated their anniversary. Heather made a heart-warming post for her boyfriend, revealing her love for Todd.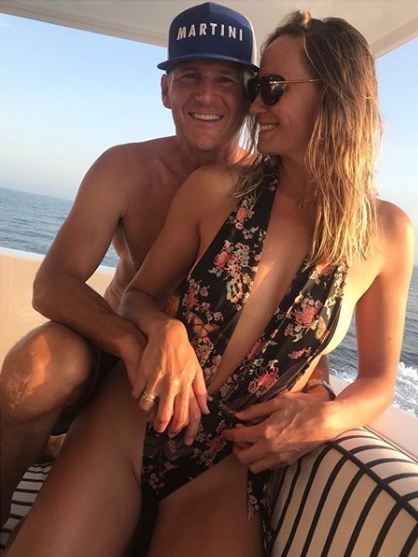 Todd Thompson with his girlfriend of one year Heather Lacombe (Photo: Heather Lacombe's Instagram)
She even posted a picture of her with Todd on a yacht while the couple spent quality time.
Well, even though 11 years of his marriage ended, Todd now has found the person he loves and adores dearly.