Entertainment
On-Screen Gay Bronson Pinchot Married At Age 59? Status Now!
American actor, Bronson Pinchot became a well-known actor after making his debut at the age of 24 in the 1983 movie Risky Business alongside Tom Cruise...He played a gay man in the movie...Bronson, aged...Engaged twice but has he ever been married... As of now, Bronson is working on the upcoming.........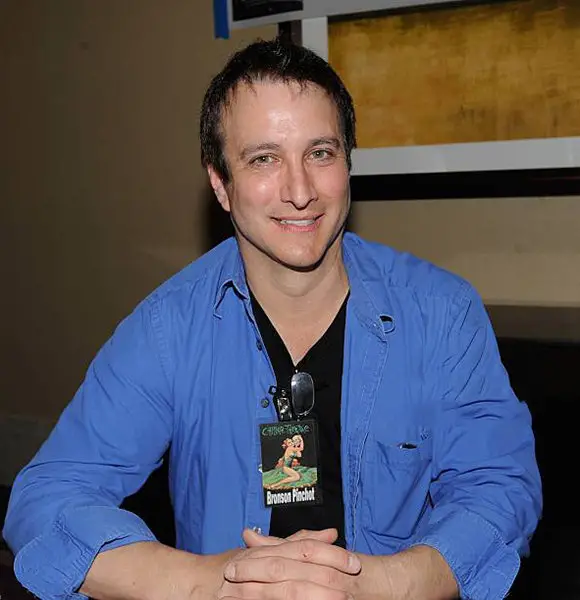 Debut at the age of 24 and conquering the acting world is the resume built by the American actor, Bronson Pinchot. 
Since his debut in the 1983 movie, Risky Business alongside Tom Cruise, he claimed the fame and established himself as the well-known actor. Bronson's career graph had been ascending to uphill and the actor has not looked back ever since. 
However, on the process, Bronson's dating lives remained only as a brief relationship; he has not been capable of lasting long enough with any of his girlfriends. He even got engaged in the past, but did he eventually commit himself to marriage?
Find out about the personal life of Bronson and learn his thoughts regarding gay people.
Criticises Tom Cruise For Homophobic Behavior; "Glad there are no gay people standing here"
For one of his early roles, Bronson played a hotel manager named Serge in the 1984 hit movie Beverly Hills Cop. In the film, his character was a gay man who joins the homophobic cop, Axel Foley helping him to overcome his fear of gay men and bring out the humanity in the policeman.
Similar Article:- Is Coy Stewart Gay At Age 20? Personal Details Reflect 'Agents of S.H.I.E.L.D' Actor's Status
Bronson's role was widely praised and his performance of a gay man was termed as "irresistible and undeniable."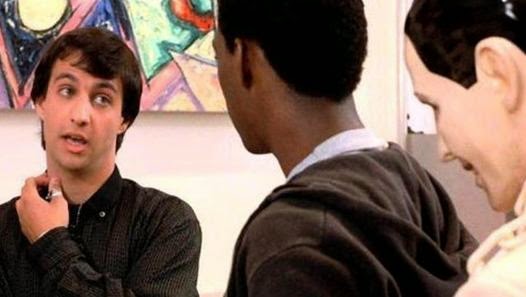 Bronson Pinchot in the 1983 movie Beverly Hills Cop along with Eddie Murphy (Photo: MoviefiedNYC.com)
The 5' 9" (1.75 m) tall actor, who portrayed the gay role with such grace, has often sympathized with the sexuality and thinks that criticizing people for their sexual preference is not cool at all.
See Also:- Exclusive: Danica Roem Defeats 'homophobe' Republican to become The First Transgender Member of State Legislature!
Back while he was shooting for Risky Business in the early 80s, Bronson would often be troubled by the constant homophobic comments made by the lead actor, Tom Cruise.
In an interview with AV Club on August 2017, he mentioned that Tom would frequently make homophobic remarks like "You want some ice cream, in case there are no gay people there?" or "It's a nice day, I'm glad there are no gay people standing here."
Further, he also mentioned that he was finally at peace when people started criticising Tom for his comments years later as Tom himself had tormented many people for their gay sexuality.
"Years and years later when people started to torment him with that, I used to think "God, that's really fitting, because he tormented a lot of people as a 20-year-old." 
In the interview, Bronson recalled another incident when his Beverly Hills Cop co-star, Eddie Murphy got caught with a transsexual hooker. Bronson, who ages 59, stated that as Eddie got spotted, someone called him and said, "You'll never guess who was just caught with a transvestite!"
However, Bronson Pinchot has been clearing for him gay sexuality is limited only to reel life and is a straight man. 
Engaged Twice But Never Married; Tweets Reveals Marital Status
Bronson has his own dating history to tell. He dated two women in the 1990s and even got serious with both of them; however, none of his two relationships turned into a married life.
He had a short romance with actress Marcy Walker for about a year from 1984-1985. During the period of dating, the pair even got engaged for a while but broke up shortly after the engagement.
Similarly, he also dated movie director Amy Heckerling in the 90s. The romance commenced in 1993, and the couple even got engaged, but before they could get married, the pair's engagement was called off in 1997.
Since then,  The Flamingo Kid actor is known to joke about his personal life regularly. On 26 October 2009, Bronson posted a tweet in which he joked that even though he was not married and didn't have kids; he was casually dating the social networking site, Tumblr and would probably have children from the relationship. Bronson wrote in the tweet,
"@emisnowcake I have no wife. Right now Tumblr and I are just seeing each other, and possibly having kids. It's caszh."
In 2013, the New York-born actor surprised his fans when he mentioned in a tweet that he was a married man and living a happy life with his wife. After more than a year, it turned out that he was joking about his marital status.
On 6 November 2014, Bronson posted another tweet alongside actress Debra Messing in which he mentioned that the duo's marriage was made in comedy heaven.
You May Like:- Maura Tierney Divorced Her Husband After A Longtime; Revealed About Battle With Cancer And A Sense Of Relief Too
He further suggested that although the two were married, they hadn't yet consummated their marriage.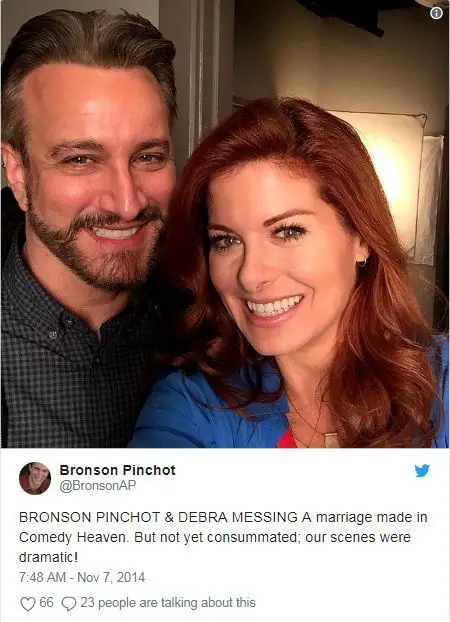 Bronson claims that his marriage to Debra Messing was made in comedy heaven (Photo: Bronson Pinchot's Instagram)
However, it was later revealed that he was set to appear as a guest in Debra's show, The Mysteries of Laura, and his act was for the promotion of the show. Bronson and Debra had nothing romantic going on between them.
But, in meanwhile, the actor is still roaming around with his single tag, who is yet to get unmarried. He is yet to find his soulmate who will love him and cherish his company.
For the time being, Bronson is busy working on the upcoming Netflix series, Chilling Adventures of Sabrina, which is based on the comic book series with the same name.