Entertainment
Nancy Lopez Bio: Two Divorce, Two Husband & Family; Third Time's A Charm?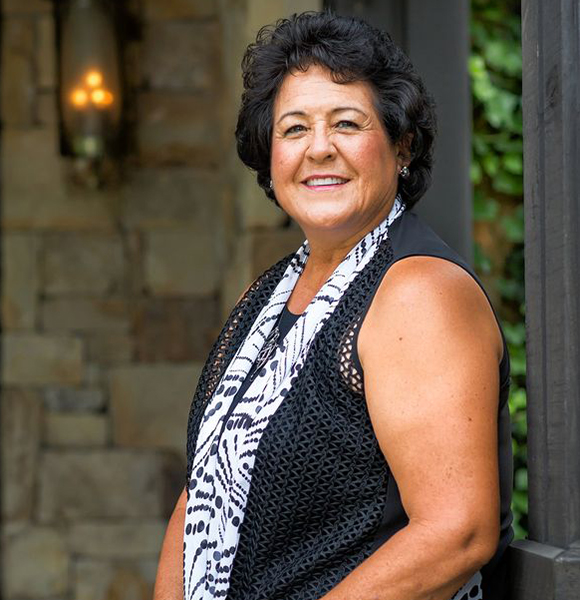 When she performed her part as honorary starter at the introductory U.S. Senior Women's Open in July 2018, legendary golfer Nancy Lopez couldn't control the tears running down from her cheeks. In many ways, the gesture was an acknowledgment of the California native's illustrious career.
With 48 LPGA Tour victories & 3 Major Championships under the belt, she is undoubtedly one of the greatest golfers in the sports of golfing ever to swing the club. Her success in the green, however, came at a cost.
Bio Unveils Reluctance To Start Family With 1st Husband
A protege by definition, Nancy burst into the golfing scene as a 12-year-old by winning the New Mexico Women's Amateur tournament. Five years later, she announced her arrival in the most robust way possible by finishing second in her U.S. Women's Open debut.
Golfer In Our Vault:- Golf Hero Brian Harman Married Life With Wife - Rocky Or Rock Solid?
By age 20, she quit her college education at Tusla University to turn pro. And, two years after achieving the feat, she married her first husband Tim Melton, a Harrisburg sportscaster, on her 22nd birthday.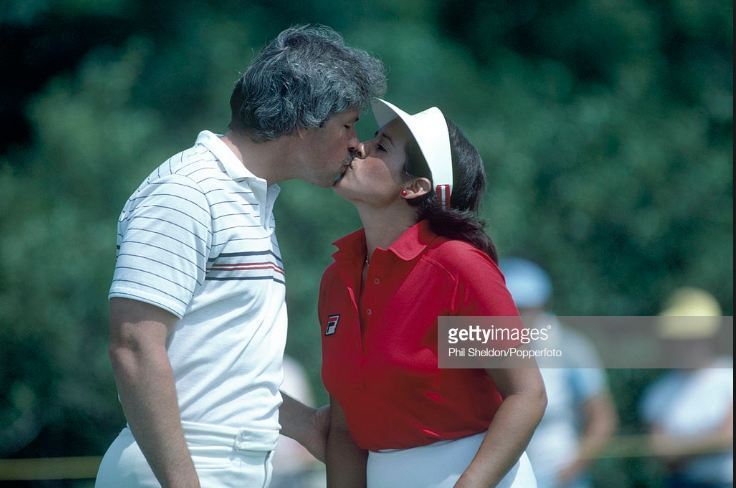 Nancy kisses her first husband, Tim Melton during LPGA Championship held circa June 1981 (Photo:- gettyimages.com)
For the next three years, Nancy would enjoy successes both on and off the green, winning over 25 LPGA honors in between. Her hectic schedule on tour coupled with her husband Tim's reluctance to wait to start a family put an impossible strain in their marriage, eventually prompting her to file for divorce.
Expounding on the split from her first husband in 1982, she claimed:-
"Tim is a good, Christian man. We're just opposites, and I didn't realize it until this past year. When I met him I was concerned about finding someone who respected me and wasn't interested in my money. Now I see there are other things in a marriage."
The separation elicited 30-pounds weight loss from her as well as provided Nancy with enough reasons to date a fellow athlete.
Divorce From 2nd Husband; Mother Of Three Children
Unlucky with a non-athlete muse, Nancy gave it a try with a professional baseball player, Ray Knight.
Bio You Might Find Interesting:- Emilie Ullerup Is Married, Explicit Bio Reveals All There Is - Age, Height, More
Her gamble seemed paid off at the end. With the bitterness of the divorce only a few tastebuds away, she agreed to marry Ray when he proposed as she couldn't say no to "his blue eyes."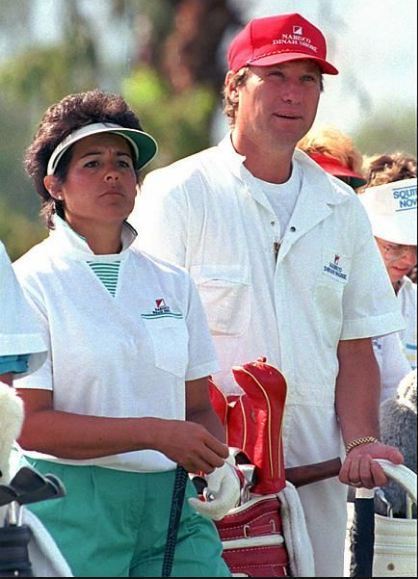 (Circa 1989) Nancy marries baseball legend, Ray Knight a year after divorcing her first husband (Photo:- lpga.com)
Married in a lavish wedding ceremony in 1982, she and her World Series MVP husband welcomed their first child, a daughter named Ashley, shortly after. Three years later, the duo welcomed their second daughter, Erinn. Nancy once again gives birth to yet another daughter, Torri in 1992.
By the time she gave birth to Torri, she had already hung her golfing shorts. And for the better part of the '90s to 2000s, the golfing legend's private life remain dormant.
But then in 2009 came the devastating news of their split. Sources close to the pair cited the absence of share interests behind the separation following 27-years of marriage.
Could Nancy Marry Again?
Now 62, it's unlikely that Nancy - who boasts the height of 5 foot and 2 inches (157 cm) - would choose to walk down the aisle for the third time.
Discover:- Is Willy Cartier Gay Or Dating A Girl? Bio Reveals - Sexuality, Age, Net Worth
If one were to make a guess today, her time these days gets divided between looking after her children's children and drawing up a reasonable will to better dispose of her $10 million net worth.