Entertainment
Everything You Need To Know About Nate Diaz! Jake Paul Fight Happening?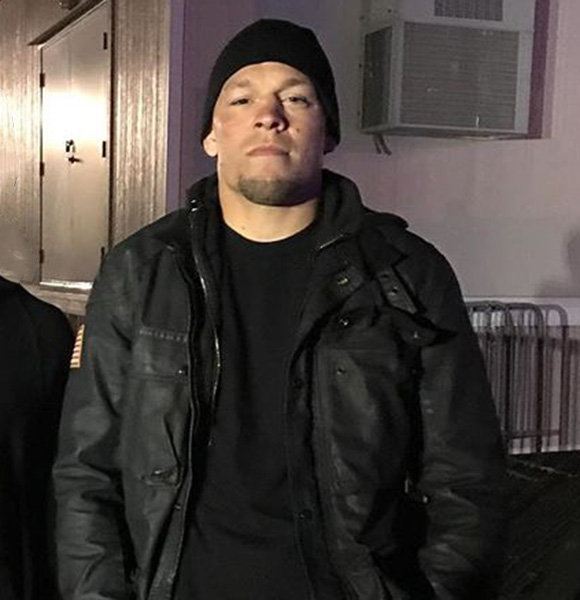 Nate Diaz is one of the top-tier names in the history of UFC welterweights, but the fandom is well curious about the fighter's personal life with his wife and kids.
Who Is Nate Diaz's Wife?
Every fighter needs a constant motivator along their path to support them in every step of their battle on and off the ring. For an outspoken and trash-talking fighter like Diaz, balance restores in the form of his cool and calm girlfriend -rumored to be his wife- Misty Brown.
You May Also Like: Stephen Thompson, Married With Wife? Or Hiding Affair Behind Career? Status Now
Maintaining a private personal life, he is extremely secretive about his life outside the ring. However, going through his social media, he seems to be dating his future wife Misty Brown since 2012.
Yet to be his wife, Misty and Nate had their first child in the form of a baby girl at a California hospital on 6th June 2018.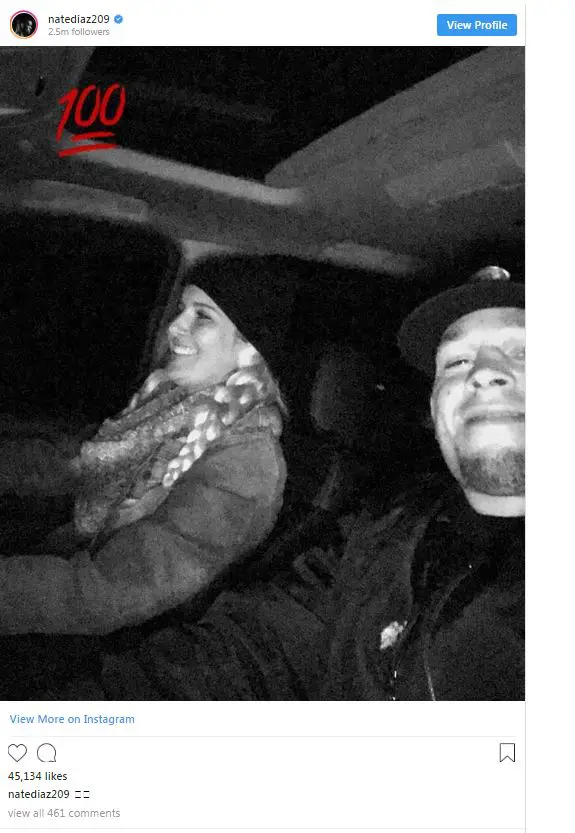 Nate Diaz Alongside His Future Wife Misty Brown (source: Instagram)
In an ugly business where he trades his blood and sweat in the ring, Nate isn't keen to let his future wife and other family members watch his fight.
Similar: UFC's Josh Barnett Is Dating! Has A Girlfriend From MMA You Don't Want To Mess With
Talking to ESPN in an interview in 2016, the UFC sensation revealed,
"I don't ask my mom to watch fights -- or my girlfriend, my friends, nobody. If anybody wants to watch, they can watch, but don't get offended when I get ugly. This is not an attractive sport."
With a professional MMA record of 19 wins and 11 losses, Nate is arguably one of the biggest stars in the said sport. However, he continues to balance his personal life, not letting his career overshadow his family life.
With a beautiful baby girl and a newborn added, it wouldn't be much of a surprise if Diaz announces his long-term girlfriend as his wife in the coming days!
Diaz holds a record of 21-12-0, and in the process of cementing his reign as a fighter, he has defeated the fan-favorite fighter Conor Mc Gregor too! The recent fight for the UFC elite was brought by Leon Edwards, who holds a solid record of 18-3-0. The fight was held on June 13, 2021, when Diaz lost the game.
Nate Diaz's Upcoming Fight & Jake Paul Issue
The Stockton Slugger, Nate, fought Leon Edwards in June 2021. The fight was supposed to take place in May but was rescheduled because of the minor injury faced by Nate. This was one of the most anticipated fights as Nate made his come back to the octagon after a year.
The sparring took place in a paper view, which also features a title rematch between Israel Adesanya and Marvin Vettori.
 However, Diaz made some buzz when he replied to Jake Paul in one of his tweets in 2020. Jake Paul, a famous YouTuber, had put up a video challenging Conor Mc Gregor for a fight and had mentioned that he would beat Nate to earn that chance. This made Diaz lose his cool, and he wrote on Twitter:
Jake Paul u need your ass beat for free u spoiled fuck u can't really fight dumbshit your gonna end up with your ass whooped for real somewhere talking like that
Talking about the sport, let's get a little personal.
The Tale Of Diaz Brothers
Growing up in the mean streets of Stockton, it was easy for Nate to choose the path of crime that many others before him decided. But, the UFC star had one guiding hand on the top of his head, continually looking out for every decision he made in life.
The said hand was his brother's, Nick Diaz, a former MMA champion who had done well during his fighting career winning titles such as WEC Welterweight Champion and IFC Welterweight Champion.
Nick and Nate grew up together with not much of an age difference. Nate is just two years younger than his brother, and he still remembers his brother's contribution to shaping his career.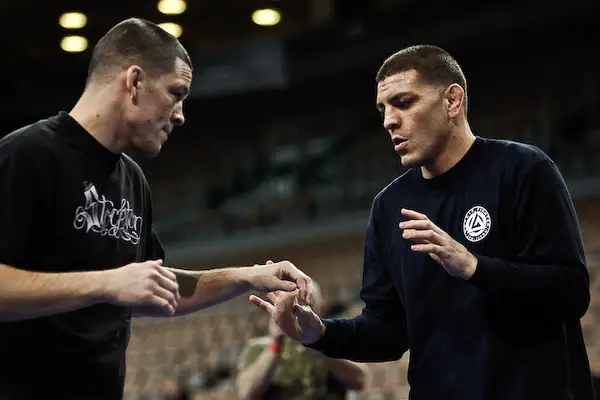 Nate Diaz (right) training alongside his brother Nick Diaz (Photo: m.sherdog.com)
As they are famously known in the fighting world, the Diaz brothers identify themselves as belonging to the ethnicity of Mexican-American.
Facing a tough childhood, both the brothers are a household name today, and they have got each other to thank for the support they provided for themselves throughout their careers.
Net Worth
As of 2021, and at the height of 6'0 feet, Nate Diaz holds an impressive net worth of $8 million, according to celebritynetworth. His massive fights and flourishing UFC career have made him able to amass this hefty amount of wealth. 
Don't Miss: Playing A Match After Brutal Eye Injury, Donald Cerrone Is All Pumped To Grab The UFC Gold On Next Fight
However,  besides the income he receives from UFC, he has other revenue sources at his disposal. He accumulates such a net worth from his investment in the expanding CBD business, his massive house which cost him  $430,000, located in Quashnick Rd Stockton, also played a huge role in expanding his net worth.