Entertainment
Nathan Adrian Threat! Cancer Months After Wedding & New Wife
American competitive swimmer Nathan Adrian is a five-time Olympic gold medalist...Nathan, who spent most part of his life swimming, shares romance with his partner...He is married to...who is also a...the couple first met back in...at the...and sparked romance. After dating for...Nathan popped the question to...asking her to marry him. After...Nathan and his girlfriend-turned-wife...exchanged the wedding vows in...Months after the wedding, Nathan faced...as he is now battling...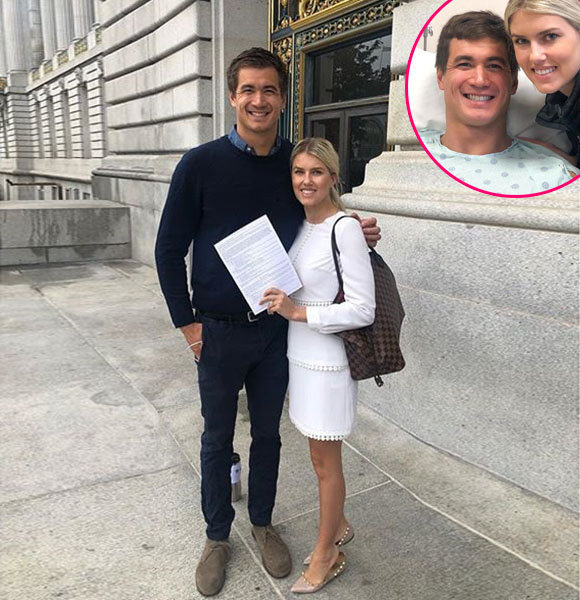 American swimmer, Nathan Adrian is a five-time Olympic gold medalist. He competed back in 2008, 2012 and 2018 earning medals with his fierce gameplay. Now, he sets his eyes on the 2020 Summer Olympics.
But, before he gets his chance to compete, Nathan first has to overcome the troubles in his life. It turns out he is currently facing a severe but curable health issue. Despite the health trouble, Nathan is determined to have his names on the 2020 Olympic medals.
While he is determined to move forward, Nathan has full support from his loving girlfriend-turned-wife. Indeed, he is blessed with a partner, who would support him amid the most stringent time being an anchor to his dreams. 
Romance With Girlfriend-Turned-Wife, Wedding Details
Nathan Adrian, who spent most of his life swimming, shares romance with his partner, who shares similar interest when it comes to water. Well, Nathan and his girlfriend-turned-wife Hallie Ivester, both share their love for water.
It turns out they even met at a game night; years ago in 2013. Back then Nathan, who has a net worth of $4 million, lived in Berkeley in the Hills along with a couple of other swimmers. They all were post-grad with a degree from Cal. 
Just then, Hallie was in a diving team at Stanford while Nathan was on a swimming team at Cal. Interestingly, their college were enemies, but despite it, the duo shared a world parallel to each other.
After the pair crossed their path during the game night, the duo eventually fell in love after realizing how they completed each other's sentences. They dated for a while until their causal dating turned into dating for marriage.
Years after being together, Nathan and Hallie decided to take a step forward in their relationship. In May 2017, Nathan popped the question to the love of his life asking her to marry him. 
The proposal took place at a romantic beach where Nathan expressed how much he loved Hallie and presented her with a diamond ring. The proposal came as a big surprise to Hallie, who could not deny but say "yes."
Ring Bearer Baby: Kayla Rae Reid & Husband Married – Again! Baby Becomes Ring Bearer
Right after the engagement, the engaged couple joined their parents and close family members for dinner at the famed Ritz-Carlton, Hald Moon Bay. And, after a year, the couple finally exchanged the wedding vows in September 2018.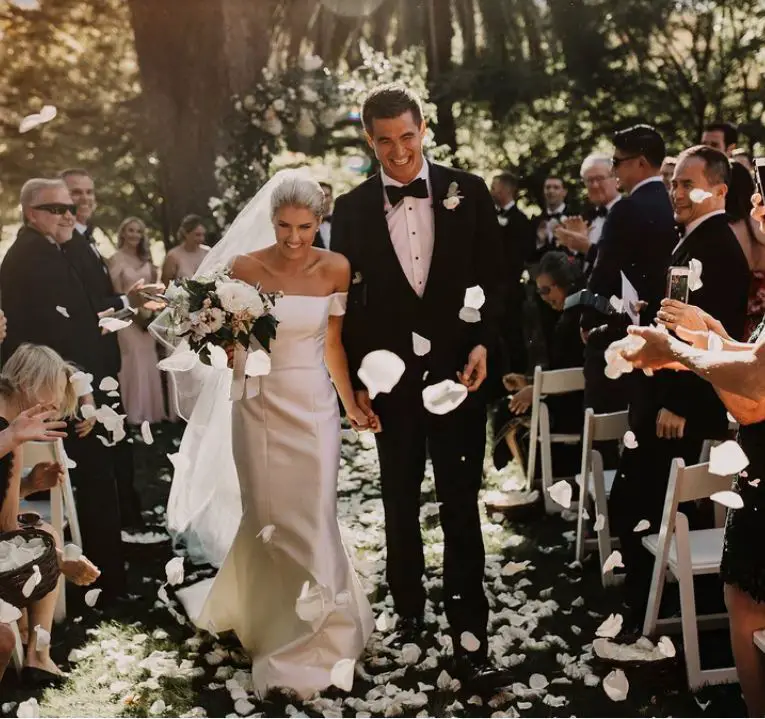 Nathan Adrian with wife Hallie Ivester on their wedding day, in September 2018 (Photo: people.com)
Since pronouncing one another husband and wife via a black tie wedding ceremony held at Beaulieu Garden - in front of close friends and family members- the duo has been relishing every cherries of their blissful married life. 
Battles Cancer, Wife Is Ultimate Support
Just as the couple exchanged the wedding vows and promised to be there for each other even in sickness and health, Nathan, who is of Asian-American ethnicity, faced a severe health issue: testicular cancer.
Nathan, age 30, had just visited the doctor when he sensed something not right with his body. Unfortunately, after routine check-ups, Nathan's doctor diagnosed him of having testicular cancer. 
Too Busy To Date? Does Penny Oleksiak Have A Boyfriend? The Swimming Beauty Seems Too Busy To Be Even Dating
As the cancer is diagnosed early, with undergoing treatment, the disease is highly curable. Nathan, who stands at the height of 6 feet and 6 inches (1.98m,) is set for surgery in the coming week and is expected to be all fit in a few weeks to come.
Despite the diagnosis and the disease, Nathan, who has a weight of 100kg, is positive about the future and has his eyes set for the 2020 Summer Olympics.