Entertainment
NBA YoungBoy Wiki: Real Name, Baby Mama, Kids, Net Worth - All Revealed
Baton Rouge rapper NBA Youngboy's rise to stardom has been nothing short of meteoric. The 18-year-old former XXL Freshman first gained traction with the release of his 2014 debut mixtape Life Before Fame.
Since then, he has gone on to become a mainstream of the hip-hop culture. However, along with the production of good music, the rapper continued to make headlines with the increase of his kids and baby mamas. 
And as he looks to put his past run-ins with the law behind him, there is no stopping Youngboy from being there for his kids!
The Before I Go Reloaded star
Rapper's Wiki: Baby Daddy To Four Kids 
YoungBoy's (real name is Kentrel De Sean Gaulden) wiki reveals: at age 18, the Win or Lose rapper looks after four kids - Kamiri, Kayden, Kamron, and Taylin - with another one on the way.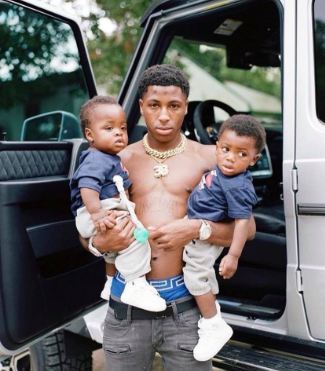 NBA YoungBoy with 2 of his kids (Photo:- Gist Mania)
However, earlier this year, Youngboy - who stands 5 foot 6 inches(1.73m) in height - learned that one of the four kids (Baby K) isn't his child.
You May Also Like:- Chris 'C.T.' Tamburello Wiki: Wedding & Wife, Puts Girlfriend Tragedy In Past
Instead of dumping Baby K at his baby mama disposal, he showcased a rare sign of growth and maturity. Addressing his Facebook fans, he put up a post of him hugging Baby K with a caption that read:
"Wanna Be First To Tell Yall I Officially Found Out Baby K Isnt My "Child ,But The Man I Am I'm Going To Keep Raising Him Like He's Mine I Can't Lie It Hurt To Find Out The Truth But Life Goes On.
About a week later, on 25 June 2018, the Untouchable rap star made headline one more as two of kids were involved in a severe car crash. His mother took to Instagram to speak about the incident. Her post featured a picture of Taylin and a caption that read:
"Lord I ask you right now to touch ,heal ,and be with my babies as they need you. They was in a very bad car wreck my baby lost control and hit a tree and the car flipped."
Many might not know but YoungBoy's four kids are results of his relationships with three different girlfriends turned baby mamas. Despite being active all platforms of social media, the Baton Rouge rapper is yet to reveal the identities of his baby mamas.
Discover:- 'Kin' Star Myles Truitt Age 16 With Supportive Parents | Net Worth & Facts
According to various wiki sites: of his three baby mamas, one of them is believed to his ex-girlfriend, Starr Dejanee who has appeared in his earlier YouTube videos.
Tumultuous History With Ex-Girlfriends
After dumping Starr in August 2017, Youngboy got himself a new girlfriend -- Instagram model Malu Trevejo. Their brief fling ended up in a sour note after his then-girlfriend, Malu accused him of cheating on her with another Instagram model named Jania Bania.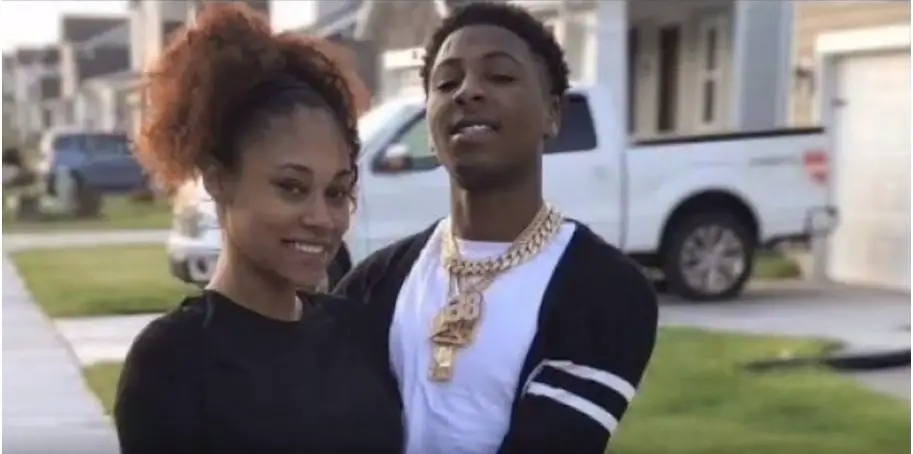 NBA YoungBoy & his girlfriend, Jania look glee posing for a picture (Photo:- YouTube.com)
Like many of his previous relationships romance with Jania too didn't bode well for him. By the end of their relationship, after a video of YoungBoy body slamming his girlfriend, Jania and dragging her through a hotel room was leaked in February 2018.
Interesting:- Georgia Fowler's Sister Already With Family, She's Still On Harry Styles Rumors & Jet Planes
Following the leak, the authority charged the Win or Lose rapper - who enjoys the reported net worth of $1 million - with kidnapping and aggravated assault. On 19 March 2018, The Outside Today rapper broke the news of his indictment with a cryptic tweet that read:
"Just need to hurry up in die so this shit can be over."
Jania - who's carrying YoungBoy's fifth child - has decided to stick by her man and has even dubbed the hotel incident as "horsing around."