Entertainment
Maisie Williams Is Dating Her Boyfriend But Also Shares A Kiss With Co-Star! Leaked Pictures To Affect Her In GOT?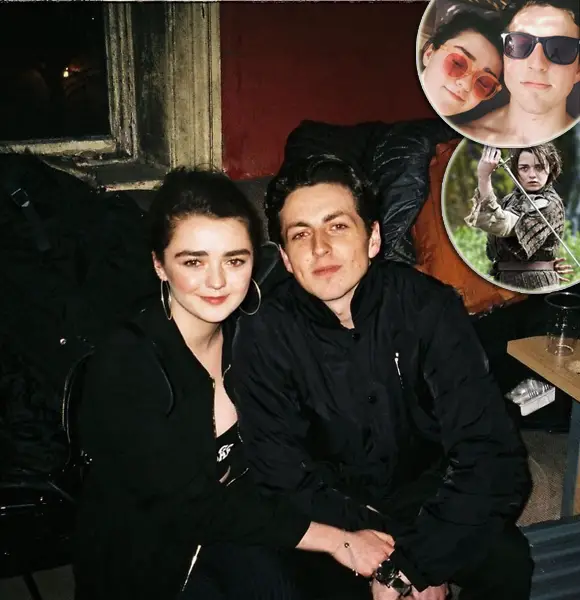 Maisie William, who rose to fame as Arya Stark from the popular HBO drama series, Game of Thrones, started at a very early age. She is successful in her career, and similar is the situation in her personal life, as she has a supportive family. And now she also has a man in her life taking care of her and adoring her for who she is.
Meanwhile, when everything seemed to be as smooth as one could dream of, a topless picture of her; caused by a wardrobe malfunction leaked and made its way to the social media, and everyone seems to be passing an opinion.
In this competitively professional world, will this incident hamper Maisie's career, leading her to lose her role in the hit series of Game of Thrones? Let's see through if there are any chances of adverse consequences to the incident.
Sparkes Romance With Boyfriend In 2017?
Maisie, who hid her relationship for quite a time came gunning, as she recently revealed her boyfriend's name who stole her heart through a 2017 Instagram post by tagging the man himself. The lucky guy was Ollie Jackson, and her fans were all excited about finally getting to know Maisie's choice.
Jackson, as reported, is Maisie's friend from her high school. The high schoolers-turned-lovers began dating in 2015 but didn't opt to come forth until 2016.
As they seemed happy being in one another's a company, she and her boyfriend didn't bother to reveal relationship status early on. The pictures of the duo spoke for themselves, as Maisie never second-guessed while sharing their romantic pictures over Instagram.
Explore:- Rose Leslie & Kit Harington Married; Recited Wedding Vows In Front Of 'Game Of Thrones' Crew
 In April 2017, she posted pictures from her vacation with Ollie Jackson in Morocco. The couple looked relaxed enjoying their moment together. Furthermore, talking about the man she is in love with, Maisie told UK's InStyle:-
"I feel like I'm in love right now, but I don't know what I am going to feel like down the line. That's why I am kind of closed-minded about marriage — I don't even know if I want to get married."
In the very interview, the Game of Thrones actress opened about her willingness to date ordinary people. For her, the idea of having a famous boyfriend isn't feasible as she doesn't go to parties.
Dating Still?
Against all the odds and amid the drama, Maisie and her boyfriend Ollie continue to be in a commotion-less dating tenure.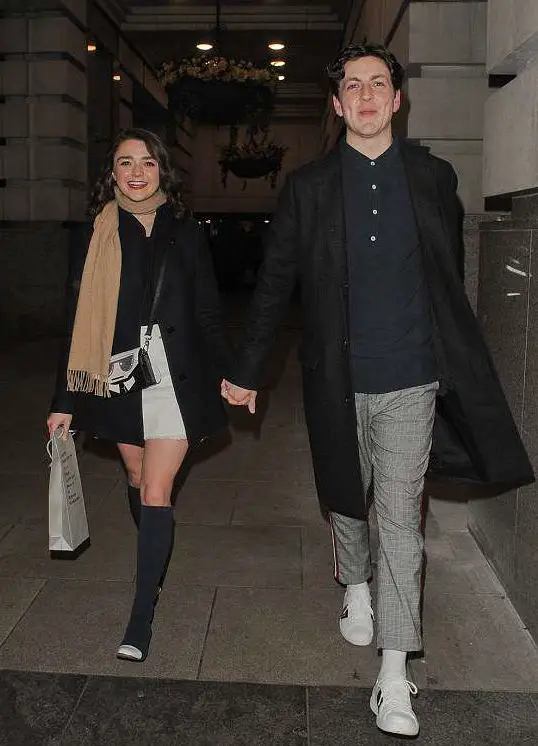 Maisie Williams strolling the streets of London with her boyfriend Ollie Jackson circa 2019 (Photo:- dailymail.co.uk)
To spice-up their dating life, the lovebirds travel for concerts and while at home, they prefer binge-watching TV shows.
More GOT Content:- Game of Thrones Season 8: GOT Final Season Airing In April, A Holocaust
Almost together for three years now, The Falling actress and her boyfriend even have pet-names for each other. Ollie often refers to Maisie as "raindrop" and "absolute dynamite."
Awkward Kiss Discussed In Interview
Maisie starred in a film "The falling" where she is found to be kissing her co-star and shooting a sex scene.
She shared that it was challenging and equally awkward while filming for the movie. In an interview, she claimed:-
'It was extremely awkward!' she said. 'But [co-star] Joe [Cole] was very sensitive to the fact that I had never done a scene like this before, and it was great to work with someone who was so considerate of that."
 Kissing Joe was Maisie's first onscreen kiss but it surely wasn't her last. In the second episode GOT's eighth season, Maisie not only kissed her co-actor Joe Dempsie's character Gendry but also shared a passionate scene with him.
Sadly, Maisie is all too familiar with facing awkward and embarrassing moments, both on as well as off the screen!
Smoking & Explicit Images Leaked
Margaret Constance Williams, who is famous for her stage name Maisie Willaims, is known for conquering all the opportunity that she took with both the arms wide open. She is now enjoying the payoff in return for the hard work she vested in her work. 
However, she has made it to the media for different reasons a few years down the line. Back in 2015, Maisie got spotted smoking a cigarette which created a fuss, as she was just 17 years old when it happened.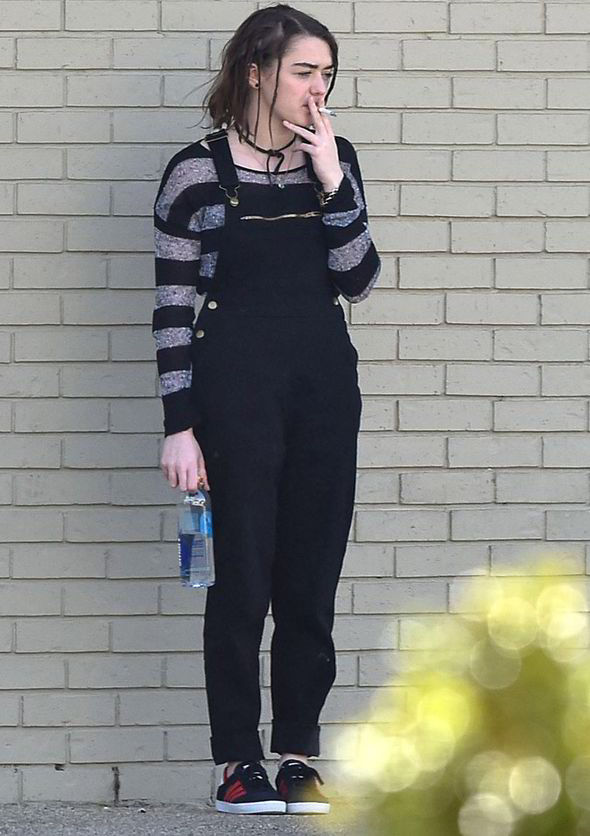 Maise Williams smoking cigarette on the set of her new film 'The Devil And The Deep Blue Sea' in New Orleans (Photo Credit: Express.co.uk)
It was unsure how Maisie obtained the cigarette given that Louisiana law states; one must be 18 years of age to purchase tobacco.
Drama Surrounding Fellow GOT Act:- Faye Marsay: With Obscure Dating Affair, On-Screen Lesbian Role
Similarly, it was around December 2016 when another terrible incident happened when she suffered a social media disaster, as a topless photograph of her got leaked.
Maisie happened to share the picture with her circle via Facebook, which unfortunately got leaked, causing chaos online. The photographs show the 19-year-old posing topless on a rock, with her back turned to the camera.
However, the image is not explicit, and hopefully, it won't result in negative consequences, affecting her career.
Tattoo Dedicated To GOT; Net Worth Details
It was Game of Throne's character 'Arya Stark' that highlighted Maisie's' talent and rewarded her with the fame she possesses now — making it relevant that she has an attachment to the show and her co-actors.
Out of all the cast members, Massi shares the most durable bond with Sophie Turner; who plays Arya's on-screen sister, and they both carry the same relationship off-screen.
Proving their bond, both the girls share the same tattoo. What could be so important to them that they engraved it on their skin?
Well, it's the life-changing date for both the actress; 07.08.09 -- it's August 7, 2009, the time when they got the roles for Game of Thrones.
However, Sophie explained in an interview with E! magazine, that the initial plan was something different,
"Thrones castmates made plans to get matching tattoos ("wolves" were among the options) at the end of the series."
But due to the possibility of one of them getting killed before the final season, they decided to engrave it before anyone killed them.
Arya Stark may or may not achieve victory in the upcoming battles of Game of Thrones, but Maisie Williams has been triumphant in her career which has helped her accumulate a net worth of $ 3 million.