Entertainment
Neil deGrasse Tyson Education Background, Tour & Net Worth Now
Neil deGrasse Tyson is an American astrophysicist, author, and science communicator...hosted NOVA ScienceNow documentary series from 2006 to 2011...born on 5 October 1958 in New York City...serving as the director of Hayden Planetarium since 1996...married to Alice Young... has two children...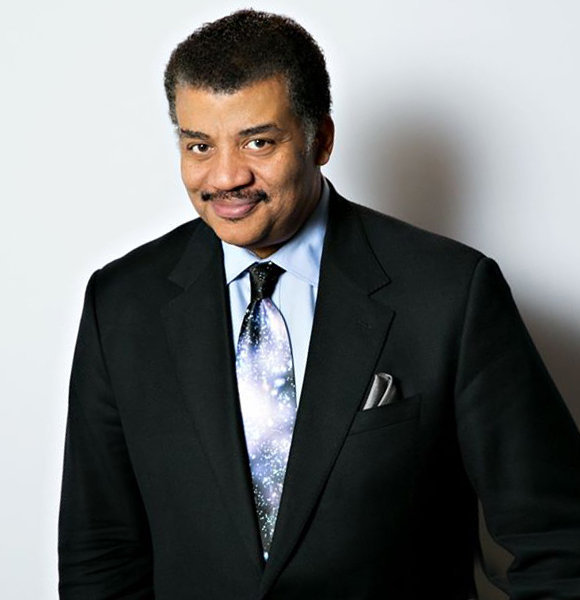 American astrophysicist Neil deGrasse Tyson has been serving as the director of Hayden Planetarium in New York since 1996.
Neil hosted NOVA ScienceNow documentary series from 2006 to 2011. He also runs the StarTalk podcast, where he is joined by comic and celebrity guests to talk on space, science, and popular culture.
Age, Bio & Education
Neil deGrasse was born on 5th October 1958, in New York City. Though not an excellent student, he was deeply passionate about stars. He took a trip to Hayden Planetarium when he was nine. He recalled his first good look at the stars in the following manner to American Physical Society in 2014, 
"That first day in the Hayden Planetarium…I looked up, the lights dimmed and stars came out, and I was called by the universe. I had no choice in the matter."
No wonder Neil studied science in school. He graduated from the Bronx High School of Science in 1976 and earned a bachelor's degree in Physics from Harvard University. After that, he completed his doctorate in Astrophysics from Columbia University in 1991.
The Science Guy:- Bill Nye Wife, Children, Gay, Net Worth
Neil did post-doctorate work at Princeton University and landed a job at the Hayden Planetarium in 1994 as a staff scientist. He began serving as its acting director in 1995 before taking on the mantle of the planetarium's director in 1996.
Wife & Kids
The author is married to Alice Young. The two first met in a physics class at the University of Texas.
While Neil said that he recalled the first time he met her, his wife told People Magazine that she took much longer to notice him probably because they had very different styles. She went on to add that he was a back-of-the-classroom kind of guy and that she was a front-row person.
And the duo tied the knot in 1988; they have two children together.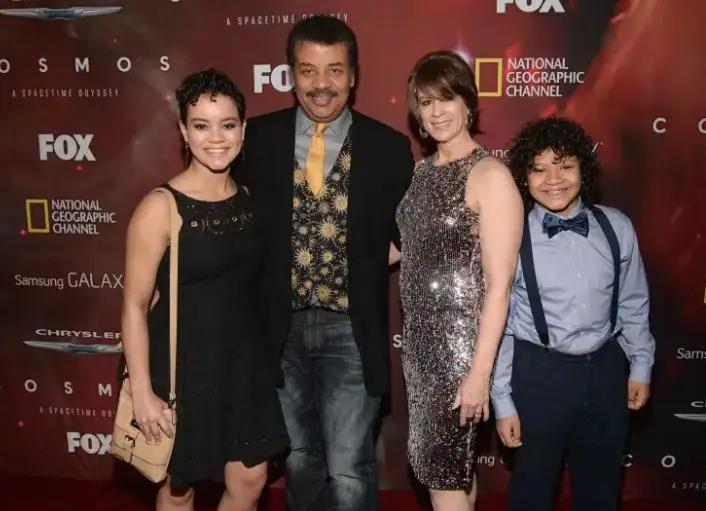 Neil deGrasse Tyson with wife and kids (Photo: heavy.com)
Their daughter, Miranda, is named after one of the moons of Uranus while their son is named Travis.
Neil deGrasse Tyson's Books & Tours
Neil is an avid science communicator known for his ability to explain complex ideas understandably, he has written dozens of books. 
His earliest published book is Merlin's Tour of the Universe (1989). Some of his most famous books are Death by Black Hole (2006), The Pluto Files (2009), Astrophysics for People in a Hurry (2017), and Letters from an Astrophysicist (2019).
Ancient Aliens Host:- Giorgio Tsoukalos Wiki, Wife, Net Worth, Ethnicity
As of February 2020, he is on tour and is scheduled for events all over the U.S. till 13 May 2020.
Net Worth
According to celebritynetworth.com, Neil has a net worth of $5 million.
Interesting Facts
Neil has appeared in TV shows including Disney's Gravity Falls (2012-2016), and Cosmos: A Spacetime Odyssey (2014).

He started the great debate about Pluto's planetary status after lumping Pluto in 2000.