Entertainment
Never Believed To Be Married Rickey Smiley Has A Bunch Of Kids To Raise But With Whom Did He Have Them All?
Never Believed To Be Married Rickey Smiley Has A Bunch Of Kids To Raise But With Whom Did He Have Them All?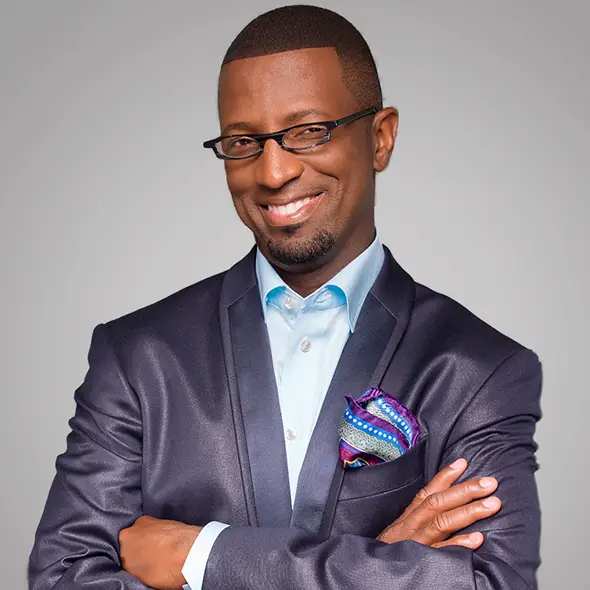 Quick Information
Children/Kids

Five

Rumors

Porsha Williams

Official Site

https://rickeysmileymorningshow.com/

Height/ How Tall? 6 feet
College

Tuskegee University, Alabama State University

High School

Woodlawn High School

Net Worth

$5 Million

Gay

No

Divorce/Split

Yes (Once)

Relationship Status

Single (2019)

Date of Birth Aug 10, 1968
Daughter/s

D'Essence Smiley, Aaryn Smiley

Son/s

Malik Smiley, Brandon Smiley

Mother

Carolita Smiley Lester

Ethnicity/Race

African-American

Zodiac Sign

Leo

Birth Name

Broderick "Rickey" Smiley

Profession

Comedian

Birth Place

Birmingham, Alabama, United States

Nationality

American
After the demise of Charlie Chaplin, we had made our mind regarding the extinction of laughing era, but things turned around when comedians like Rickey Smiley, Daniel Tosh, Aisling Bea and plenty more showed up and flaunted their skills to the audience at large as a stand-up comedian.
Despite revealing and making humor of all the solid matter, Rickey Smiley has remained wordless when in turn, revealing about his relationship status and disclosing details about the biological mother of his children.
For now, we will be hanging onto his relationship status, sexual orientation and go through his luxury living standard.
Ten Kids, Why Silent About His Wife and Married Life?
In the 21st era where the world has adopted the facility of test tube baby, adoption, and surrogacy it will not be a new thing for a man to be a father of few bunch of kids without a mother. But in the case of Rickey Smiley he has accepted the natural and modern form of being a father.
Smiley is the father of ten children. Two of the children Brandon Smiley and son Malik Smiley are his biological children, but the remaining children are stated to be adopted from his nieces and nephew.
 Source, uptownmagazine.com on June 18, 2014, reports the comedian to be a divorced man who has been looking after his two biological children. However, Smiley has not disclosed any piece of information regarding his wife and separation from her.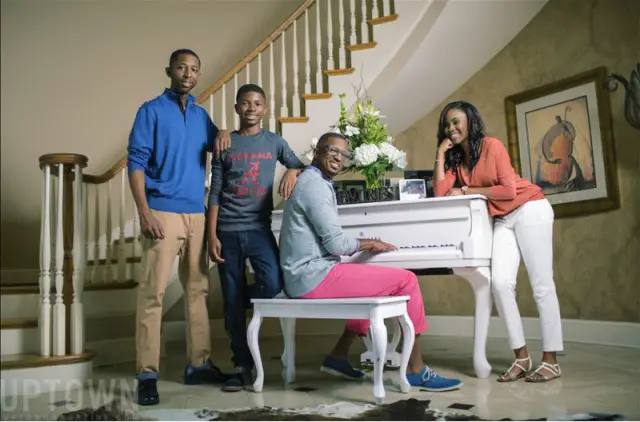 Caption: Rickey Smiley with his children Brandon Smiley, Malik Smiley and D'Essence (2015). 
Photo Credit: uptownmagazine.com
Two years ago Rickey gave the shocking news to his audience by revealing the fact of his fatherhood. When providing the full disclosure of taking such initiation of adoption, Smiley reveals the dark secret of his life which he had faced at the age of seven. As published by uptownmagazine.com on June 18, 2014, he said,
" I enjoy being best father I can be and being an awesome father to the fatherless. My dad was murdered and taken away from me when I was 7, so I know what it's like growing up without a father even though I had an awesome granddad and uncles. But to be able to fill that void for somebody else is just incredible. I would actually pay money to do it."
On an interview in a show The Real Daytime on March 16, 2015, Smiley further elaborated about his fatherhood experiences along with his childhood memories.
Caption: Rickey Smiley reveals about being a father of ten children as on posted on YouTube (March 16, 2015). 
Similarly, he was rumored to be dating his co-star Claudia Jourdan from his morning show "The Rickey Smiley Morning Show."  But, the rumor was stashed aside when in the series of Real Chat aired on March 16, 2016, straight away stated he is single and has no intention of getting involved with any of the co-workers.
Caption: Smiley informs about Claudia Jordan on  March 16, 2015. 
Well, the stand-up comedian is currently single and has no girlfriend, but like he has kept his married life under the shadow, there is a high chance for the man, to be keeping his dating life behind the curtain as well.
Being a father of ten children is not a joke, one must be mentally and physically prepared for every consequence and must equally give them time and personal care. Maybe due to this reason he has not been able to find a better partner for himself or maybe the divorce issue might have killed the faith in marriage. Well, nothing can be said till Smiley himself reveals what is going inside his mind.
Alleged To Be Gay, How True Can It Be?
On the show of " Rickey Smiley morning show," Rickey had pulled out the tangled love life of Paula Cook, the American Idol winner. On an answer to such flaming act, the former husband of Cook, Antwaun Cook posted a bash on the Instagram post before removing it from the social networking site where he alleges the Rickey to be gay and requests him to confess to the entire world regarding his sexual orientation.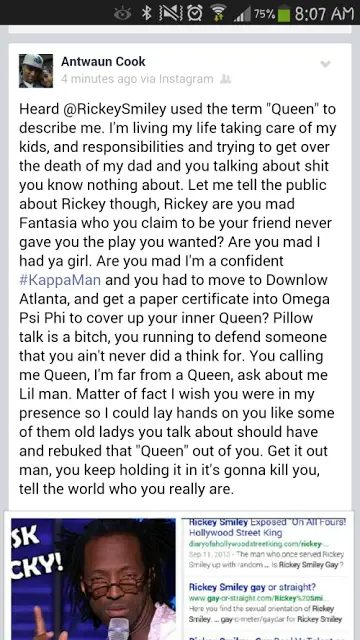 Caption: Rickey termed to be gay (2013). 
Photo Credit: bossip.com
Smiley on a reply to such post has not stated anything. Though it was a strong accusation made upon the stand-up comedian, he has remained wordless to it. But when looking at his previous record of marriage, he seems to be a straight orientation as he has two children of his own from the marriage, although no details got released by Smiley, he is stated to be straight and single.
Multi-talented Star, How Much Is His Net Worth? 
From the year 2000, stand up comedian Smiley worked in the field of entertainment at the season of BET's "Comic view" program. Since then he has appeared in many shows of HBO, i.e., Showtime at the Apollo, Def Comedy Jam, Uptown Comedy Club and Snaps.
He became famous after his famous Prank Calls and continued to work as a Radio Jockey, actor, and a show host. From all his dedication he has successfully managed to accumulate the total net worth of $5 million.
For now, he runs his show," Rickey Smiley Morning Show" and has recently launched his television show, "Rickey Smiley" for real which will naturally increase his current net worth.