Entertainment
Is Daniel Tosh Still Dating His Model Girlfriend? "I'm Neither Married Nor Gay" Says the Comedian?
When the two celebrities stay in a relation, their fans tend to search their updates in the media. But not all celebrities want their love life to become a media issue. In this regard, today we are talking about a comedian who was reportedly dating a model but now he has to stop revealing about the relationship status.
Quick Information
Wedding Date

15 April 2016

Rumors

Gay

Official Site

http://danieltosh.com/

Twitter

twitter.com/danieltosh

Weight

80½ Kg

Height/ How Tall? 6 feet 3 Inches (1.91 Meters)
Education

University of Central Florida

Nominees

Teen Choice Awards

Net Worth

$16 Million

Ex-Girlfriend

Megan Abrigo(2009-2014)

Date of Birth May 29, 1975
Wife/Spouse

Carly Hallam

Relationship Status

Married

Ethnicity/Race

Mixed

Zodiac Sign

Gemini

Nick Name

Shart-Face-Migy

Profession

Comedian

Birth Place

Boppard, Germany

Nationality

American
Comedian and Host of American Comedy series Tosh.0, Daniel Tosh likes to comically involve himself in every topic possible and even takes part in controversial discussions in social media and his shows.
Contrary to his chatting nature, he doesn't like to disclose any information about his love life but here's what has been scrapped up from the humorist's closet.
Jokester And His Girlfriend-Turned-Wife
The German-born American comedian, Daniel Tosh dated model-actress Megan Abrigo from February 2009. News about his relationship with Megan surfaced after he ranted on his show's special "Happy Thoughts."
See Also:- Bonner Bolton Bio, Girlfriend, Gay, Family
Megan, most known for her work in Deal or no Deal's first four seasons as the briefcase lady, was seen with Tosh in different places. They were also spotted in Gansevoort South hotel in Miami Beach.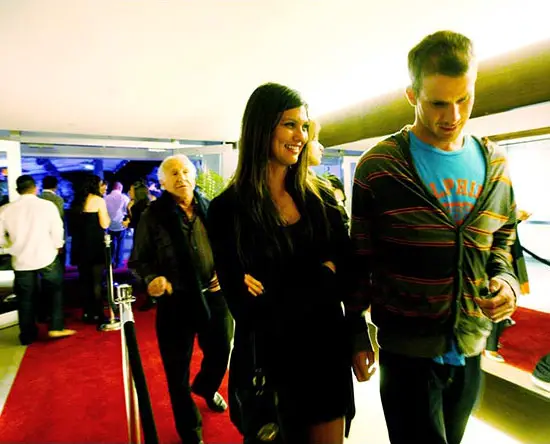 Daniel Tosh and his girlfriend, Megan Abrigo, exit a party at the Gansevoort South Hotel in Miami Beach (Source: nytimes.com)
But there were always issues. Daniel repeatedly joked about his girlfriend multiple times, and his significant other did the same. There was a breaking point, and the water seems to have drowned the bridge at some point.
They stopped appearing together in different places and events. Moreover, the news regarding Daniel and Megan dating stopped appearing in tabloids and social media. 
Dreaming About Ballerina Wife?
In March 2014, Daniel wrote in a Twitter post about his marriage. The comedian shared that he was married to a ballerina wife. He also expressed his happiness and gratitude of having a woman who makes his day beautiful.
Being married to a ballerina has made every day a little more beautiful!
Well, many were gravely confused with his post. It later turned out to be a prank done by the comedian that came to light when Daniel's married life was revealed.
It became apparent that Daniel was hiding his wife who was none other than one of the writers of his show, Tosh.0.
Carly Hallam, a former writer of Tosh's comedy show, has been married to Daniel since 15 April 2016. The details about their wedding were disclosed only in June 2018 when a source revealed the secret married life of Daniel.
Low-Key Wife:- Brett Gelman Has Any Children With Low-Profiled Wife? Or Are They In For A Divorce?
Carly, who identifies herself as Carly Hallam Tosh, wrote a series of episodes for Tosh.0 from 2012 to 2015. She even appeared shortly in one of the episodes which aired in 2014.
As for now, Carly has left her husband's show and works as a writer on NBC's Brooklyn Nine-Nine. On the other hand, Daniel extended his contract with Comedy Central in 2018 for three years and will be appearing on Tosh.0 till at least 2020.
Satirical Genius Serious About Homosexual Issues
It's hard to take anything Daniel says seriously, the comedian is quite satirical and goes around making fun of gays, women, men, crossdressers and transgender alike.
But, surprisingly Daniel is quite passionate about Gay rights. Despite being known for producing various jokes about Homosexuals, ironically Tosh is a strong Gay rights supporter.
Although Daniel was born to Presbyterian minister father, he loves to talk about gay issues. He speaks for gay people and believes that people should be free to choose their partner. He shared about his notion of same-sex marriage in an interview with Paulduane.net. He said,
"I'm not gay. I am not married, and I don't even necessarily believe in the institution of marriage as our culture currently practices it. That being said, consenting adults should be able to do enter into whatever contracts they wish."
Daniel also defended gender-bending dance troupe Prancing Elites after people were outraged that their children had been exposed to "Gay men dancing" during a parade in Alabama in December 2014.
Whether Daniel is genuinely passionate about defending queer folks or was just joking, we will never know. Maybe Daniel only respects people who live up to their homosexual desires? 
Crude Joker Goes too far
Daniel Tosh is known for crossing lines, but during a Laugh Factory show, he went one step way too far.
Drunken Controversy:- Michael Oher Has A Wife! A Drunken Scandal Revealed Married Life
In 2012 during Tosh's laugh factory show, Tosh made a crude joke talking about how rape jokes were always funny when a female interjected and spoke about Rape jokes not being funny at all, Daniel commented saying
 Wouldn't it be funny if that girl got raped by like five guys? Like right now? What if a bunch of guys just raped her?"
Daniel trying to make a joke at the expense of a poor girl from the audience backlashed hard, and the entire internet went up and arms about it. Daniel Tosh's image took a hard hit following this event. The once-called Dave Chapell's white equivalent's reputation was ruined, and his show ratings plummeted. Facing all these issues and the media turning against him, Tosh apologized for his comment and has been working on repairing his image ever since.
Daniel Tosh's Short Bio:
Born on May 29, 1975, Daniel Tosh grew up with religious parents. His father was a Presbyterian minister. Daniel completed his graduation from the University of Central Florida in 1996 with the degree in marketing. Daniel is an American comedian, actor, writer, television host, and executive producer.
He is best known for making black comedy as a popular show host named "Tosh.0" that airs through Central Comedy since 2009.
He is also known as the star of Stand-up comedy tours and specials. He makes comedy in genres like black comedy, observational comedy, satire, and sarcasm. He has also featured in the movie named The Love Guru. He is also the writer and executive producer of a TV Special documentary, Daniel Tosh: People Pleaser(2016).