Entertainment
NFL Star Nick Bosa's Girlfriend Gets Called Out on Twitter- Why?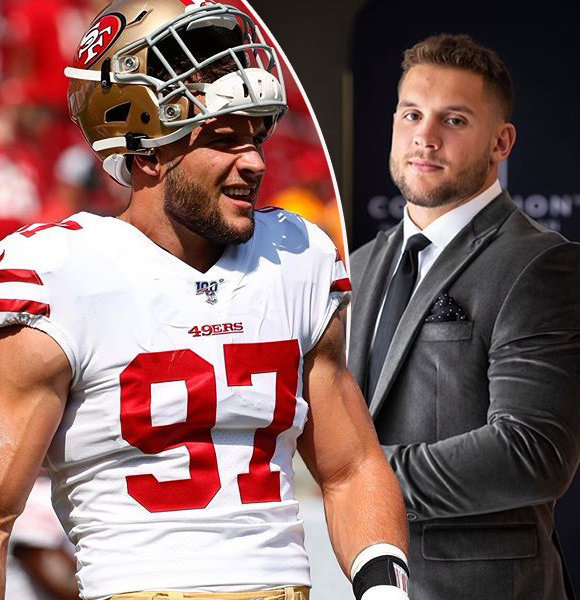 NFL star Nick Bosa is an American footballer who is a defensive end for the San Francisco 49ers. He has contributed a lot to his team and is famous for his skills. 
With his impressive skills, Nick makes headlines and is famous among fans. Likewise, in 2021 Nick went viral on Twitter and made several headlines. However, it was not because of NFL; it was actually because of his girlfriend.
So, who is his girlfriend? What was the tweet really about?
Who Is Nick Bosa's Girlfriend? 
Nick's girlfriend, Jenna Berman, is an American physician assistant student. Apart from being a physician, she is also an Instagram model and social media influencer. She has about 1.1 million followers on TikTok and 269,000 followers on Instagram.
Nick Bosa and his girlfriend in Tulum, Mexico (Source: Instagram) 
More On Madison Gesiotto:- Husband, Ethnicity, Salary
Although it is not sure when the couple started dating, looking at their social media, it might be around 2021.
Jenna has been famous on social media and is mostly known as Nick's girlfriend. Back in August 2021, Bosa's girlfriend was highlighted on social media after getting viral on Twitter for her old tweets. 
In her tweets, she can be seen using the n-word multiple times and also some offensive language to the LGBTQIA+ community. Though the tweets were from almost a decade ago, an unknown Twitter account uncovered it and exposed her as racist and homophobic. 
Nick Bosa's Girlfriend viral tweet (Source-Twitter)
Because of this scandal, Jenna deactivated her Twitter account and made her Instagram account private. 
Meanwhile, Bosa also faced a lot of criticism on social media. The couple still gets comments related to the incident in their posts together to date. 
However, there are no rumors about them splitting up. The pictures of them together are still present on Jenna's Instagram. 
Nick Bosa's Family
Nick, age 24, comes from an athlete's family. Though her mother, Cheryl Bosa is not an actual athlete, she did work with Atlantic Properties International. But, Nick's father, John Bosa, is a former NFL player who played three seasons for the Miami Dolphins and was a first-round pick in the 1987 NFL Draft. 
Another Football Star:- Joe Burrow Father, Stats, College, Contract & Net Worth Details
Nick's older brother, Joey Bosa, is also a footballer playing as a defensive end for the Los Angeles Chargers of the NFL. 
Both brothers are setting the NFL on fire. And their father, John, is proud and loving how his boys are doing what they love.
In an interview with TMZ Sports, John said, "Sometimes it's actually hard to believe how blessed I am to have 2 sons who are doing what they love," and "It's amazing."
He adds that the skills of his boys are not given by God but developed by their hard work. 
"They're absolutely relentless on trying to hone their skills and being the best they can be," John said.
Listening to his father, it seems like Nick had a very supportive family who helped him reach his goals. In addition, he had a wonderful upbringing by his family in Fort Lauderdale, Florida, where he was born. 
He graduated his high school from St. Thomas Aquinas High School in Fort Lauderdale and later moved to Columbus, Ohio, to attend Ohio State University. He played college football at Ohio State and started his journey in NFL.
Nick was also named the NFL Defensive Rookie of the year and had a successful career. According to Forbes, he is known as one of the best players in the NFL, with a net worth of $23.7 million.  
Bosa's skills have been improving day by day, and he is doing well in his career.
We are sure to get more updates from him, so stay tuned with us.