Entertainment
NFL Star Nick Bosa Personal Life Insight & Family Background
Nick Bosa if a football layer playing for the San Francisco 49ers of the NFL...was picked in the 2019 NFL Draft...his parents are John and Cheryl Bosa...has an elder brother playing in the NFL...is the youngest member of the family...his age is...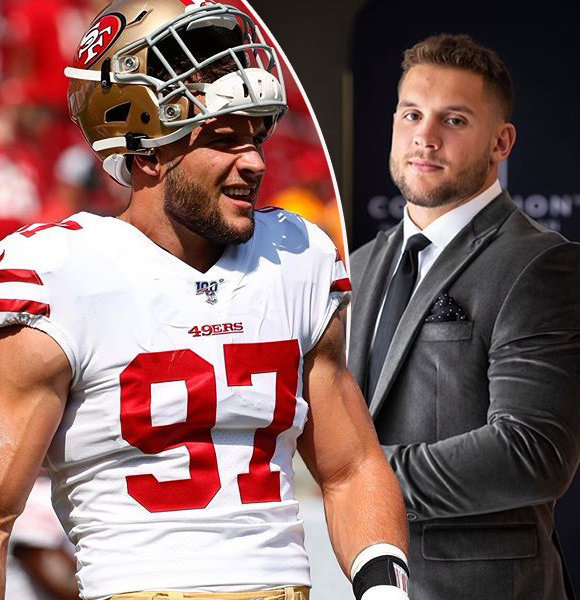 NFL star Nick Bosa plays for the San Francisco 49ers in the position of defensive end. They drafted him in the first round as the 2nd overall pick in the 2019 NFL Draft.
Nick made his NFL debut for the 49ers on the 8th of September 2019 in a game against Tampa Bay Buccaneers. In 2019, he played 16 games for his team, starting 14 of them during the regular season, and two games in the postseason. He started both of them.
Nick has also tried his hands in acting; he played a small role in the final season of Game of Thrones (2019).
Nick Bosa's Dating Life
Nick was involved in a fling with Madison Gesiotto. They went on a date with Madison in December of 2018.
Nick technically "won" a date with Madison. She, in November of that same year, asked her followers on Twitter on who she should take as her date to the White House Holiday Party. Nick playfully responded to her tweet. Madison retweeted his reply tweet, saying that if the tweet got 10 thousand retweets, then she would take him to the party.
More On Madison Gesiotto:- Husband, Ethnicity, Salary
The requirement was met, and they went to the party as a pair. However, it was only a one-time thing, and they never got involved romantically.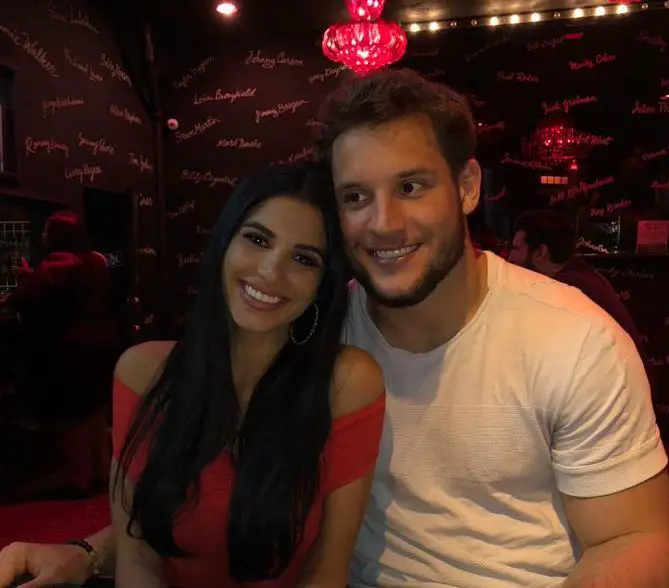 Nick Bosa with Madison Gesiotto at the White House Holiday Party in December 2018 (Photo: Kmarko/Twitter)
Madison is in a relationship with another NFL star, Arizona Cardinals' offensive tackle Marcus Gilbert.
Parents And Family
Nick was born to father John Bosa, a former NFL player who played three seasons for the Miami Dolphins and was a first-round pick in the 1987 NFL Draft and mother Cheryl Bosa.
Another Football Star:- Joe Burrow Father, Stats, College, Contract & Net Worth Details
Nick's elder brother is Joey Bosa. He plays for the Los Angeles Chargers of the NFL. He is a top pass rusher in the NFL.
He was drafted third overall in the 2016 NFL Draft.
Some Facts About Nick Bosa: Age, Height, And More
Nick was born on the 23rd of October 1997 in Fort Lauderdale, Florida, the United States.
He is the great-grandson of Chicago mob boss Tony Accardo.
The NFL star stands at the height of 6 feet 4 inches or 1.93 meters and weighs around 266 lbs or 120 kgs.
Nick went to the St. Thomas Aquinas High School in Fort Lauderdale. Then, he attended Ohio State University. Nick appeared for them in three seasons; 2016 (12 games), 2017 (14 games), and 2018 (3 games). He decided to forego his senior year at college and declared for the NFL Draft on the 16th of October 2018.
He signed a four-year contract worth $33.5 million with a $22.5 million signing bonus with the San Francisco 49ers on the 25th of July 2019. The contract also includes a 5th-year option.