Sports
Joe Burrow Father, Stats, College, Contract & Net Worth Details
Joe Burrow is one of the hottest prospects in the 2020 NFL Draft...he attended Athens High School...went to Ohio State University for college education...graduated from there and transferred to LSU...set to receive a good contract being a quarterback...was once involved in a butt-revealing pantsing incident...won the offensive MVP in the 2020...has been dating his girlfriend...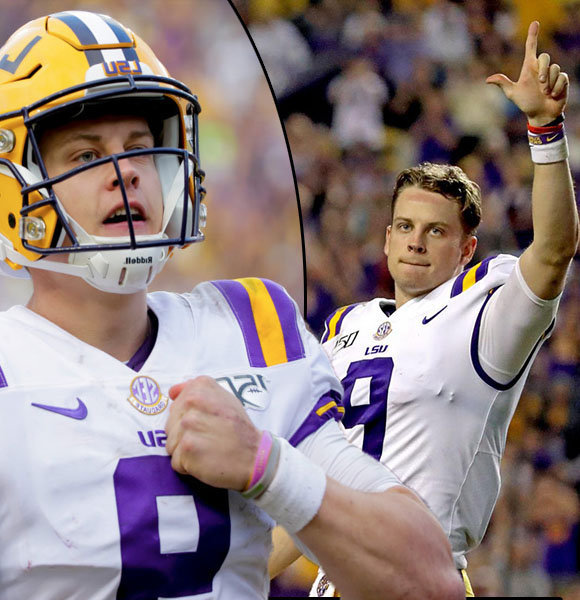 Joe Burrow is a quarterback playing for the Lousiana State University's football team, LSU Tigers. He is in his senior year at the university and has been playing consistently for the LSU for two years.
However, he did not start his college career at LSU. Joe initially attended Ohio State University for three years. He redshirted his first year at Ohio in 2015 to extend his period of eligibility. Then, he spent the next two years as a backup in his position.
Joe Burrow's College Career & NFL Prospects
Joe attended Athens High School from 2013 to 2015. It was there where he started his footballing journey and was in the 2014-15 Athens Bulldogs team - a team that had a record of 14 wins to one loss.
After graduating high school, Joe enrolled at Ohio State University. As mentioned above, he decided to redshirt his first year at the university to lengthen his playing eligibility. And thus, he didn't play any college football in his first year at Ohio.
Former Football Player:- Jerramy Stevens Expecting Twins With Wife Hope Solo | What Is He Doing Now?
His second year at Ohio approached, and Joe was in the Ohio State Buckeyes' roster. However, he was a backup to J.T. Barrett and only got to play ten games during the two remaining years at Ohio, in which he achieved stats of 29 out of 39 passes completed for 287 yards, and two touchdowns.
Getting his degree in Consumer and Family Financial Services, he was declared eligible for a graduate transfer in early 2018.
After his underwhelming time at Ohio State, where he didn't get deserved playing time, on 20th May 2018, he transferred to Lousiana State University (LSU). The athlete was immediately appreciated at LSU as he was named the starting quarterback as a redshirt junior in 2018.
After stellar performances in his 2018 season, he was again named in the starting lineup for the LSU Tigers in 2019. And Joe hasn't disappointed, achieving amazing stats.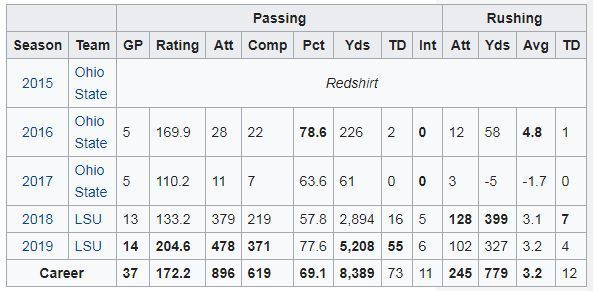 Joe Burrow's college stats for Ohio and Lousiana (Photo: Wikipedia)
His stats and performances are so good that he is predicted as the favorite to be the number one pick in the 2020 NFL Draft. In addition to this, he is most probably going to be picked by the Cincinnati Bengals as they have locked up the top selection, and also have had quarterback issues over the 2019 season.
Winning The 2020 College Football National Championship MVP
Joe ended his college football career in style as he won the offensive MVP in the 2020 College Football Playoff National Championship Game against Clemson.
He grabbed this award as LSU gained a 42-25 victory over Clemson in a game played on the 14th of January 2020.
Along with the accolade, he also broke a few records that night. The records are:
Most Pass TD in a season in FBS history
Most TD responsible for in a season in FBS history
Most TD responsible for in a BCS/CFP title game
Most pass yards in a BCS/CFP title game
Net Worth And Contract
As a college player, Joe's net worth is not calculable right now. The reasons for that maybe the lack of a professional contract and lack of binding to a big franchise. However, this doesn't mean that Joe is not worth anything to his university team.
Joe Burrow is worth approximately $3.9 million to the LSU, according to an article published in December in FanSided. In addition to that, Joe is a huge contributor to the $86,579,944 revenue that LSU generated in the most recent reporting year. However, as a college player, he doesn't get any benefit from his financial contributions to the university.
But, all this will change with his draft into the NFL as he will get a professional contract once he gets drafted. And Joe is a quarterback, a vital position in the modern NFL. So, this, combined with his performances, is sure to get him a decent contract.
Another NFL Player:- Kwon Alexander [49ers] Injury Details, Brother, Contract & Salary
According to reports, a good quarterback gets a contract with a value of around $4 million. The amount could increase, considering how good and sought-after Joe is.
Personal Life: Girlfriend
Joe Burrow has been dating his girlfriend, Olivia Holzmacher, from the time he was at Ohio State University (around 2015).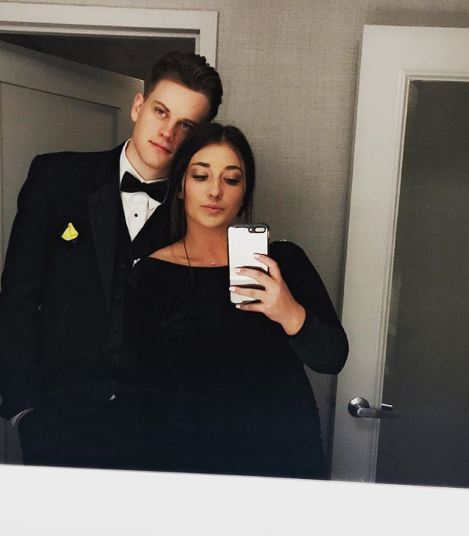 Joe Burrow with his girlfriend, Olivia Holzmacher, in December 2019 (Photo: Olivia Holzmacher's Instagram)
Olivia is his biggest fan and is spotted frequently on the sidelines when Burrow is playing for the LSU. She is even called the 'First Lady' of LSU football due to Joe's accomplishments for the university's football team.
Interesting Facts: Age, Father
Joe was born on 10th December 1996 in Athens, Ohio. His father is a former NFL player Jimmy Burrow, who also had a 40-year long coaching career.
The quarterback stands at the height of 6 feet 4 inches (1.93 meters) and weighs around 216 lbs.
Due to his amazing achievements, his high school is set to name their stadium after Joe. The new name of the Athens Bulldogs' stadium will be Joe Burrow Stadium.
He once nearly lost his pants during a game against Mississippi State. The incident left his butt exposed for everyone to see.