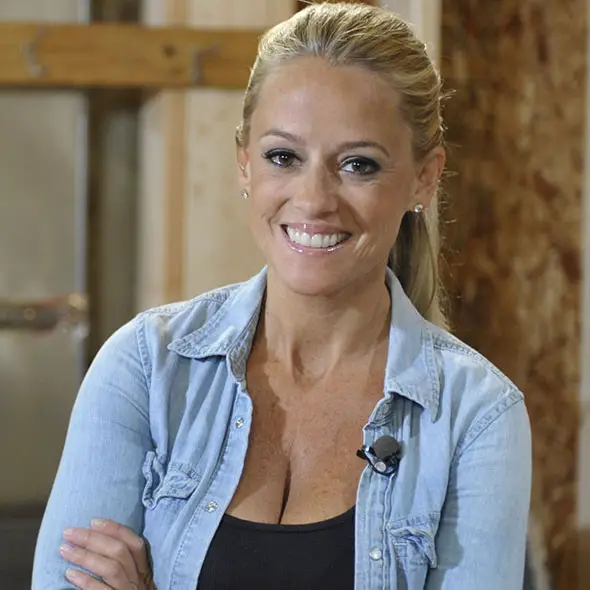 Quick Information
Ex-Husband

Steve Lane(m.?–2009)

Lesbian

No

Official Site

nicolecurtis.com

Body Measurements

36-24-35 Inches

Eye Color

Light Brown

Hair Color

Blonde

Weight

56 Kg

Height/ How Tall? 5 Feet 3 Inches (1.6 Meters)
High School

Lake Orion High School

Net Worth

$7 Million (Estimated)

Nationality

American

Ex-Boyfriend

Shane Maguire

Divorce/Split

Yes (Once)

Relationship Status

Single

Son/s

Ethan, Harper

Mother

Joanie Curtis

Father

Rod Curtis

Birth Name

Nicole Lynn Curtis

Profession

Television Host
Nicole Curtis is an expert in the restoration, preservation, and rebuilding of houses. She can look at a property and know its real value.
Maybe judging people is not as simple according to her personal history. Nicole had a very troublesome marriage with her ex-husband Steve Lane.  
Find out all the details of the legal battles she has been through. 
Nicole Curtis's Married Life - Husband and Divorce
Nicole Curtis, age 45, is a very quiet person in terms of her personal life. She does not provide anything about her personal life unless she has to.
There is no reliable source that gives information about her former husband, Steve Lane. As a result, the relationship between Steve Lane and Nicole Curtis remains a mystery.
Equally Elusive Married Life:- Daniel Krauthammer Wiki, Age, Married
Nicole met her husband, Steve in college. After being together with Steve Lane for some time, Nicole got pregnant. Nicole gave birth to her first kid, Ethan, before marrying Steve Lane. Nicole had to leave her college in order to take care of her child. 
When Nicole was pregnant, she didn't have many choices for work, so she started her own cleaning business. She had also enrolled in a real estate course. Nicole was obviously struggling, but with the help of her ex-husband Steve Lane, she was able to balance her profession and her kid.
There is no information regarding when she married her ex-husband Steve, but despite having a kid together, their relationship did not survive long.
Nicole and Steve were on good terms when they decided to split in 2009. However, their separation did affect their love for their son Ethan. Steve has a really wonderful relationship with his son. 
After the divorce from Nicole, Steve Lane completely vanished from the media's attention. But on the other hand, Nicole moved on with her life. 
Nicole Curtis Became Mother Again
Her personal life after her first marriage went underground until July of 2015, when she came out big on Facebook, holding a dog and revealing a baby bump.
But then again, the picture came with a confusing caption stating,
"To answer all your questions — yes! I was asked to be a surrogate — #lucy decided after all these years she wanted her pups :) we all kindly ask for privacy, and we still say spay or neuter your pets... "
Not to keep her fans in confusion for long, she confirmed in a post roughly an hour later, she added another, stressing that she was pregnant.
With the caption "CLARIFICATION: #sarcasm #notasurrogate," she didn't go into the details of her baby daddy's identity.
But the news of several problems arising between her and her unnamed boyfriend grew rampant. The reports directly covered the post-legal battles between Curtis and her former boyfriend, Shane Maguire.
Things turned sour during the custody battle for the couple's son. For instance, on 16th August 2016, Curtis got accused of trying to retrieve the child, which she sharply declined.
The ugly battle had been going on since November 2015, when Shane sued Curtis for the right to recognition as the child's birth father and liberal parenting time. Curtis replied with a strong case on July 6 about Shane visiting her at midnight with violent actions.
The legal battles did not end here. Again on 13th July 2016, Curtis challenged the ruling claiming Shane had recklessly driven their son to a protest. Due to lack of evidence, her accusations got overruled.
Nasty Legal Woes:- Is Badr Hari Gay Man Even After Dating Multiple Girlfriends? Still Facing Legal Issues?
But Maguire says that Curtis took their son on an unplanned trip away from Michigan to New York during a visitation weekend. 
After a long and tedious custody battle over their 3-year-old son Harper, Nicole and her ex-boyfriend reached an agreement in October of 2018.
The news came seven months after the pair's brief reconciliation period between March 2018 and April 2018. While in each other's good graces, the former duo even enjoyed a dinner together.
Nevertheless, Nicole and Shane opted to bury the hatchet and do the right thing for their child's sake. According to the agreement, the ex-lovebirds will follow "an alternating weekly schedule with one parent getting custody for five days a week and the other for two days."
Further, the schedule will be conversely distributed the following week.
The agreement, however, didn't end the bad blood between the two. Barely three months later, the TV personality filed a case against her son's father for failing to pay $6 thousand in unpaid child support.
Shane was in danger of receiving a prison sentence if he failed to meet the amount. But things are calm now. Nicole is handling her two kids all by herself.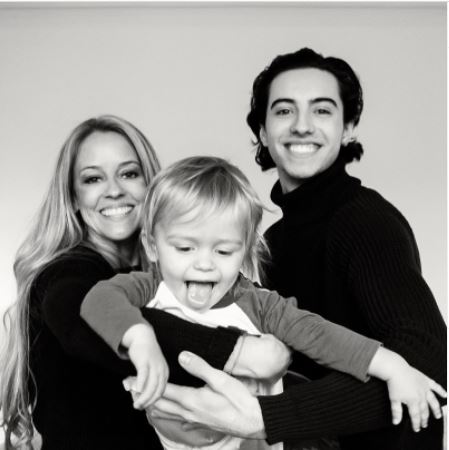 Nicole with her children. (Source: Instagram)
However, Nicole could not find peace when the custody dispute was resolved.
Nicole Curtis More Legal Action
To make matters worse for Curtis, her mother, Joan Curtis, has also filed for a restraining order from her daughter for being threatened by her in front of her grandmother.
Life & Style magazine has obtained the papers filed as back as July 2016 that report allegations of "stole items" and texts "with rage, threats [and] violence."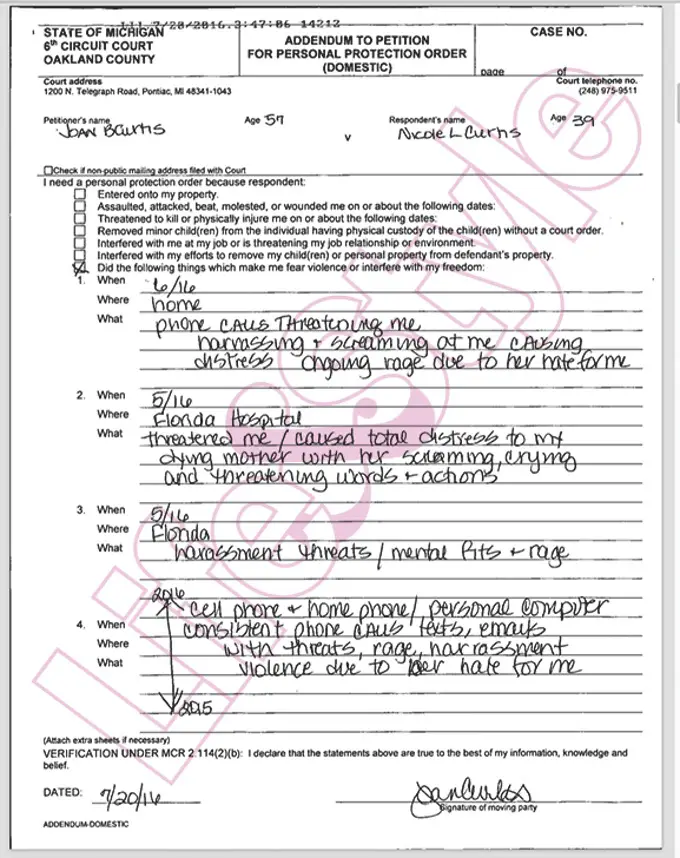 Court papers were filed against Nicole Curtis in July 2016 (Source: Life&Style)
Not only that, but Joan has also reported that Nicole threatened her and disrupted the environment at the hospital where Joan's mother was receiving treatment. However, The court turned down their plea and urged them to deal with their family problems independently.
Despite the difficulties of legal procedures, she has built an impressive career.
Nicole Curtis' Career
Nicole Curtis was born on August 20, 1976, and grew up in Lake Orion, Michigan, US. Curtis graduated in 1994 from Lake Orion, Michigan, and went on to attend colleges in Georgia, Florida, and Michigan.
Even though she was unable to complete her degree owing to her pregnancy, she was able to start her own business. After her successful business, she was able to start her TV show as well.
Tumultuous Relationship With Ex:- Malaysia Pargo Husband, Kids, Net Worth, Parents
She is famous for hosting the TV series 'Rehab Addict' from 2010 to 2021. She also did remodeling of a lighthouse by 'Metro Times' on August 9, 2016. 
Currently, she is busy spending time with her family and living a peaceful life with a net worth of $8 million.
After being single for a long time, she was also rumored to be gay, but she has not commented on it. So we cannot be sure about her sexual orientation. 
Stay tuned with us for more updates on Nicole Curtis.