Entertainment
Nicole Franzel & Victor Arroyo - Big Brother Stars Dating, Fans Go Haywire
If it's about the showmance, the American television personality, Nicole Franzel has colored her life full of it. Known for her appearance in the Big Brother, she found the success both, in her career and dating life after winning the show's 18th season.  
While she was achieved her lifelong dream of winning the Big Brother, she also herself a partner too. Even though in the show she appeared in a relationship with Corey Brooks, the fellow houseguest, their relationship fizzled out after the end of the show.
But despite the end of their so-called romance, she finally found the person she loves. 
Relationship Turned Sour With Corey Brooks
Nicole Franzel, age 26, previously shared a romance-like relationship with her fellow houseguest Corey Brooks. Nicole met Corey back in summer of 2016 inside the Big Brother 18 house. The couple had an immediate connection and pretty soon, they admitted their love for each other. Nicole was really attracted to Corey but for him, he wasn't sure about having a showmance.
During that time, Nicole just went through a painful break-up with her previous Big Brother 16 showmance with Hayden Voss and Corey did not want to give off the wrong idea.
You May Also Like:- Lizzie Cundy Married & Divorced Husband; Fragile Wedding Vows To Children Details
However, the couple eventually hit it off. During the season they were very close to each other which almost seemed perfect. Nicole, who has not revealed her net worth yet, won the season and over the next few months, the couple still paid visits to each other. 
The couple were often posting their relationship on social media and were documenting their trips. For Big Brother fans, they believed that the pair was going strong with their relationship.
Adding to it, Nicole previously opened up revealing that she wanted a relationship with Corey outside of the house as well. Through their posts, it almost seemed like they were going to make it work.
But as nothing was confirmed about their relationship outside of the house, the pair eventually fizzled out. Their posts stopped appearing in Instagram and Corey was soon seen with another woman which hinted at the end of their romance.
Dating Another Big Brother Contestant?
Well, after the vague end of Nicole's relationship with Corey, she was soon seen sharing the love with her fellow winner of Big Brother 18, Victor Arroyo. Nicole and Victor both knew each other from the house and won the show together.
After the end of the show, they remained constant friends and were really close. They were in constant touch and during the premiere of Big Brother 19, everything fell in place for the lovebirds.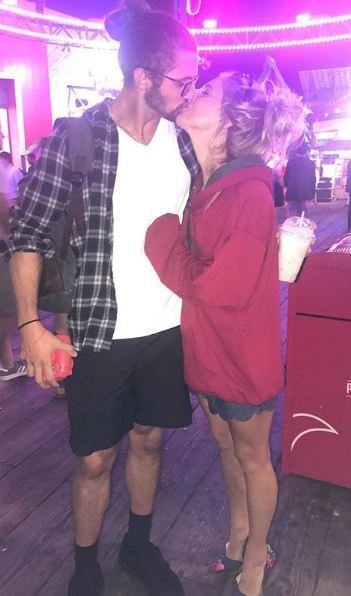 Nicole Franzel with boyfriend Victor Arroyo. (Photo: Nicole Franzel's Instagram)
They both were in New York and they just clicked. Since then they have been sharing a love for each other. Victor opened up about the beginning of their relationship with Entertainment Tonight in September 2017, saying,
"Everything came together for the premiere of Big Brother 19, where we were in New York and we just clicked. From then on, it was, I guess it was a love story, and now she's my girlfriend."
The couple made their relationship official in September 2017 after three months of dating through a video posted in Instagram. The official account of Big Brother revealed the news in which Victor is seen addressing Nicole as his girlfriend.
See Also:- Nev Schulman Wedding And Baby With Wife, All On The Go; Catfish Host Reveals
Adding to it, while talking with  ET, Victor even confessed that he is willing to move to Michigan so that he could be close to his new found love. He even divulged that he loves her to death. He clearly said,
 "I'm trying to move over there to Michigan and stay over there with her. So, kinda see how that plays out, but it's exciting. She's friggin' awesome. A lot of people don't know her beyond Big Brother, but she's a sweetheart in real life and I love her to death."
Well, they sure the cutest lovebirds.