Entertainment
Lizzie Cundy Married & Divorced Husband; Fragile Wedding Vows To Children Details
Lizzie Cundy was previously called a WAG for being the wife of a famous sportsman, and her identity was confined to her husband. However, as her career prospered, she became known as TV presenter and columnist. The socialite has even featured on TV shows such as ITV's This Morning and Celebrity Big Brother.
After a tragic split with her husband, Lizzie was left to raise her family alone. However, she faced the challenges and emerged victoriously.
Husband Leaves With New Women; Forced To Pay Money
Lizzie got married to Jason Cundy, former Chelsea footballer and radio host in 1994.
Similar Article:- Ryan Giggs Has One Of A Kind Multiple Affairs with Girlfriends! A Detailed Look On His Divorce with Wife and What Caused It
The couple tied the knot in a close wedding ceremony, which involved a few guests. She gave birth to her first child, a son named Josh in 1996. In 2000, the couple welcomed their second son, James.
The showbiz reporter and her husband separated in 2010. The reason for the partners' separation was a cheating incident where Jason was proclaimed as the culprit. Jason even abandoned his wife and children to live with his then-girlfriend opera singer, Hannah Pedley. The former footballer had first met Hannah while returning on a train from Cheltenham. Initially, they made some small talks and exchanged numbers due to the which the affair commenced.
Lizzie was terrified after being left alone to raise her kids. She had been together with Jason through his testicular cancer recovery and even managed their cancer charity. She also proclaimed her to be one of the best wives in the world. However, the London-born wasn't the one who benefitted from the separation.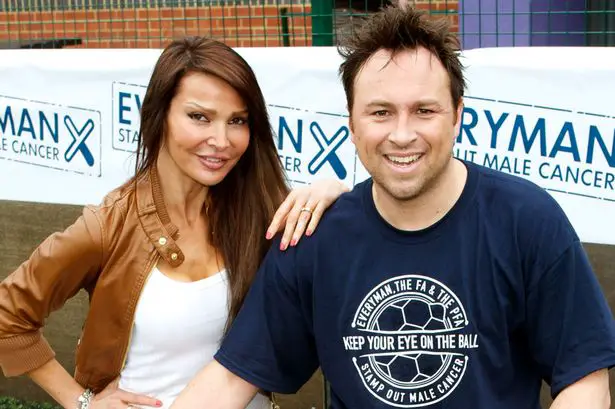 Lizzie and Jason Cundy attend a cancer charity event before their divorce in 2012 (Photo: Mirror.co.uk)
The former life partners legally got divorced after two years of separation in December 2012. The divorce settled with Lizzie having to pay alimony to her estranged husband, to which she concluded as marrying the wrong footballer. However, the former WAG consolated herself saying that it was a small price for freedom.
You May Like:- Model Lorraine Pascale: Divorced Her Husband in 2000, But What About Her Daughter? Boyfriend?
Although Lizzie's actual net worth is not disclosed, she has earned substantial money from her career as a tv host presenting several reality shows like WAGS World and So Would You Dump Me Now?. She also works as a columnist for the Daily Express.
After the split, Lizzie talked to OK! Magazine regarding her unresolved issues with ex-husband Jason. She said in the interview, 
"I've never been on my own and it's very frightening. I feel so betrayed. I've had panic attacks and I feel like my right arm has been cut off. I'm so shocked at how hideous he is being. I don't know him anymore and I've been married to him for so long. That's the thing that hurts the most."
Lizzie was devastated by her divorce from her ex-husband Jason.
Post Divorce
Two years post her divorce, Lizzie was linked with actor Gerard Butler in 2014. However, the rumors were soon declared as a hoax as none of the two confirmed the relationship. 
The 48-year-old is a self-taught expert at dating younger men and has even helped her pals with suggestions on the matter. When tv presenter Melanie Sykes was dating 14 years younger Olly Murs in 2017, Lizzie provided him with some valuable pieces of advice. She suggested the young singer have lots of fun and sex without worrying about the age gap as apparently it is just a number.
Lizzie even talked about her own experience of dating younger men whom she considers as energetic and more enthusiastic than older guys. She also mentioned a guy who she met on Instagram and went out on a couple of dates. Lizzie said,
"I met a guy recently through Instagram and he kept liking my pictures and suddenly I'm getting messages. I think that's a whole new way of meeting people, because they didn't have Twitter and Instagram when Mel and I were teenagers."
Lizzie further revealed her method of keeping a young man in control,
"When it comes to dating a younger man, it's all about keeping things fun, staying in good shape and banning his PlayStation if necessary."
Moreover, she also mentioned that getting mistaken for her date's mother was the worst thing that can happen, however, fortunately, she hadn't faced the awkward situation. 
As of 2018, Lizzie is reportedly single and hasn't shown much interest in starting a new romance.
Cosmetic Surgeries
Lizzie, who took the help of alcohol after the ugly split from her ex-husband, later recovered after suffering a cancer scare. Further, the beauty advisor has also gone through a couple of cosmetic procedures such as a plastic surgery, botox, and even breast implants. She had her boobs done after the conception of her children.
Also From LiveRampUp:- India Hicks With Five Children & Husband Like Figure! Bit Of Royalty, Lot Of Love
During her 40s, Lizzie even had a couple of Botox and fillers to look young. Most recently, she underwent a £350 bum lift to tighten the muscles of her buttocks. Further, she also removed fats from her stomach. The procedure was performed flawlessly by experts giving Lizzie a more younger and attractive body.
Dating With Nightclub Owner; Met Lover Of Thirty Years Ago
Lately, there's been a lot going on in Lizzie's life and 2018 has become a year of confession and catching up on things from the past for her. Lizzie, who is currently single, revealed in a recent interview that she had dated one man after the separation from her ex-husband.
While on the sets of her upcoming show, Love Island for the over 40s, Lizzie met Greek nightclub owner named Yannis and instantly fell for her.
She mentioned in an interview with Dailymail that she felt immediate attraction towards the man and even asked him out on a date. The dating proposal was accepted by Yannis and their romance soon nurtured. The pair eventually broke up after dating a while and Lizzie has lived as a single woman since then.
Lizzie, who recently confessed that she was 50 years of age, recently met her lover of thirty years ago and shocked to see that he was unrecognizable. Lizzie and a Greek man named Vangellis had a short-lived affair during a holiday.
But when she met him thirty years later in 2018, he was not the muscular man whom she once knew. However, Lizzie still reveals that she would be lucky to find a man reliable and Vangellis.
Moreover, 2018 has also been a busy year for Lizzie as she appeared on the newest series of ITV's Our Shirley Valentine. The season which premiered in July stars the old cast including Melinda Messenger, Nancy Dell'Olio, Annabel Giles, Sian Lloyd, Aggie Mackenzie and Ninia Benjamin.