Entertainment
Nikki Glaser Plans Second Girlfriend For Boyfriend, Why? Married & Dating Talks
Experiencing many hooks up and failed relationship, American stand-up comedian, Nikki Glaser has been doing the job of making sure other couples would not have to face the numerous failed dating lives.
Started with her boyfriend, Nikki has been analyzing and experimenting with various issues of relationship in her show, Nikki & Sara Live. She provides the advice on a variety of relationship matters through her widely popular talk show, Not Safe With Nikki Glasser.
Second Girlfriend For Boyfriend; "Like Living With A Ghost"
American standup comedian, Nikki Glaser loves to openly talk about the sex life in her talk show, Not Safe With Nikki Glasser. The show was created by Nikki and her boyfriend, Chris Convy in February 2016.
Other Standup Comedian:- Dom Irrera & Word "Married" | Unknowingly Dating Someone's Wife & Family
The couple came up with the idea to create a new show after their last show together Nikki and Sara Live ended. Since she first met her boyfriend Chris Convy on her 2013's MTV Talk show, Nikki and Sara Live, the duo has been openly talking on many issues including the issue of polygamy. 
She sketched the issue of polygamy onto her show by searching the second girlfriend for her boyfriend.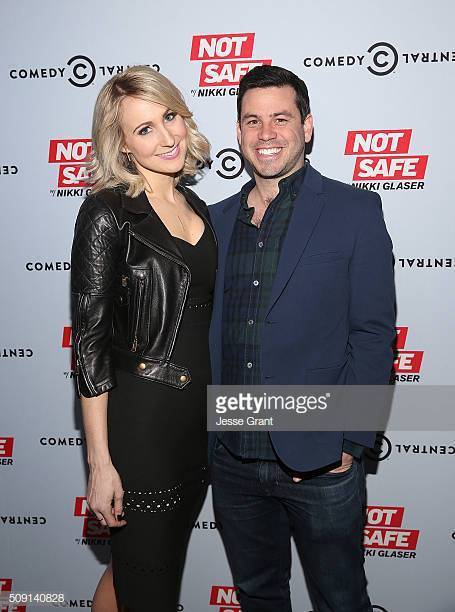 Nikki Glaser with her ex-boyfriend Chris Convy (Photo: Gettyimages.com)
While Nikki discusses with the panel of comedians about the monogamy, she interviews multiple women with different ethnicity and background for the "job" of dating her boyfriend. 
See Also:- Jimmy O. Yang Married? Personal Life With Some Interesting Facts
However, the relationship that she was so comfortable with could not last long. The revelation about their break up came as a shock to her followers who were still mourning for the end of her show.
While talking with Buffalo News on November 2016, when she was asked about her reaction of dissolving her show, she revealed that she knew about a month that it was not going to dissolve. Also she intellect the things between her and her boyfriend not working out properly. She said:
" Most relationships don't last, and most TV shows don't last. It softens the brunt when those things blow up."
Before she confronted the news about her breakup with her boyfriend, she wrote an article in April 2016 stating she and her boyfriend finally learned to fight. She also revealed her fear of abandonment and was scared that if she confronts him about anything, he might end the relationship.
Not only Nikki, but her boyfriend was also poor at expressing his anger but rather would prefer to be silent which Nikki described as:
"It's like living with a ghost who doesn't want to **** you. It's like you can feel him trying not to touch you."
Comedian Nikki Glaser seemed to be fond of her co-worker as she previously dated comedian Joe DeRosa. The two real-life couple also worked together in 2012 even after breaking with each other, debuting in a new web series, We Should Break Up in Official Comedy.
Family Time After Show's Cancelation; Married Sister's Pregnancy
Since her Comedy Central Not Safe with Nikki Glaser got canceled, she was looking forward to spending her time with her family and with her pregnant sister who was married in 2013. She had also mentioned that no one knows what she was going to have.
But in November 2016, she announced on her twitter that her sister, Lauren Glaser was going to have a baby boy.
Born on 1 June 1984 in Cincinnati, Ohio, Nikki also took her parents Julie E. and Edward J. Glaser,  to her show Not Safe With Nikki Glasser on the episode Glaser's Lie Detector Test, Parental Edition, where she questioned the most private and personal question to her parents about their sex life.
Don't Miss:- Joe Mande Married! Inside Low-Key Wedding Ceremony With Wife
Since the show got canceled, she has headed to the other shows like 2017's Adam Ruins Everything, The Standups and 2018's Alone Together, The Comedy Central Roast and Jeff Ross Presents Roast Battle.
Keeping her married life and search for a husband at bay, she is now out of the comic world and has entered into the dancing world. She is now a contestant of the 27th season of Dancing With the Stars competing for the Mirrorball Trophy.
She also appeared on the late-night Comedy talk show, Conan along with the fellow comedian Alex Richter in last August 2018. She shared the glimpse of the show sharing the multiple pictures with the host of the show, Conan O'Brien and fellow comedian Alex Richter in Instagram.
Appeared as the lady of the night, she gushed in the caption that Conan is the inspiration behind her comedy journey. She wrote:
"I am so lucky to get to go on this show that I was legit obsessed with in high school. It's a huge reason I do comedy and so every time I get to do it I feel so ​​​​​​"​
Aside from this, she also had the comedy tour in the year 2018 with a different celebrity. Since she did entertain her followers with Tim Dillion and Sherrod Small in New York City's concert on 1 September 2018, it seems that was her last concert for the year 2018 as she does not have any concerts and tour for this year.
When it comes to her finances, the average salary of this standup comedian is $20,000 which make their lifetime expected earnings to $700,000. So, with her demanded career, she might earn more than the average salary, benefiting her already increasing net worth on the way.