Entertainment
Black Ink Crew: Chicago's Nikki Nicole Dating Status & Surgery Details
Nikki Nicole a tattoo artist and star of the show Black Ink Crew...disclosed her surgery back in 2018 during a Q&A with her...was romantically linked with famous rapper 50 Cent in...previously, she dated a tattoo artist named...
Nikki Nicole became a regular face of the show Black Ink Chicago after she started dating one of its cast members in the second season. But, the reality star's fame is not limited to the franchise as she has starred in other ventures as well.
She hosted shows such as  411 The Show and  Kandi Koated Nights alongside personalities like Kandi Burrus. As a result, she has amassed a wide fan following of 900K on her Insta handle.
Wiki: Nikki Nicole's Dating Status, Past Relationship
In May 2019, Nikki was romantically linked with famous rapper 50 Cent. It all started with her Insta post on 29th May after she shared a titillating picture of her in a schoolgirl outfit.
Interestingly, the rapper was quick to comment on her picture with three emojis, and Nikki replied with a shy emoji as well. So, as evident, it triggered rumors that the two were seeing each other and the possibility remained that the rapper was her new boyfriend.
Ex-Girlfriend Of 50 Cent :- Vivica A. Fox Husband, Dating, Family, Net Worth
Also, a month later, the two went on a movie date together which was ruined by an aspiring artist named NFL Dume. It turned out that the moment got heated after her rumored boyfriend refused to respond to Dume - who was seeking some career advice on music.
It wasn't the first time that Nikki was spotted with the rapper. The two were previously spotted together in February 2019 at club Vive in Atlanta with the rapper. She was seen receiving a stack of cash from the hip-hop artist, while also sharing a warm embrace.
However, while her relationship with 50 Cent remains unconfirmed and not yet official, her past relationship is a well-known one. Nikki was previously in a relationship with Phor Everim - a tattoo artist and star of the show, Black Ink Crew Chicago.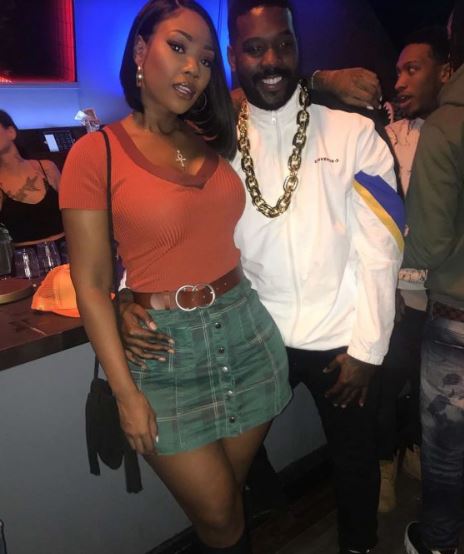 Nikki Nicole and ex-boyfriend Phor Everim as seen together in 2018 (Photo: atlantablackstar.com)
Sadly, the two broke up in 2018 after he was caught cheating on his girlfriend by sending nudes to other girls.
Plastic Surgery, Hair Collection
Talking about her physical attributes, Nikki is very concerned about her appearance. Her bombshell body didn't come naturally, although many might assume it from the first look. Turns out that she underwent buttock enhancement surgery in the past.
Jazz Jennings Surgery Details :-  Dating Status, Family,Transgender
She disclosed her surgery back in 2018 during a Q&A with her fans. When one of her followers asked her the reason to enhance her back, she responded quoting,
"I was always picked on for a having a bomb shape but no ass lol. SO I got an ass!!! Alllll the time!!! Everyone used to be like damnnnn you have a nice lil body til you turn around lmao"
Well, the surgery didn't come cheap, and by the looks of her business ventures, it appears she didn't have a hard time paying for it. After all, she makes impressive money selling her wig collection through her commercial website, NikkiNicoleCollection.com.
To get the idea, a simple-looking red wig on her website titled Cherry sold out for a whopping $770 dollars.