Entertainment
Who Is Nneka Ogwumike Boyfriend At Age 28? Supportive Parents & Facts
WNBA player, Nneka Ogwumike has been hinting about her dating life with frequent posts about a possible boyfriend......One of the most iconic women players, she was raised among her sisters, who are also interested in taking a career in the sport...... Raised by parents ..., Nneka currently ages 28 and enjoys a net worth of......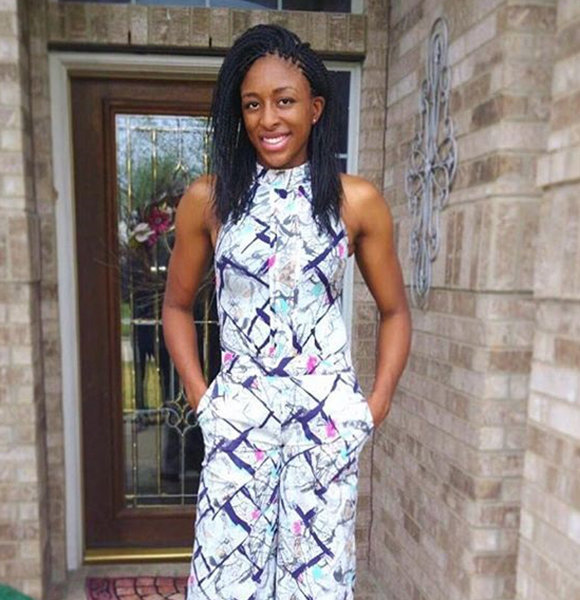 Being the eldest among the Ogwumike sisters, American professional basketball player Nneka did pave a way into fame and glamour to her siblings. Growing up in a family with parents who were there throughout their endeavor only made things better.
Nneka Ogwumike has come a long way through sweats and toils in becoming a WNBA star. Her hard work did pay off when she stole all the spotlights through her wins, all at the age of 28.
But, her social media has been catching heaps of public attention whereas her followers are now scrutinizing about her dating life.
Nneka Ogwumike Leaves Clues About Boyfriend?
It was for her spectacular performance and smooth play that Nneka Ogwumike stole the headlines. She was also named the WNBA "Rookie of the Year" when she played with the L.A. Sparks.
More About WNBA Players: Pepperdine Promotes DeLisha Milton-Jones To Head Coach Just Months After She Retired From Game
But when the famous basketball player started leaving potential hints about her interest in boys, gossips began swirling about a potential boyfriend.
Her first tweet read as, 
"@Jus_GoodBreadd Yo where's is my boyfriend?"
The tweet was the first thing that made the public question, whether the 28-year-old was really in a relationship.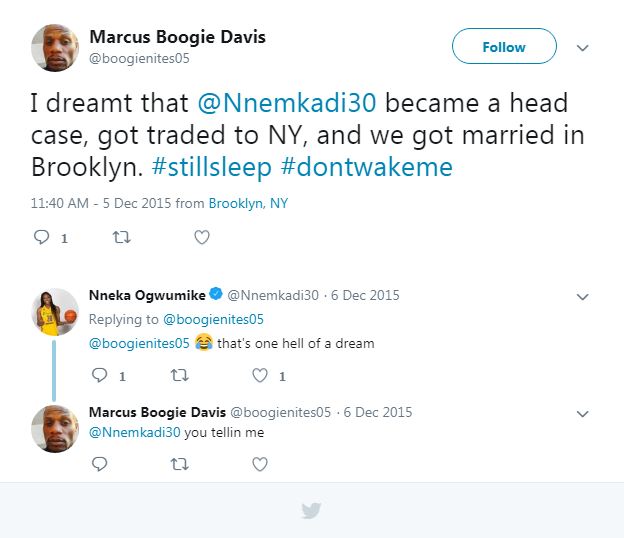 A fan mentions his intention of marrying Nneka on 5 December 2015 (Nneka Ogwumike's Twitter)
The rumors kept getting stronger after she replied to her self-made rice and strewed dish with the caption,
"@ROSGO21 My future husband won't starve at least"
Being a stunning basketball success in her 20s, there wouldn't be any doubt about Nneka having a considerable amount of followers. But, her official boyfriend is yet to be confirmed as the basketball lady has not left a single hint about her lover on social media. She has kept everything under the wraps.
Family Raising Five Basketball Stunners!
Beyond Nneka's relationship status, her other captivating detail is about the family life. Born as the eldest among the four Ogawumika sisters, Nneka has stood out as a role model to her younger siblings.
A Nigerian descent, Nneka, whose body measurement ranges from a height of 6'2 and weight of 174 lbs, has been a perfect exemplifier for the Women's National Basketball Association team after being drafted their No.1 in the year 2012.
Similar Contracts: Retired Christian Ponder Contract & Salary That Shapes His Net Worth
Being elected as the President of the WNBA Players Association and playing for the Dynamo Kursk of Russia, the eldest Ogwumike daughter had made her parents more proud after announcing her contract extension for 2016 WNBA MVP.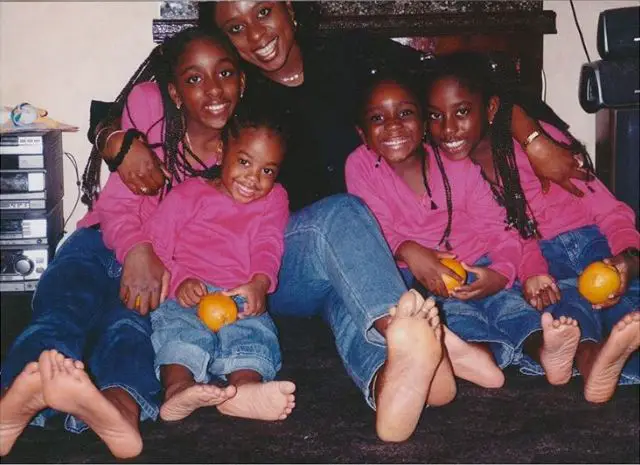 The four adorable Ogwumike sisters when they were still a kid (Photo: Usatoday.com)
Holding a record of becoming one of only seven players in WNBA history to win both the championship and a regular season MVP award has made Nneka more prominent in the world of sports. Her accumulated net worth has not been disclosed but according to sources, she earns a salary of $71,635.
Following her paths, Her three other sisters have also made an equal shine in the world of basketball.
More NBA Wedding: Harrison Barnes Shares Wedding Moments With Wife | Recent Contracts
Nneka, who has been spot on when it comes to basketball, has passed on the same inspiration to her second born sister, Chiney, who now works for ESPN during her WNBA offseason. Her two younger sister, Olivia, and Erica are polishing their skills, by flaunting their talents for Rice University.
Watching all her four daughters hit the road to fame, and sports has only made their parents prouder than ever before.