Entertainment
Retired Christian Ponder Contract & Salary That Shapes His Net Worth
Out of contract former NFL quarterback Christian Ponder 's fall from grace has been noteworthy. Like many of his predecessors who get into NFL on the back of a successful college career, the Dallas native too failed to leave a mark on the game.
His career which spanned over six years and four NFL outfits saw Christian, age 30, amass impressive net worth by signing million dollar contracts with six-figure salary despite putting mediocre numbers on the stats board.
Today, he's, by default, a retired NFL athlete under the tutelage of his wife.
Behind Christian Ponder's Net Worth: Contract & Salary
Drafted by Minnesota Vikings in the 2011 NFL Draft with the 12th overall pick, Christian was dubbed as "the next" because of his impressive stats, playing college football for The Florida State University.
It's the same reason why the said Minnesota-based NFL side tabled a hefty contract for his signature. According to ESPN, the deal was for four years with a fifth-year option and was worth somewhere around $10 million.
Similar:- Ryan Nassib, NFL Quarterback Stats, Salary & New Contract
Then in 2015, the Florida State University alum signed a one-year contract with fellow NFL franchise Oakland Raiders which included $1.5 million signing bonus. His deal with Raiders' pocketed him $2.25 million in salary that year.
Following the conclusion of 2015/16 season, he signed for San Francisco 49ers, only to get waived 13 days later. Later, he signed a year-long contract with Bay Area-based NFL team San Fransico 49ers with neither signing bonus nor guarantees.
However, he did earn a hefty sum of $800 thousand in salary without even playing a solitary game for 49ers; which contributed to his ever-so-increasing 7-figure net worth.
Christian Ponders' Stats & Numbers
Christian's stats and numbers at Raiders, Broncos, and 49ers have no bearing on his NFL stats as he didn't participate in even a single game with either of the three teams.
His stats with Minnesota Vikings remains his only contribution to the game.

Christian's stats playing for Minnesota Vikings (Photo:- wikipedia.com)
Following the team's poor start with then-teammate Donovan McNabb, Christian made his debut on 26 October 2011 as a sub in a regular season match-up against Chicago Bears.
Fellow NFL Athlete:- Ryan Nassib, NFL Quarterback Stats, Salary & New Contract
His rookie season saw him start in 10 games and complete 158 out of 291 attempted passings with a completion percentage of 54.3%. The season after would prove to be the breakout season for the Dallas native as he notched 18 touchdowns and ended the season with 63.6% pass completion percentage.
By the third season, Christian had cemented his position as the team's starting quarterback. But sadly, he could replicate neither the stats nor the performances from the earlier season.
That season he made a mere 34 rushing attempts and landed abysmal seven touchdowns. It was enough for then-Vikings head coach to sideline him as a third-string quarterback in the following 2014/15 season.
The 30-year-old hasn't played an NFL game since his last outing with Vikings in October 2014.
Wife Led Christian Ponder Closer To "Him."
When his prospect of continuing his NFL career coming towards the end, Christian turned to his faith.
Interesting:- Gregg Wallace's Wife Pregnant With Their First Baby, Family Is Now Complete!
Speaking at the Liberty University Convocation with wife Samantha Ponder, the former Broncos quarterback revealed:
"With my faith going into the NFL, I honestly would think if I pray and get into the bible I'm gonna play well on Sunday. I was using God for myself, like that's how it works."
Further, in his speech, he credited his wife, who is the host of Sunday NFL Countdown, for leading him closer to God.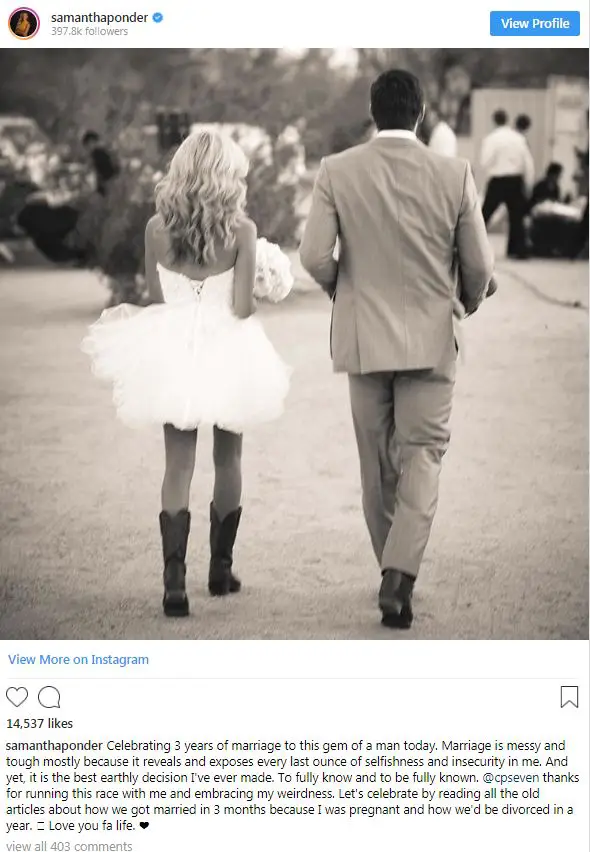 Christian's wife pens a post on their 3rd wedding anniversary (Photo:- Sam Ponder's Instagram)
Their faith was put to the test in 2018 as the pair, who got married in 2012 after meeting via Twitter, had to go through a traumatic ordeal of watching their newly born baby daughter undergo surgery, just moments following her birth.
Call it God's miracle or medical personnel's ingenuity, but their baby eventually survived.
Discover:- What Is Michael Cole, 'WWE Voice" Salary & Net Worth? He's Among Richest
Suffice to say: the Ponder family has been through a lot!