Entertainment
Is Noah Galvin Gay With Boyfriend? Dating Status Now Questions Sexuality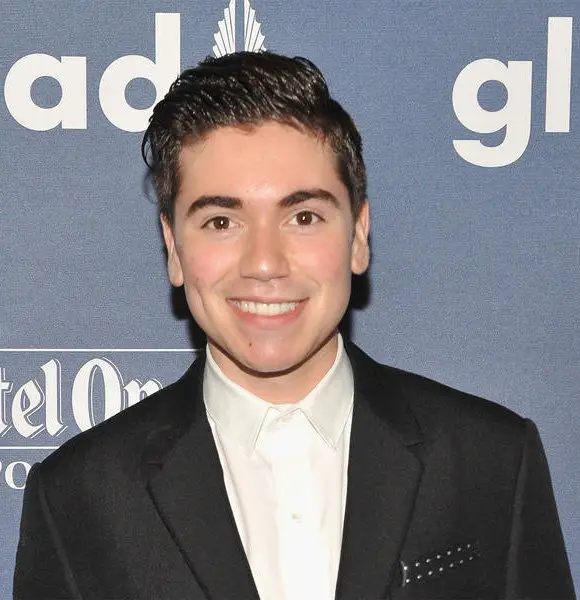 American actor, Noah Galvin first became recognized after playing the lead role in the Broadway show Dear Evan Hansen. But his groundbreaking role came later in the show, The Real O'Neals, which he played a character identical to his real life. 
For a gay man, Noah did justice to the role of a gay teenager, which brought every kind of stardom and fortune. Top of all, the actor, who takes pride in his gay sexuality, also got a romance with an onscreen boyfriend.
But is he lucky enough to be dating in real life?
Also, learn about his coming out experience along with the resemblance and differences his TV-character shares with his offscreen personality.
Gay In Real And Reel Life: Distinct Differences While Jokes On Bisexuality 
Born as Noah Egidi Galvin, the Futurstates actor is an openly gay man, who became familiar with his sexuality in his teenage days. The Katonah, New York native first opened up about his gay sexuality to his mother at the age of 14. 
And when Noah portrayed the gay teenager's role named Kenny O'Neal on the ABC sitcom, The Real O'Neals, the actor brought out his real-life persona on screen, however with some distinct differences. 
Mentioning in a 2016 interview, he stated, 
"There is a very clear distinction between how young people view the show as opposed to older people, who [may] have gone through this. I'm gay myself and I haven't gone through a lot of the things that Kenny goes through in the series."
Noah's character was raised in an Irish Catholic family in the show which made it hard for Kenny to initially come out as gay. However, Noah faced no such difficulties in his offscreen life as he came out comfortably to his mother, who works as a yoga instructor at the Katonah Yoga located in New York City.
Noah playing the role of a gay person in The Real O'Neals was not coincidental as the executive producer of the show, Todd Holland wanted the character of Kelly to be played by someone who was gay in real life. 
You May Also Like:- Is Josh O'Connor Married? Personal Life Status Amid Gay Roles & Rumors
Further, Kelly also became a subject of controversy after he compared bisexuality to having money problems or webbed feet in one of the episodes.
When bisexual actress Sara Ramirez criticized the show for the bisexual joke, Noah came forward in defense of the writers claiming that they were trying to make the character as realistic as possible.
Noah said to Gay Star News,
"I think that it's important to know that these writers … they're writing an authentic teenager who is still learning and evolving and has never met a bisexual person in his life."
Moreover, he also came under the knife after calling the method of coming out used by actor Colton Haynes as "p***y b***s***." However, Noah later apologized for his statement.
Onscreen Boyfriend; Dating Anyone Besides One Night Stands?
Although Noah's Kelly remained single for the entire first season of The Real O'Neals, he finally found his first onscreen boyfriend on the second season of the show.
On 13 December 2016, Noah even took to Twitter to introduce his first boyfriend who was none other than actor Sean Grandillo, famous for starring in the first season of MTV's show Scream.
Recommended For You:- Beautiful Samantha Jade's Dating Rumors Sparkling With Her Onscreen Boyfriend!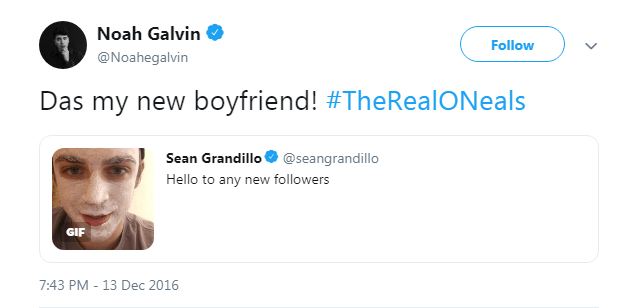 Noah introduces his onscreen boyfriend, Sean Grandillo on 13 December 2016 (Photo: Noah Galvin's Twitter)
In the series, Sean appeared as Brett who was a gay teenager like Kelly. However, Kelly initially didn't realize Brett's sexuality, but as they form a bond due to their mutual interest in singing, Kelly starts realizing that there was something more to Brett than just what met the eyes.
Unlike his onscreen dating life, Noah is mostly silent when it came to talking about his real-life romances. Noah has always been protective of his private life and doesn't usually mentions about his dating life or even his boyfriends.
Although he once revealed that he had slept with some men and even sucked a few d**** but didn't mention if he got serious with any of them. 
"That's like, enough people assume that I sleep with men, so I'm just going to slightly confirm the fact that I've sucked a d*** or two."
Noah, aged 23, is also famous for posting shirtless photos of himself on social media. On 15 July 2017, he posted an Instagram photo of himself swimming in the ocean shirtless. 
Don't Miss:- Gavin MacIntosh, 18, Shirtless Goals - Gay Rumors True Or Just Jealousy?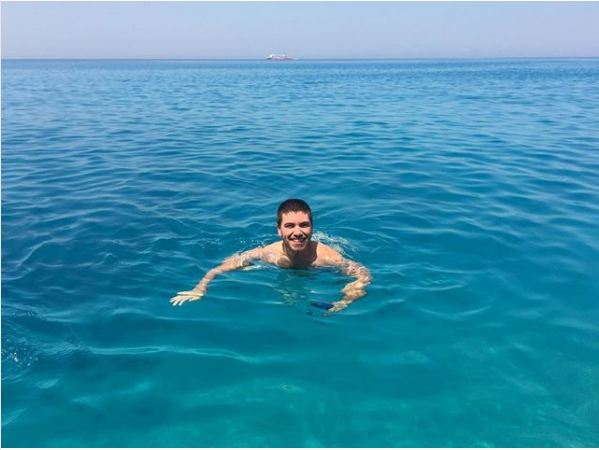 Noah goes shirtless swimming on 15 July 2017 (Photo: Noah Galvin's Instagram)
Similarly, on 31 December 2017, he shared another post of himself sleeping shirtless on bed while covered only in sheets.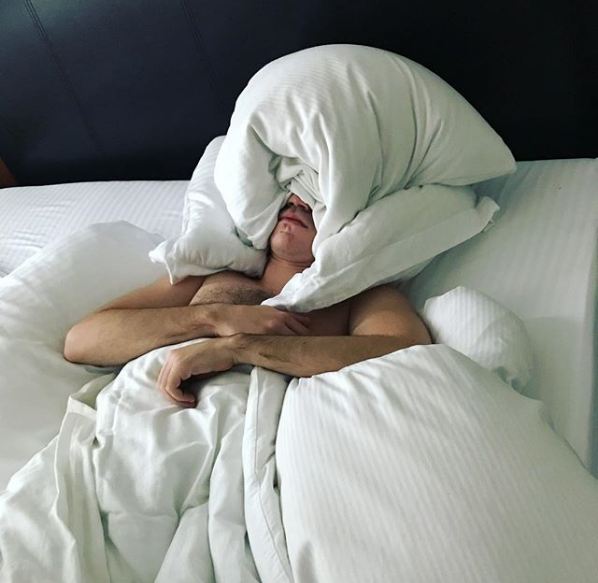 Noah appears shirtless while sleeping covered only in sheets on 31 December 2017 (Photo: Noah Galvin's Instagram)
While many assume Noah is trying to seduce his potential partner with these shirtless pictures and some claiming that he is faking his gay sexuality, Noah has shown no interest in clarifying himself or his intentions.