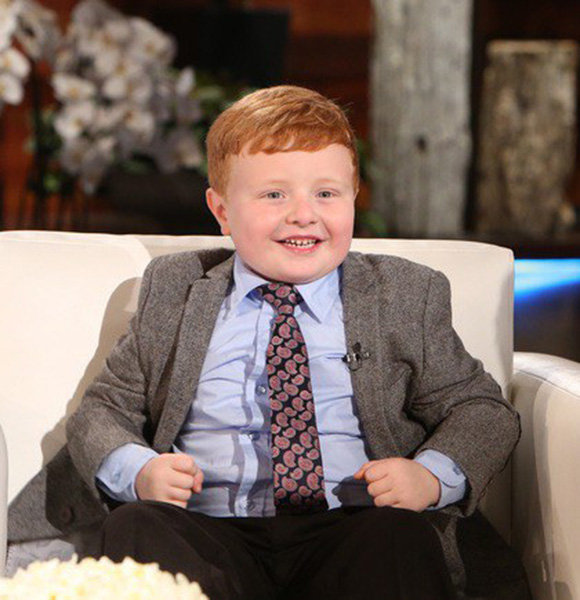 One day, a five-year-old child named Noah Ritter was enjoying the Wayne County Annual Fair in Honesdale, Pennsylvania with his grandparents. But, an interview with the Local Newswatch 16 reporter Sofia Ojeda changed his life forever.
Well, his sassy way of talking and repeated use of the word "apparently" got people's attention, and the interview clip went viral. Thus, Noah a.k.a the "apparently kid" went from being a regular boy to a sought after star.
Till date, he has appeared on major talk shows namely Good Morning America, ABC Nightly News, and the Today Show. Also, he is a kid regular of The Ellen DeGeneres Show since 2015.
Noah Ritter Bio
Noah was born on 19th November 2008 in Philadelphia. But, he was primarily raised in Pennsylvania by his mother and immediate family; maternal grandparents: Jack and Kathy Borowski.
As of now, he resides in Pottstown, Pennsylvania, along with his mother. His parents have separated. Noah mentioned his mother and step-father while talking to Ellen DeGeneres on her show on 27th September 2014.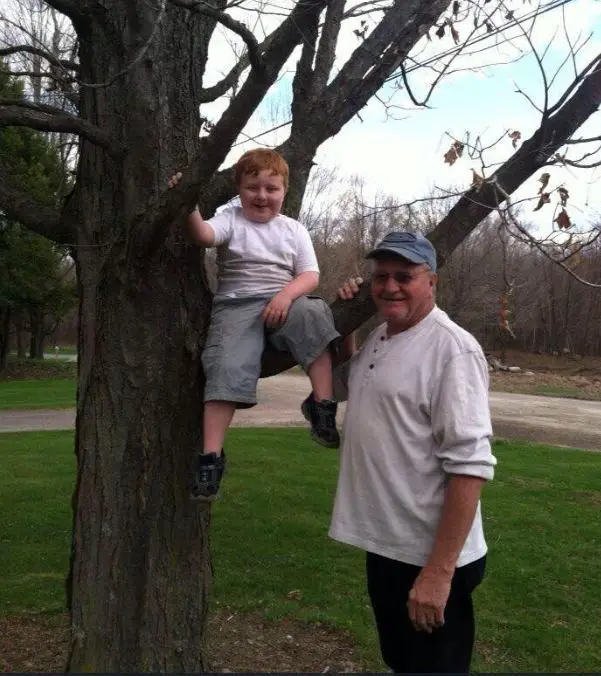 Noah Ritter shares a laugh with his grandfather Jack Borowski on 3rd May 2015 ( Photo: Noah Ritter's Twitter)
Well, he is extremely close to his grandfather Jack and considers him his best buddy. The lovely duo spends considerable time together. In 2014, he spent his summer vacation at his grandpa's house in Wilkes-Barre, Pennsylvania.
Another Child Star:- JoJo Siwa Background, Parents, House, Age
Also, Jack is often the one accompanying his daughter's son in various TV shows. In 2017, the duo made people laugh in Ellen's show.
Net Worth
Noah is the real internet star in the sense his viral video bought him all the attention.
As of 2019, he has appeared in commercials for Liberty Mutual Insurance and Visa - which appeared on Ellentube. Further, he starred in an internet commercial for The Fresh Pet Food Company, which was produced by Shareability Inc. in Los Angles, California.
Internet Boyfriend With Twin Name:- Noah Centineo And His Dating Affair; Appreciated By Girlfriend?
Well, he also worked as the co-host for ABC's The Year on 2014 Viral Videos segment with NFL star Michael Strahan. In 2017, he got signed to judge ABC's show The Toy Box, but the show ended as the producing company, Toys "R" Us went out of business in the same year.
Although Noah has been associated with several brands and shows, his net worth is not out yet. The reason behind the undisclosed nature of his earning is considered as his young age of ten as of 2019.
Interesting Facts About Noah Ritter
Supermodel Gigi Hadid is a huge fan of Noah; she revealed her love for him during her The Ellen DeGeneres Show debut in 2017.

Noah along with his grandfather, Jack went on a vacation to Hawaii, sponsored by Ellen in 2015.

In 2018, the viral star interviewed people during a red carpet function of the movie, Luis And The Aliens.

He has a YouTube channel named Greatest Film Of All Time. As of June 2019, it has more than 24K subscribers.

Noah is a yellow belt in Karate and a connoisseur of pizza.