Entertainment
Is Nolan Gould Gay? Wants Girlfriend For Character But What About Dating In Real Life?
The ABC sitcom Modern Family is a hit and many people enjoy watching the sitcom. Those who are big fans of Modern Family might also know the character of the youngest sibling in the sitcom, Luke Dunphy which was played by Nolan Gould. So today we address the love life of this young and upcoming actor and see if he has a real life girlfriend apart from willing to have one on-screen. We also find out if he is a gay as people often speculate.
Quick Information
Date of Birth Oct 28, 1998
Nationality

American

Profession

Actor

Zodiac Sign

Scorpio

Ethnicity/Race

Mixed

Father

Edwin Gould

Mother

Angela Gould
The ABC sitcom Modern Family is a hit, and many people enjoy watching the sitcom.
Those who are big fans of the sitcom might also know the youngest sibling's character in the sitcom, Luke Dunphy, which was played by Nolan Gould.
So today, we address the love life of this young and upcoming actor and see if he has a real-life girlfriend apart from willing to have one on-screen. With that, his gay speculations will also be cleared. 
Co-Star Girlfriend?
Nolan famously wanted his character 'Luke' to have a girlfriend.
He became socially open that he wanted a girl in the 2014 season of "Modern Family" by posting a picture of him showing his physique. But apart from this, everyone was wondering if he has a girlfriend behind the camera or not.
Don't Miss:- Know What Enkindled Rosie Mercado To Start A Weight Loss Session That Resulted Her Measurements To Be Fairly Smaller
Then came the rumor of him dating teenage acting sensation Joey King. But those rumors were not addressed by either of them, and thus, no major information about the truth behind the story and the nature of their connection came forth from them.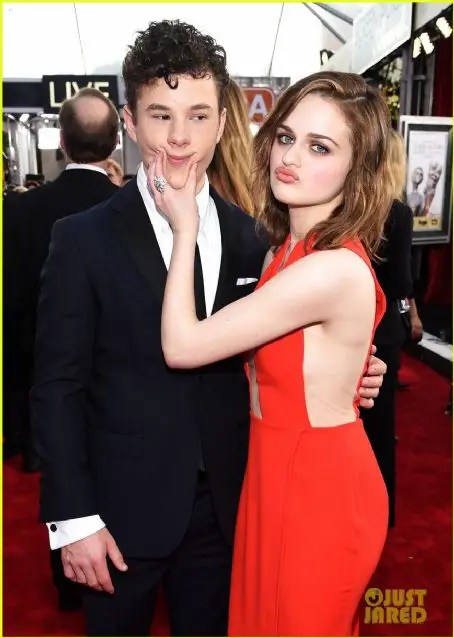 Nolan Gould and Joey King were rumored to have hooked up (Photo: whosdatedwho.com)
Moreover, Nolan was also linked with his "Modern Family" co-star Ariel Winter as there were reports of them dating. The presence of romantic essence between the Television siblings was seen in an ample amount.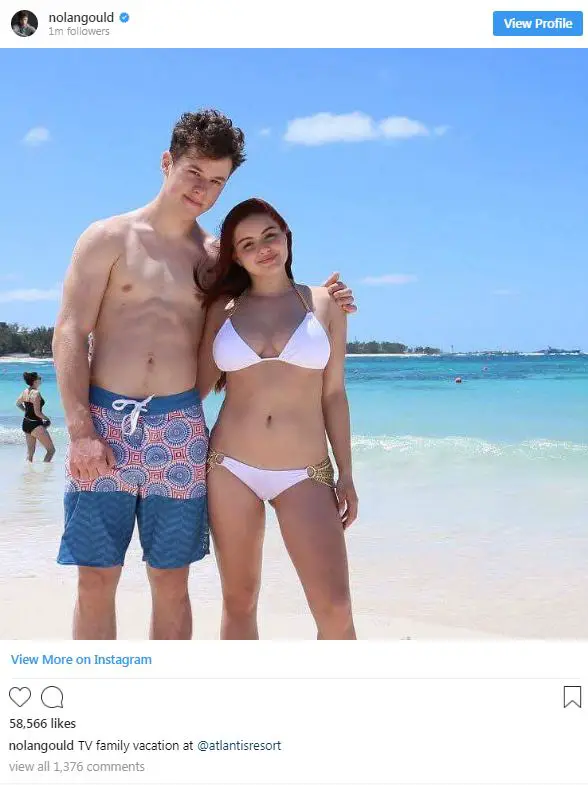 Nolan and his rumored girlfriend vacationing (Photo:- Nolan Gould's Instagram)
Back in 2016, when Nolan was asked if he could date Ariel, he said he did not want to risk the friendship between them.
"No, I love her but she's a really good friend. We grew up together. It's an interesting world for young kids, to have another person go through the exact same thing as you and be able to talk about that, I would never wanna waste that." 
Also, Ariel had someone else in her life, and the two were seen sharing a passionate kiss with one another.
Discover:- Liza Soberano Holding Dating Affair Because Of Family And Parents? Has A Boy Waiting To Be Her Boyfriend
Is Nolan Dating Hannah Glasby?
In 2017,  the actor was romantically linked with model Hannah Glasby.
After they were spotted at a farmer's market in Studio City, California, the internet blew with speculations of them dating.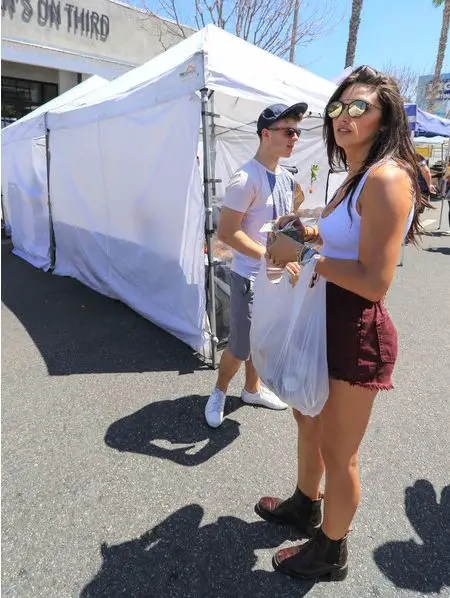 Nolan and Hannah photographed shopping in farmer's market (Photo:- zimbio.com)
Nolan and his possible girlfriend again made a public sighting at a farmer's market in 2018.
But to date, the pair haven't confirmed that they are dating neither have they spoken about their relationship. So it's a bit unclear whether they dated or are they still together.
Nolan Stars As Gay In Suicide Awareness Music Video
Although Nolan may not be gay, his allegiance to the LGBTQ struggles is well documented.
In August 2017, he starred in Logic's music video for his single off his sophomore album titled "1-800-273-8255" as a gay teen boyfriend opposite of Coy Stewart.
When asked about what was it like to be straight and play gay roles by Too Fab, he merely quipped:
"It's really fun to get to play different roles like this character in the music video who happens to be gay and as an actor that isn't something that scares me, playing a gay character."
As of 1st November 2018, the music video has amassed 302 million views on YouTube.
Fellow Modern Family Star:- Is Eric Stonestreet Gay In Real Life? The Actor Isn't Married and Is Yet to Be Blessed with A Wife 
Short Bio
Born on October 28, 1998, Nolan Gould is an American actor. He was brought up by his parents Angela Gould and Edwin Gould. 
Because of his father's military career, he and his parents (Angela and Edwin) had moved to Phenix City, Alabama. Then, when he was 5, the family moved to California. 
Nolan Gould's Net Worth
Nolan had started his career at the very young age of three. He first starred in a couple of commercials and then made it to several films and TV series. 
He is best known for his role as Luke in the famous ABC sitcom "Modern Family."
The producers of the very sitcom paid Nolan a hefty amount of $125 thousand per episode, and thus, one can assume that he has earned a lot in his young career. This is indeed true as Nolan boasts a staggering net worth of more than $10 million.