Actor/Musician O'Shea Jackson is Hip-Hop royalty personified! Admittedly, he had the weight of the world to carry on the family's legacy.
Son of the legendary rapper Ice Cube, the Los Angeles California-native probably did a lot of soul-searching before he opted to follow his father's footsteps.
What better metrics to use - while comparing O'Shea's accolades to that of his dad - than their respective net worths?
O'Shea Jackson's Net Worth
Ironically enough, O'Shea foray into the world of entertainment commenced when he got cast to play his father Ice Cube on NWA's biopic entitled Straight Outta Compton.
Despite sharing an uncanny resemblance with Ice, he auditioned - and eventually landed - for the role. While on the promotion run for the film, he boasted about being "born to play the part."
Fellow Straight Outta Compton Actor:- Demetrius Grosse Married Life And Wife Something That Only Exists In TV? Or Has A Family Behind The Cameras?
Impressive with his acting chops, high ranking execs at Hollywood gave O'Shea chance to act in films such as Ingrid Goes West, Den Of Thieves, Long Shot and Just Mercy.
Like his dad, the Godzilla: King of the Monsters actor also dabbles in music-making business. Under the moniker OMG, he dropped a critically acclaimed mixtape titled Jackin' For Beats in 2012.
More so an actor than a rapper, O'Shea through his endeavors boasts a reported six-figure net worth. In contrast, his father Ice owns $160 million in net worth.
Is He Gay?
Well, the Straight Outta Compton actor may not come with as deep of a pocket as his dad does, but he sure is just as admired.
Accused Of Being The Same:- Brett Chukerman Gay, Boyfriend, Net Worth
Like any good looking man in Hollywood, he too isn't immune to gay allegations. To his credit, he never lashes out against such labels and even acknowledges his popularity among the gay community.
Wife/Girlfriend Talks - Any Children?
Thus, there's no denying that O'Shea is very attuned with his sexuality. It may very well be the one feature that his alleged girlfriend Jackie Garcia admires the most.
Although spotted together several times in public, he and his rumored wife hopeful Jackie are yet to acknowledge the romance. In one instance, the Get Big rapper even flat out denied dating his alleged girlfriend.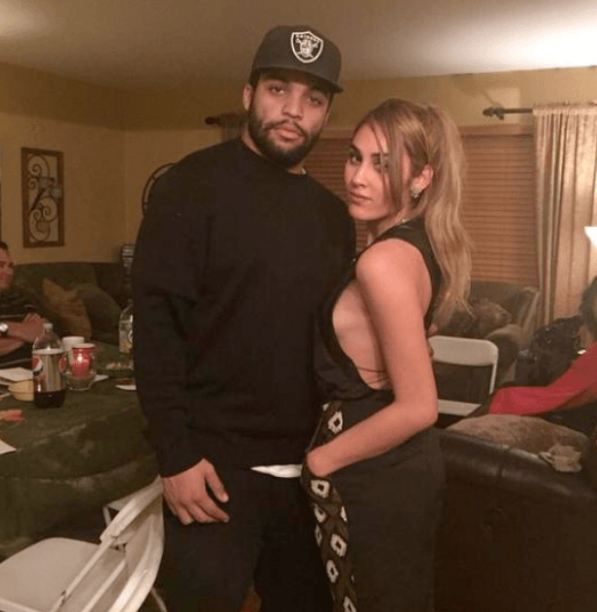 O'Shea Jackson strikes a pose with his rumored girlfriend Jackie Garcia circa 2015 (Photo:- scubby.com)
Two years after the initial reports, in 2017, O'Shea and Jackie's relationship got brought to light after the latter announced arrival of a baby girl named Jordan Reign. Outlets reported him as the baby's father.
It is still not clear whether the alleged lovebirds' romance has blessed them with more children.
Bio: Mom, Dad, Age & Ethnicity
Born in 1991 to dad Ice Cube and mom Kimberly Woodruff, O'Shea is one of his biological parents' five children. He has two sisters Deja & Karima and two brothers Shareef and Darrel.
More On His Mom:- Kimberly Woodruff Is Married To A Husband Who Always Praises Her For Good; A Blessed Family With Grown Up Children
Now age 28, the Forever rapper probably identifies as belonging to African-American ethnicity despite garnering a "light skin" complexion.
Height, Weight & Education
A graduate of William Howard Taft High School in California, O'Shea attended - later graduated - the University of Southern California to study screenwriting for the college education.
The Long Shot actor boasts about 5 feet and 11 inches (1.82 m) in height while owning over 75 kilograms (165 pounds) in weight.